Your Coronavirus Update – Today, Oct. 29 2020
NATIONAL & INTERNATIONAL
The Ellen Show is bringing back a live studio audience
Homeless people who gather in outdoor encampments were less likely to test positive for SARS-CoV-2 compared to those housed in shelters.
Illinois will ban indoor dining
CVS has 4,000 drive through test sites in 33 states and Washington, D.C., and plans to open 1,000 rapid testing sites by the end of the year.
North Carolina to get nearly 3.2million BinaxNOW virus tests.
The Boston Marathon will be rescheduled from Patriots Day to the fall of 2021.
France announced a lockdown. Signed documents will once again be needed for people to leave home and moving between regions will no longer be possible. People can only leave the house to buy essential goods, seek medical attention, or use their daily one-hour allocation of exercise. But unlike the previous lockdown, most schools are to remain open, while universities will revert to online teaching and working from home will be generalized. Visits to care homes will still be allowed, as will funerals. These steps are expected to be in place until Dec. 1st.
The coronavirus has swept through Milan's prestigious La Scala opera house, with 18 singers and nine musicians testing positive for the disease. All the members of the chorus were in quarantine along with the wind section of the orchestra, while the theatre awaited results from tests of other staff members.
Germany: Angela Merkel and state leaders have resulted in an agreement on a partial lockdown, Bars and restaurants will close from Nov. 2-30. Shops to remain open on condition of allowing only one customer per 10 sq metres of space available. Contacts are to be reduced to a maximum of two households, and no more than ten people, and Germans are advised to avoid "unnecessary, private journeys", including visiting relatives.
Portugal, Lithuania and Serbia are all experiencing new high numbers of positive cases.
China sees highest cases in 2 months.
In England, less than 20% of people fully self-isolate when identified and asked to do so and there is a dramatic problem with data dashboards not having accurate data such as asymptomatic testing vs. symptomatic testing, etc. England is thinking about testing as much as 10% of its total population on a weekly basis.
The WHO yesterday warned countries against abandoning their efforts to control Covid-19. "Giving up on control is dangerous."
Starting Nov. 6, Hawaii will allow visitors from Japan to bypass the state's 14-day quarantine requirement if they test negative within 72 hours of departing for the islands. But Japanese travelers will still have to spend two weeks in quarantine upon returning home.
33 US states have mandated cloth face masks, which the Centers for Disease Control and Prevention say can slow or prevent the virus' spread.
9 members of the Arkansas legislature have now tested positive.
UNH is now testing its sewerage for positive coronavirus indications.
Denver will enforce tighter restrictions for restaurants, retail and offices, reducing maximum capacity from 50% to 25%.
Bismarck, No. Dakota: Dr. Deborah Birx, said after visiting the city that their COVID-19 protocols to be the worst she's seen anywhere in the country.
Atlanta: Forty-six residents living in a long-term care facility have recently tested positive.
Utah: Salt Lake City: A state tourism official said visitation numbers have recovered in some destinations after a steep decline induced by the pandemic.
UVM: Only 27 students of 100,000 tested were positive.
Massachusetts: Whereas 15% of new cases in April were among people under age 30, now 37% are in that age group, the Republican governor said at a news conference at which he urged people to stop partying.
Tupperware Corp has announced explosive new sales as people are returning to cooking at home.
Newark, NJ has new regulations: nonessential businesses must close at 8 p.m., restaurants must curtail indoor dining, and beauty salons, nail salons and barbershops can be open by appointment only. Gyms and health clubs must close for half an hour each hour for sanitizing.
Eli Lilly and Co. announced that it had reached an agreement with the U.S. government to supply 300,000 doses of its monoclonal antibody bamlanivimab for $375 million and up to 650,000 more doses next year.
All SUNY students in more than 64 state colleges and universities in New York must receive a negative test result within 10 days of leaving campus next month. Schools are required to submit a plan to test all on campus students within that window by Nov. 5. "By requiring all students to test negative before leaving, we are implementing a smart, sensible policy that protects students' families and hometown communities and drastically reduces the chances of COVID-19 community spread," SUNY will then switch to remote learning after the Thanksgiving break.
Top management officials are coming up with new "best practices" for a majority of their staff who are working from home – key is informal interaction – team members can connect informally, the supervisors can hold informal chats with team members submitting questions, and other ways to keep people engaged and connected to one another.
Older Americans may be among those first in line for a free COVID19 vaccine as soon as one is available. The Trump administration is expected to soon announce a regulatory change that would allow Medicare to cover vaccines approved under emergency-use authorization.
Ohio Governor said where they are seeing the spread: baby showers, weddings, football, etc. We know that masks work, and we need to wear them at all times. Rural counties are leading the way now – people are tired, and we don't want to shut down.
Dutch hospitals "have reached their limits" and they're sending patients to Germany.
Russia says hospital beds are at 90% of capacity in 16 of its regions.
RHODE ISLAND & VICINITY
Wrights Farm will reopen Nov. 5th
CVS Health has opened three COVID-19 rapid-testing sites at its pharmacies in Rhode Island, which provide results in 30 minutes. Here are the locations: 681 Reservoir Ave, Cranston; 151 Franklin St, Westerly; and 1054 Cass Ave, Woonsocket. The tests are available for free to people who meet Centers for Disease Control and Prevention criteria, according to CVS. They may also be available for eligible employees or students affiliated with an organization that has adopted CVS Health's Return Ready return-to-work COVID-19 testing solution. CVS traditional drive-through test sites, also still in operation, take 2-3 days for results.
Judge Mary S. McElroy says she has "grave concerns about what's going on" at the Donald W. Wyatt Detention Facility, specifically about measures to prevent the spread of COVID-19. McElroy released Dwayne Coke, a 46-year-old native of Jamaica, to home confinement with a 14-day quarantine as he awaits deportation. Coke, of Quincy, has a lengthy record of domestic assault and disorderly behavior, and could be deported by next month.
RI School bus windows must remain open – at least 2 inches – throughout the winter.
The North Providence Pool & Fitness Center will reopen on a limited schedule in November.
The Latino Impact Plan was released by Roger Williams University – the plan addresses inequities and barriers of the Latino community in RI through the COVID-19 crisis. A synopsis of recommendations is included in the full report – access that, here: https://documentcloud.adobe.com/link/review?uri=urn%3Aaaid%3Ascds%3AUS%3A91b50b12-7829-4730-b84c-de29dcb6bfb6#pageNum=1
Cranston has received a $100,000 "Take It Outside" grant from the state and they will subcontract to local businesses who apply.
Logan Airport has will open a 7-room testing site – with results in 15 minutes – in mid-November.
Nine people have tested positive from an indoor-outdoor wedding on Martha's Vineyard in October – people traveling from high-risk states are thought to be the problem as the wedding followed health guidelines, otherwise.
Dunkin' and McDonalds have seen the surges in coffee sales over any other brand.
Dodgers' player, Justin Turner, tested positive and was removed from a game in-play, but later returned for the celebration after the game.
New Updated COVID19 numbers by RI cities/towns: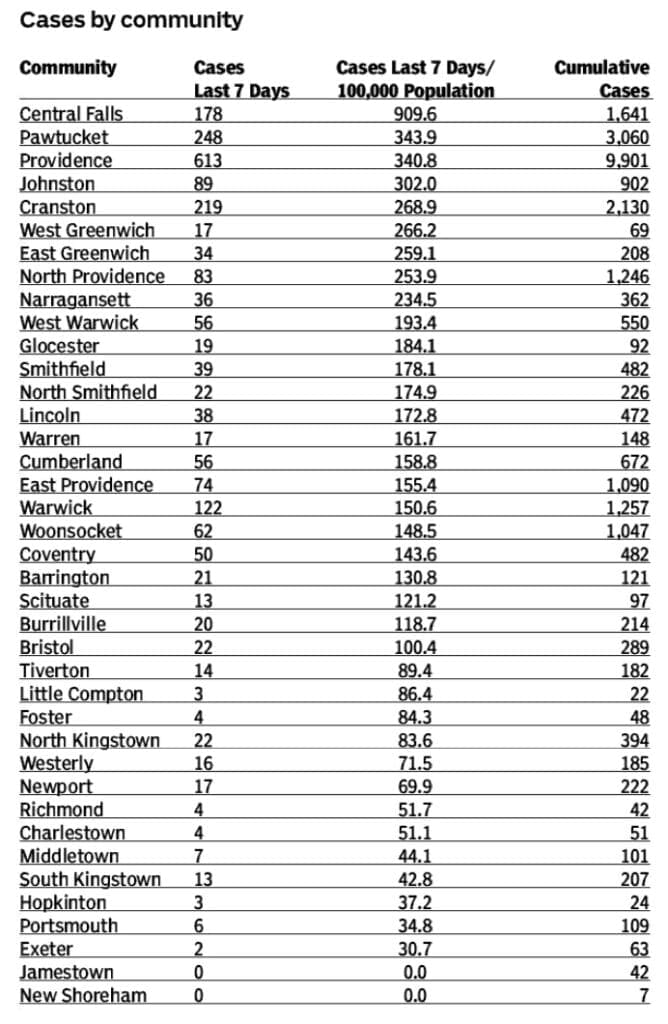 Governor's address:
425 new cases – 3.2% positive rate
4 Deaths – 1 in 70s, 1 in 80s, 2 in 90s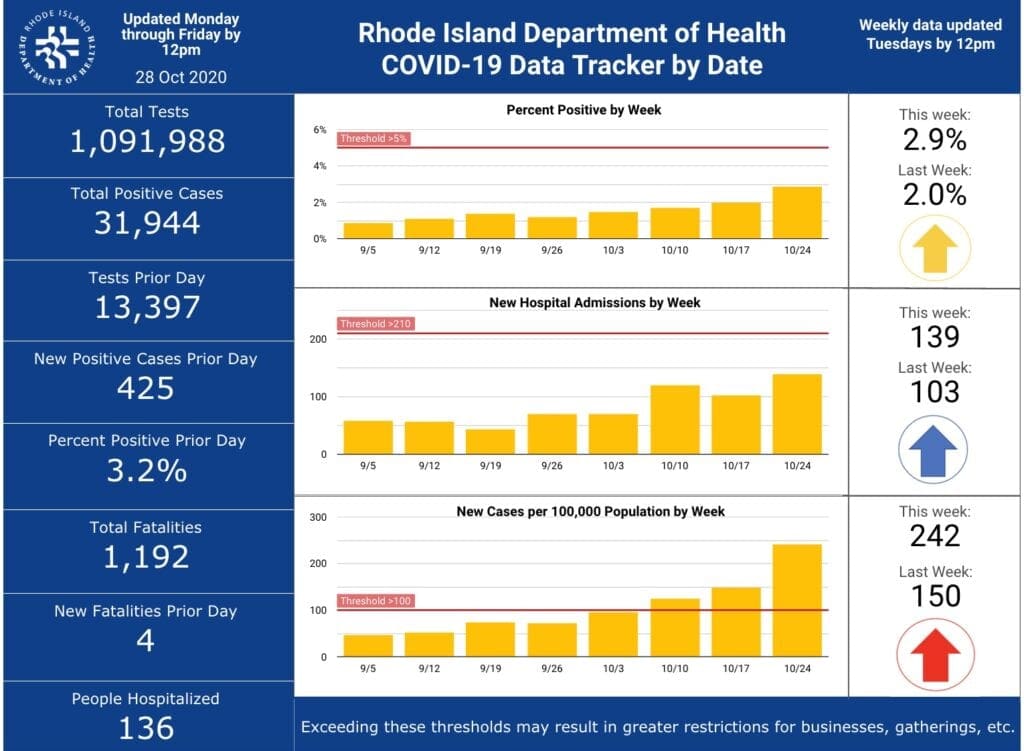 Gov. Gina M. Raimondo has asked the General Assembly to consider a revised package of capital improvements that takes into account a worst-case scenario that would include: deferring or eliminating millions of dollars in planned improvements to state buildings and properties over several years; another $90.7 million is transferred from the state's rainy-day fund; spend funds only on those projects that satisfy an economic-development need, are required for health and safety or federal compliance, or that are already under contract, and legally obligated to continue, by June 30. The amended plan includes restructuring the Eleanor Slater Hospital, converting the Zambarano campus to a nursing home and closing the Adolph Meyer and Regan Hospital buildings in Cranston. Renovations to the Cranston Street Armory will be reduced from $250,000 to $37,395 to complete contracted services, with the remainder deferred to 2022.
RI has been taken off the do not travel list for Connecticut
Testing – an effective tool in our toolbox – "RI continues to lead the nation in testing"
Percent positive – 2.9% last week – percent has been doubling and still ticking up quickly
Hospitalizations – also continuing to go up
"We all need to adjust our behavior." – vast majority are doing the best to follow "the rules".
"All of us have let our guard down". We are tired and fatigued and missing our friends and family.
Data shows the increase is coming from casual gatherings with family and friends in settings where our guards are down, and our masks are off. We are all spending time with too many people.
Take out a piece of paper – write down a few names of people you will see in next couple of weeks. And – that's it. You don't need to have 3 playdates in a weekend. Don't need to have coffee after church, etc. – Limit interactions for few weeks to those you NEED to see.. Try very hard to stay in that closed circle. You don't need to watch a sports game/practice.
Researchers say we could save 100K lives if we wear our masks.
Think about 3 I's – Informal, Indoors, Inconsistent Groups – this is how the spread is happening.
"We're in a bad place." A trajectory to have a problem with hospitalizations. In 4-5 weeks, we could go over our hospital capacities and have to use our field hospitals.
Special press conference FRIDAY, 1pm – more announcements on restrictions. Reducing social gathering limit, workplace restrictions, etc.
Executive Order Phase 3 is up today – very likely to change it on Friday.
Schools: Not seeing significant spread in schools. 7 weeks of data. 98,500 in-person learning, 49,000 learning virtually. Case prevalence rate last week was .13%. Schools are not super-spreaders. Kids in distance learning are not staying home. No data to suggest we all go virtual, because at-home kids are getting the virus in the same rate. At-home, however, are more likely to be struggling with abuse, mental health issues, etc. As long as data shows it's safe, we want to keep kids in school.
Contact Tracing – overwhelmed, pushed to the limits. Today we have 300 contact tracers. 80 of 300 are with K-12 completely. 50 were added in last week alone. Looking to hire 100 case investigators. If you have customer service experience, and can work full time, nights and weekends for next 6 mos. – go to: health.ri.gov/covidjobs – the pay is competitively.
People have too many contacts and that should not be that way – it should be a short list.
Personal request: Please be kind. Level of aggression that contact tracers are receiving is not ok. "I hear the hateful messages – spewing, swearing, hanging up the phone…. very upsetting – not the RI way".
1,000 substitute teachers have responded to help.
Employers – discourage after work congregating – if they travel together, they should be wearing a mask with windows down – let them get tested – if they can work from home, let them do that.
Halloween – no parties at all – not of any size – don't go to bars – non-mask wearing – enforcement teams will be out, and we will fine you – or shut down the facility.
Thursday, 3:15 Gov will do Facebook Live with co-chairs of the Young Adult Task Force, here: facebook.com/GinaMRaimondo
Case Investigations: In case data, distributed more evenly among age brackets. General increasing trend of casual, informal, unstructured settings – also 40% of cases in work settings – manufacturing, retail, food services. Increase in office settings – doubled in one week – financial services. Consider having people work remotely. Main source of transmission is when masks are off and there is socializing.
Drug Overdose Crisis: worse now than it has ever been – true for RI and for US. Peaked in 2016 and then declined every year. We are now on a path to exceed 2016 by 25%. July most overdose deaths since we've started tracking. Poly-substance use – more than one drug – and presence of fentanyl. BHLink open 24/7 at 414-LINK. BHLink free drop-in at 975 Waterman Ave, EP – Fire stations at Woonsocket, Providence and Newport will direct you to peer recovery. Call 911 to call for help if you are with someone overdosing. Carry NARCAN – it is available at drug stores without a prescription.
Q&A:
Testing: Should anyone in RI be paying for test right now?
A: Gov: If you are not sick, insurance won't cover it – if you go to state lab, it is free. Go to portal.ri.gov – it will be accessible. We will be adding more sites for asymptomatic testing. Private guys are charging.
Q: What does it look like elsewhere for hospitalizations?
A: We'll be out of space in a few weeks if we continue this way. 136 in hospital right now. Just under ½ of the 300 beds we have. If they max surge we go to 600 beds. We'll be there in 4 weeks. Then would have to open Cranston facility, with 350 more beds. Can ramp up other 2 sites if needed.
Q: Schools – more than 200 kids were in last week of data – 6 schools with more than 5.
A: No doubt that cases are up. No evidence of widescale spread.
Q: Providence feels they aren't being treated the same because of being short-staffed.
A: Decision to close schools for one case may not be what state would recommend. No need to close if somebody tests positive.
Q: 2 schools with 30 teachers in quarantine. Soccer teams shut down – how many numbers aren't showing up because they can't be traced to kids.
A: RI is good at tracing – not seeing significant transmission associated with school children.
Q: Funding for contact tracers?
A: Federal funds – ¼ billion will be spent on this
Q: Looking at Massachusetts color-coding system of cities/towns
A: Yes, we are looking at this.
Governor's FB Message: As we've been saying over the past few weeks, the increase in cases is being driven by casual gatherings with family and friends where our guards are down, and our masks are off. And the truth is, we're spending time with too many people. For the next few weeks, while we all work to turn around the trend, I'm asking you to limit your interactions only to those you need to see. The actions we take now will determine how we live for the next few months.
Gov: I know we need to do something, or we will be opening field hospitals – what is what I can do that will have less impact on commerce.