NATIONAL & INTERNATIONAL
Vaccine Announcement: Astra-Oxford shot produces immune response in older adults – A Covid vaccine candidate developed by the University of Oxford with AstraZeneca Plc has produced a robust immune response in older adults and the elderly, those at highest risk of severe illness. Findings on blood tests carried out on a subset of older participants echo data released in July that showed the vaccine generated robust immune responses in healthy adults ages 18 to 55, Astra said Monday. Older patients have been hardest hit by the pandemic, with the vast majority of deaths occurring in those over 60.
Harvey Weinstein may be close to death, in prison, with coronavirus
Pfizer has increased its effectiveness estimates from 90% to 95%
Roche Holding AG has completed early tests of its ability to produce large quantities of Regeneron Pharmaceuticals Inc's COVID-19 antibody treatment, putting it on track to begin manufacturing the drug once it is authorized by regulators, Regeneron's president said on Tuesday. The experimental therapy was used to treat U.S. President Donald Trump in October. The companies aim to be able to make 2 million doses of the antibody cocktail next year, but are awaiting clearance from regulators. https://www.reuters.com/article/idUSKBN27X2T5?utm_source=STAT+Newsletters&utm_campaign=377073e675-RO_COPY_04&utm_medium=email&utm_term=0_8cab1d7961-377073e675-132813241
NORAD said the virus will not top their Santa-tracking, though staff will be limited.
Germany is having huge protests about coronavirus lockdowns and restrictions.
Brazil to receive first doses of China's Sinovac COVID-19 vaccine
The New York Giants, Atlanta Falcons and Las Vegas Raiders put players on the NFL's COVID-19 list on Tuesday, while Washington had its first instance of someone in the organization testing positive for the coronavirus since the season began.
Sen. Rob Portman, R-Ohio, said he will participate in a Phase 3 vaccine trial being managed in Cincinnati. The more people Johnson & Johnson can line up for the trial, the sooner they complete testing and begin the FDA approval process, he said.
Small outbreak at Newton Hospital, with at least 9 cases among staff.
59% of college students plan to return to campus after the holidays, according to Generation Lab polling.
British Airways said Tuesday that it will start testing passengers flying from the U.S. to London's Heathrow Airport for the coronavirus in an effort to persuade the British government it should scrap rules requiring most international travelers to quarantine for 14 days. The airline says the pilot program will offer voluntary testing starting Nov. 25 in partnership with American Airlines for passengers flying to Heathrow from New York, Los Angeles and Dallas.
Delta Airlines will once again block off their middle seats.
Rutgers in New Jersey is enrolling as many as 2,000 participants from the university community and throughout New Jersey for a test of Johnson & Johnson's new potential vaccine.
Product limits in grocery stores on items such as cleaning products, toilet paper, paper towels, and empty shelves are beginning to be seen once again.
The NFL is placing all teams in intensive COVID19 protocol. Use of masks will be mandatory at all times at team facilities, including during practice and in weight rooms. Meetings must be held either virtually or in the largest indoor space with approval by the league. Meals have to be made available for grab-and-go to avoid players and staff congregating in cafeterias. Time spent in the locker room also has to be limited.
Chicago's Jewish community is battered by second wave of coronavirus
New research on recovered COVID patients suggests that immunity to the novel coronavirus may last years.
Some hospitals are saying they may restrict use of Eli Lilly's bamlanivimab antibody treatment for COVID-19 due to a supply shortage.
In Minnesota, more than 900 Mayo Clinic staff members have contracted COVID-19 in the last 2 weeks.
The CDC has quietly removed guidance from its website encouraging school reopenings and downplaying the risk of COVID-19 transmission to children.
NYC school buildings will shut down November 19 as COVID-19 cases rise
RHODE ISLAND & VICINITY
High Schools – will shift to limited in-person learning. Distance learning will be for most high-school students, while in-person will be for some high-need, multi-language learnings, at-risk students and those with special needs. No organized school sports until at least January. Many are questioning why this is delayed until Nov. 30th, rather than immediately.
Colleges/Universities – The New England Governors released a joint recommendation that all travel be limited for Thanksgiving, testing be provided for all students who do travel, and increased remote learning be put in place to end the fall semester, reducing back-and-forth travel multiple times.
Governor Raimondo responds to our inquiry about making recent ZOOM meeting available to the public: "Agendas for each meeting are posted to the Secretary of State website in accordance with the Open Meetings Act. Here is the link to the page on that website for the COVID-19 Vaccine Subcommittee. The public can sign up on the SOS website to get automated updates whenever something is posted. The agendas that are posted to that site include the Zoom link for attendees. We are not required to record the meetings or make those recordings available after the fact."
Massachusetts has announced it will begin testing in public schools, charters, etc. in December.
RI Hospitality Association has suggested not closing them down, but keeping outdoor dining open and perhaps limiting numbers of people at tables – in preparation for today's Governor's announcement.
RIIL would recommend Dec. 11 to the state as the start date for the winter season, two weeks later than normal.
Since March, there have been 1,046 cases of COVID identified in Newport County, and 415 (or roughly 40 percent) have come in the past four weeks.
Salve Regina University has seen 14 students contract the virus in the past seven days for a total of 34 since Aug. 19. There also has been one staff member to test positive since the start of classes this semester.
Providence Performing Arts moves to a fall 2021 season
Dr. Michael Fine said in an interview with GoLocalProv that we need to close factories, bars, and restaurants and they should be made whole economically. Must get people to stay home. "We need a new strategy — this one is clearly failed," said Fine, the former RI Director of Health.
City of Attleboro: 10 employees test positive
Around 40% of RI's new infections were believed to be household or family infections — someone got sick and brought it home to their spouse or roommate. The other 60% or so were believed to be the result of community spread from going to work and restaurants/bars, some from sports. (ProJo)
RI Data:
Deaths: 6
Tests Given: 18,414
Positives: 1,280
Percent positive: 7%
Hospitalized: 284
Hospitalized in ICU: 22
Hospitalized in ICU, ventilated: 13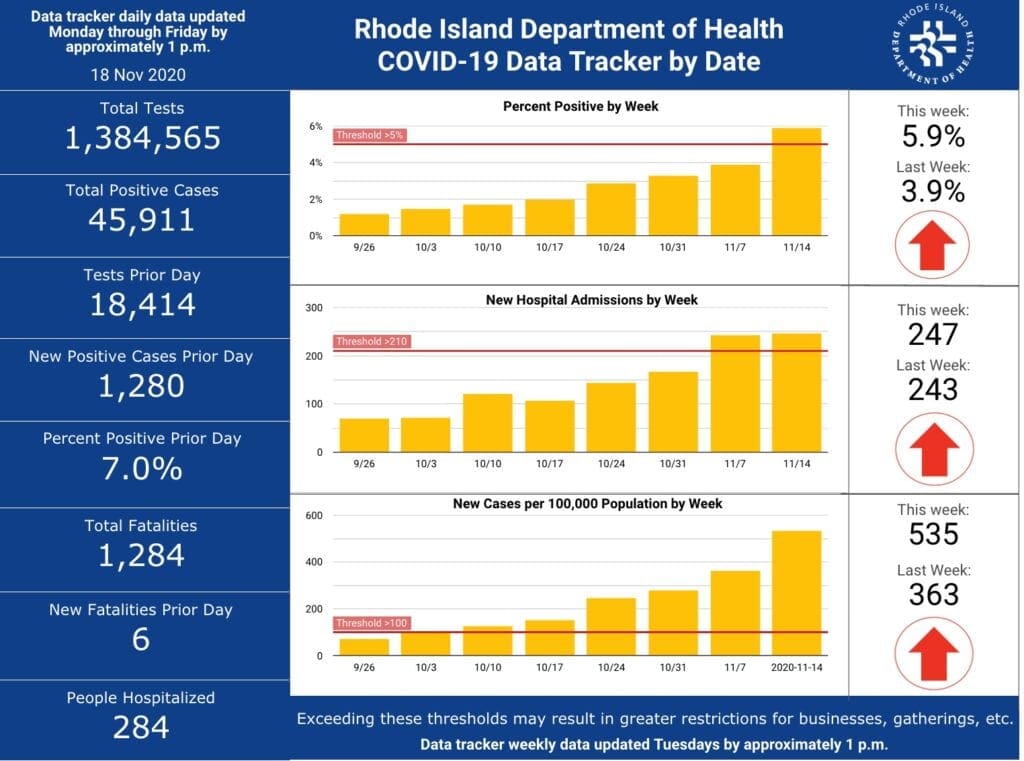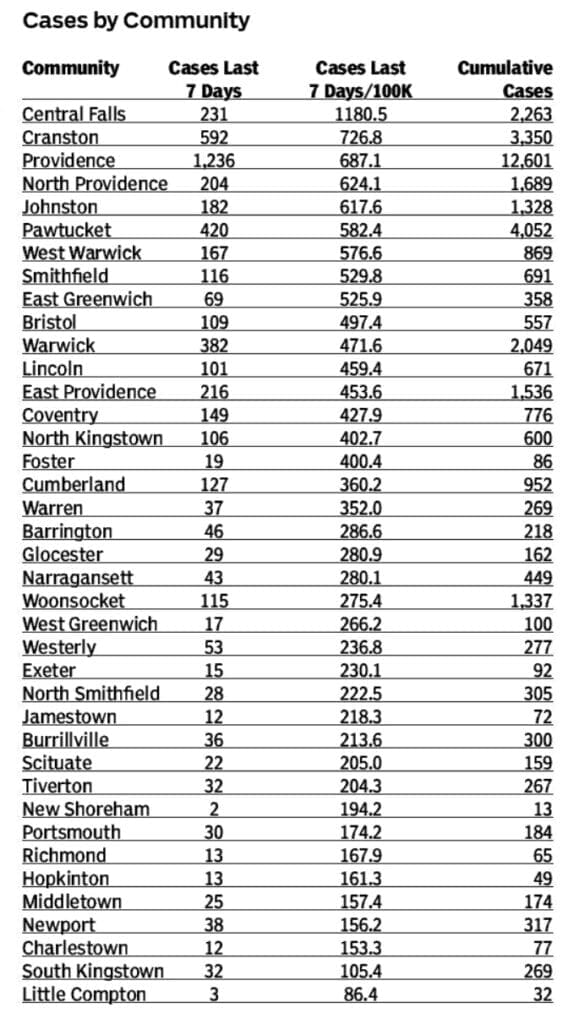 Governor's announcements today at 1pm – follow us on Facebook for the live link.