Your Coronavirus Update – Today, Dec. 1, 2020
Photo: Family walking on Sachuset – we look towards spring, a vaccine, and getting our lives back.
RHODE ISLAND & VICINITY
Crossroads has opened a new temporary shelter for 30 homeless individuals on Pine Street in Providence.
NBC10 reporting that nursing homes are experiencing staffing shortages – with 34% reporting problems. Many have left the profession after the beginning of the epidemic, or retired, according to the nursing home professional group.
Rhode Island will begin a pilot testing program for asymptomatic students and staff today at the Ella Risk Elementary school in Central Falls. Providence and Lincoln will start next week, for a total of 2,800 screenings.
Dr. Laura Forman gave a statement from the first field hospital in Cranston with its first patients – "we need everyone to stay home and stay safe".
Julian Edelman of Patriots is on COVID list – meaning exposure to COVID
In Worcester, the police department has 26 officers out of work after testing positive, and another 13 who are out while they await test results; 8 firefighters are out and 6 more awaiting test results.
The Scandinavian Home in Providence was fined over $47K from the Centers for Medicare and Medicaid Services (CMS), which has fined 218 nursing homes more than $17.6 million for the most serious infection control violations that put residents in "immediate jeopardy," conditions CMS believes are likely to seriously injure or kill them. Notably, the Scandinavian Home is among the lowest for COVID19 cases and deaths.
89% or more of ACI inmates at maximum security have tested positive – 316 of 354 inmates – per RI Dept. of Corrections – a total of 600+ now positive in the corrections system.
Travel during the holiday week, according to surveillance data on publicly available monitoring groups was lower than last year. Less than 1% of people screened at the airport were positive.
20/20 Hookah Lounge in Pawtucket has been fined over $4,000 multiple times. The owner said, "We're not paying any of it" and said she will go to court.
Connecticut is giving $9M to local arts groups
Monday is the last day for the program that has allowed restaurants in Boston to use sidewalks and public streets for outdoor dining.
Axios is reporting that Rhode Island reached its hospital capacity on Monday
RI Companies in Violation:
Family Dollar, Valley St., Providence
Sunset Tint & Sign, Coventry
Choi's Restaurant, Cranston St., Providence
Gurney's Ice Skating Rink in Newport will not open this year.
Lt. Gov. Small Business Facebook Live – TODAY – NOON – here: https://www.facebook.com/LGDanMcKee/ [facebook.com]
Agenda:
1. Lt. Governor McKee: Opening Remarks
2. LG introduces Joe Rodio, Legal Counsel to Lt. Governor McKee
3. LG introduces SBA Director Mark Hayward: Federal Update
4. LG introduces DLT Assistant Director Matt Weldon: UI Update
5. LG introduces the RI Small Business Coalition ( RISmallBusiness.org ) featuring:
a. Justin Gontarek of Simplicity Print Studio
b. Chris Parisi of Trailblaze Marketing
c. Lori Giuttari of Visual Thrive ( ShopLocalRhodeIsland.com )
6. LG introduces Small Business Panel featuring: (LG & Chris Parisi to lead panel)
a. Restaurants:
i. Cranston Councilman Ed Brady of The Thirsty Beaver, Huck's Filling
Station & Milk Money (recently closed)
ii. Michael Strout, Team GottaQ & GottaQ Smokehouse BBQ
iii. David Dadekian of Eat Drink RI
b. Fitness:
i. Judah Boulet of No Risk Crossfit
ii. Robert Foster of RBF Fitness & Nutrition
iii. Paul Dexter of Dexter Training Concepts
c. Arts:
i. Hugo Adames of The Talent Factory
Governor Raimondo – announcement on nine major changes to our testing system:
Last week, we launched a new texting system to let people know that their test results are available at portal.ri.gov/results. Going forward, if you provide your cell phone number when you sign up to get tested, you'll receive a text message as soon as your results are available on the portal.
Over the next week, we are dramatically scaling up our daily testing volume, with the goal of doubling the number of state-run tests by the end of our two-week pause.
To ensure people with symptoms can get tested quickly, we're going to be reserving 3,000 daily tests for people with symptoms on the portal at portal.ri.gov.
Starting December 2, all asymptomatic Rhode Islanders can get tested through the portal – you no longer need to belong to a certain age group or industry to qualify.
We're deploying our new BinaxNOW tests across the state, which doesn't require much equipment and can process results in as little as 15 minutes.
We're also adding more testing sites. This week, we're opening a new, asymptomatic-only testing site at the Dunkin Donuts center. And we're scaling up that site over the next few weeks until it has the capacity to run 5,000 daily BinaxNOW tests.
We're using these new tests to do targeted testing in high-density communities. Last week, we launched a pilot program in Central Falls and will soon have the capacity to run 1,000 daily tests for anyone in the city community, regardless of symptoms.
Starting next week, we're going to run cyclical tests with BinaxNOW for health care workers, teachers and students at select schools, and first responders.
Over the next month, we'll be partnering with the Broad Institute and CIC Health to enable businesses to easily order and conduct tests for their employees.
Gina Raimondo,
Governor
RI Data – Nov. 30, 2020
(3 days data; last report Fri)
Deaths: 27 (0 deaths in-hospital)
Total tests: 7,114
Total positives: 2,769
Percent positive: 9.2%
Hospitalized: 365 (New: 52; discharges: 36)
ICU: 40
Ventilated: 19 (down 4)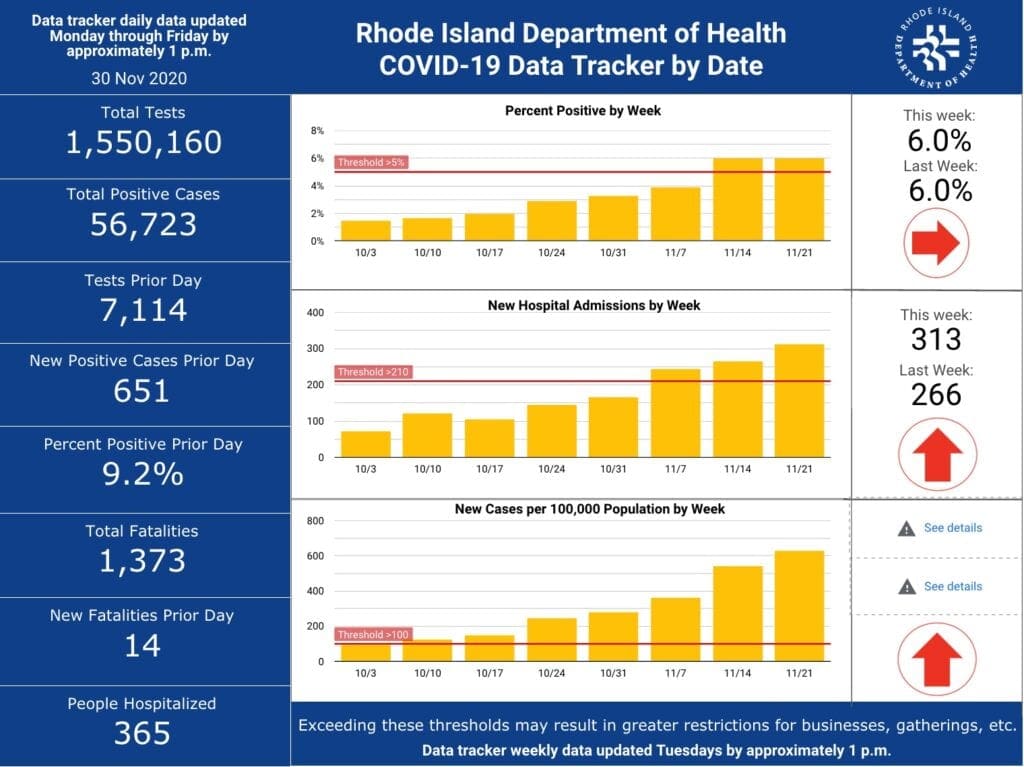 NATIONAL & INTERNATIONAL
The CDC task force will meet today to decide who will get the vaccine first – widely believed to be healthcare workers, nursing home residents, those over 65 with high risk, etc. But – there may be other groups such as essential workers moving for inclusion in this early round.
The WHO is marking the first weekly decline in COVID worldwide since September.
1.2 million people were screened at US airports over the Thanksgiving holiday.
Hong Kong is limiting public gatherings to 2 – and putting other severe shutdowns into place, including using hotels as quarantine centers.
Cases are surging among US military stationed in Japan.
NYC public schools will begin to open on Dec. 7.
New York is asking some hospitals to limit elective procedures and to begin surging to 50% more capacity.
The White House holiday decorations were debuted yesterday, including the Red Room display dedicated to pandemic First responders and frontline workers
Dr. Fauci said that if he had one thing to recommend to keep safe over this outbreak is to keep our gatherings to those we live with only – the very antithesis, he says, of the holiday season.
Dr. Fauci said it's "not too late" for people traveling back home after Thanksgiving to help stop the spread of the virus by wearing masks, staying distant from others and avoiding large groups of people.
Infection is being driven now by those who are positive, with no symptoms.
Other research – Scientists at the Institute of Cancer Research in London estimated that their work has already been delayed by an average of six months.
Kantaro Biosciences has received Emergency Use Authorization from FDA for COVID-SeroKlir, its semi-quantitative SARS-CoV-2 IgG antibody test kit. Unlike other antibody tests, COVID-SeroKlir determines the presence and precise level of IgG antibodies and has a broad range of applications in the fight against COVID-19. Through a commercial partnership with Bio-Techne Corporation the test kits are being manufactured at scale with a capacity of up to 10 million tests per month and the ability to scale up.
New York Gov. Andrew Cuomo said on Monday that struggling state hospital systems must transfer patients to sites that are not nearing capacity, as rising coronavirus cases and hospitalizations strain medical resources. "If a hospital gets overwhelmed, there will be a state investigation. And if the result of that investigation is they did not distribute the patients, that will be malpractice on their part," Cuomo said, noting that the state's mandate would be effective immediately. Elective surgeries must be halted in Erie County as of Friday. Other parts of the state will be required to cancel elective surgeries if cases continue to get worse.
"Supermarkets are rushing to secure freezers, thermometers and other medical gear for administering shots. They are also training staff and establishing online services for scheduling appointments."
Governors in states like North Dakota and Illinois have been warning about overburdened hospitals and limited beds for weeks. Hospitals in Utah say they are already informally rationing care, although no one has been ejected from ICUs yet.
Overall, patients who are hospitalized with COVID are reportedly surviving at higher rates than in the spring and summer, per STAT News. Many patients are younger, and effective treatments are being used more frequently.
The CDC says that four national forecasts, including Johns Hopkins' applied physics lab, predict a likely increase in new hospitalizations per day over the next four weeks.
Max Primorac, the No. 2 official at the U.S. Agency for International Development, recently tested positive for the coronavirus
Harvard epidemiologist Michael Mina believes his $5 billion plan for universal, rapid, at-home testing is the answer to pulling the country out of the pandemic
Merriam-Webster on Monday announced "pandemic" as its 2020 word of the year. Pandemic, with roots in Latin and Greek, is a combination of "pan," for all, and "demos," for people or population. The latter is the same root of "democracy," Sokolowski noted. The word pandemic dates to the mid-1600s, used broadly for "universal" and more specifically to disease in a medical text in the 1660s, he said. That was after the plagues of the Middle Ages.
Moderna submitted their vaccine to the FDA for Emergency Use Authorization.
Pfizer is shipping their vaccines now all over the world.
Virtual hospital programs have the potential to provide health systems with additional inpatient capacity during the COVID-19 pandemic and beyond. More, here: https://www.acpjournals.org/doi/10.7326/M20-4076
Dr. Scott Atlas, special advisor to the President, resigned with this letter: