Photo: Image from NBC Nightly News – RI is one of 5 stats with hotspots of COVID19.
RHODE ISLAND & VICINITY
Gov. Raimondo has not been public or held a COVID19 briefing in 25 days – this was mentioned in most of the RI media yesterday. Early this morning Gov. Raimondo issued a release that she and Gov-elect McKee will do a briefing at 1pm TODAY.
Governor Gina Raimondo and incoming Governor McKee agreed that the team leading RI's COVID response will remain in place throughout the pandemic. Participants joining the Incoming Governor in the meeting included: Dr. Nicole Alexander-Scott, Director, RI Department of Health; Major General Christopher Callahan, Adjutant General, Rhode Island National Guard; Dacia Reed, Deputy Chief of Staff, Office of the Governor; and Courtney Hawkins, Director, RI Department of Human Services.
RI health officials are not in line with the new initiative from the federal government about using all the vaccine supplies, saying they don"t know how much vaccine they can get per week, etc. RI says 75 and over won't even begin until February or March
Dr. Ashish Jha, dean of Brown's School of Public Health, quoted in the Providence Journal, recommends that a lottery system be used to get more needles into more arms after health-care workers and long-term care residents are done being vaccinated, and then moving to everyone 55 and older, starting with the oldest first. He proposed this in an op-ed to the New York Times which ran on Sunday. Here the podcast in the ProJo, here: https://omny.fm/shows/covid-what-comes-next-with-dr-ashish-jha/given-the-fragmented-and-delayed-rollouts-of-the-m
RI vaccination progress: RI says it is receiving 14,000 doses a week of the vaccine – to date 42,723 vaccines have been delivered, including 6,074 who received their 2nd shot, since vaccinations began on Dec. 14th, 5 weeks ago. (approx. 70,000+ shots received to date, with 42,723 administered).
If this rate of vaccination continues it would take over 2 years for eligible Rhode Islanders to be fully vaccinated.
RI passed 100,000 or 1 in every 10, or 10% of its population having been infected with COVID19
The speed camera near a Providence testing center has totaled $100K in fines.
On Sunday, incoming Governor McKee received an initial virtual briefing from members of the state COVID response team. The team highlighted the latest updates on the virus management strategy, hospital capacity and vaccination rollout.
In Connecticut, residents 75 and older will be able to begin signing up for vaccination appointments next week, a process Gov. Ned Lamont promised will be more orderly than in states where senior citizens have waited outdoors in long lines. Vaccines will be administered by appointment only, with sign-ups available online or by telephone.
The legislature is considering exempting unemployment benefits that were paid in 2020 from state income taxes.
Loretta Laroche, popular regional humorist is recovering from COVID, along with her partner.
New Bedford Mayor John Mitchell tests positive – his staff and family are testing negative.
Dr. Jha and Dr. Ranney are offering a 6-week course for COVID19 and pandemic management: Pandemic Problem-Solving: Surviving and Thriving in the Age of Pandemics – Cost is $1995. More, here: https://professional.brown.edu/pandemic-problem-solving?utm_source=social-media&utm_medium=passalong&utm_campaign=drjha&utm_content=dr-jha-post
RI College has hired a consultant at $72K a week to address the dire financial hardships of the college – an investigation into that no-bid contract is underway.
Jimmy's Pub in Mansfield received a grant of $10K from Barstool Sports to keep open.
The MBTA will run a reduced Hingham and Hull ferry schedule starting Jan. 23
Massachusetts will begin doing pool testing in schools.
The Rhode Island National Guard set up a testing station, with results available within 15 minutes, at the south baggage claim at the state airport.
URI pharmacy technicians are allowed to administer the vaccine, meaning those who have not previously administered vaccines need to be trained. They now join pharmacists, who have been allowed to give vaccinations in the state for about a decade.
Massachusetts statewide plan to begin vaccinating police, firefighters and emergency medical personnel begins this week.
The VA Providence Healthcare System began distributing COVID-19 vaccinations to veterans
Jury trials will begin again in some Massachusetts courtrooms after they were halted for months due to the coronavirus outbreak.
The 10,000 Chances Project, announced recently by Gov. Gina M. Raimondo's Overdose Prevention and Intervention Task Force, aims to distribute more than 10,000 kits containing naloxone, a medication that reverses opioid overdoses. Overdoses have increased dramatically since COVID19.
Warwick middle and high school students will be returning to in-person learning for the first time, starting Jan. 21.
Cranston will begin going back to school.
Pawtucket remains the only school system with no schools open.. Brother Gary Danzler, CEO of Black Lives Matter, with 3 children in the city's school system said children need to get back to school, particularly minority children.
Pawtucket School Committee has voted not to return to in-person school for the rest of the academic year.
RI Data – Jan 11, 2021
Deaths: 8 yesterday (31, 3 days)
Tests – 8,328 – Positives – 568 – Percent positive – 6.8 %
Hospitalized – 399 – In ICU – 47 – Ventilated – 33
Deaths in hospital – 6
New Admissions – 52
New Discharges – 32
Vaccinations – 1st shot: 31,007- 2 shots: 4,642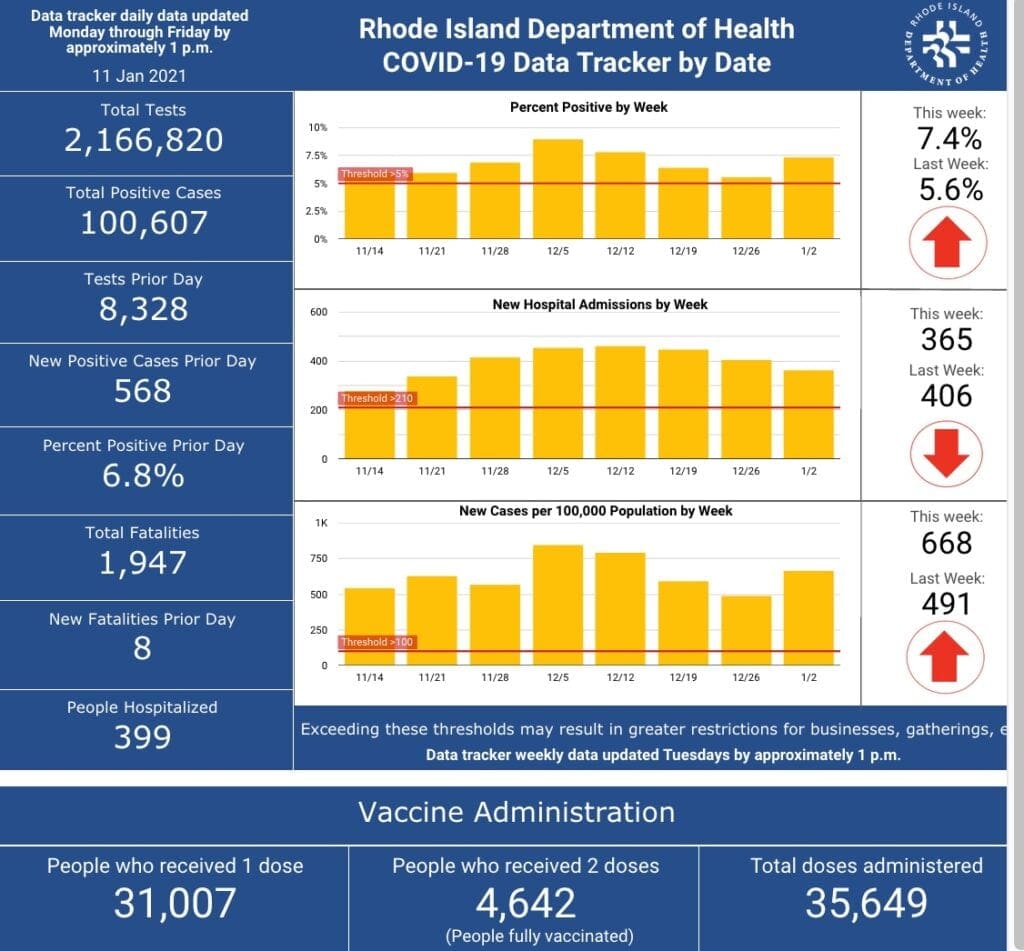 RI Data – Jan 12, 2021
Deaths: 23 Tests – 11,580 – Positives – 661 – Percent positive – 5.7%
Hospitalized – 402 – In ICU – 53 – Ventilated – 34
Deaths in hospital – 5
New Admissions – 37
New Discharges – 38
Vaccinations – 1st shot: 36,649- 2 shots: 6.074
Total Vaccinated: 42,723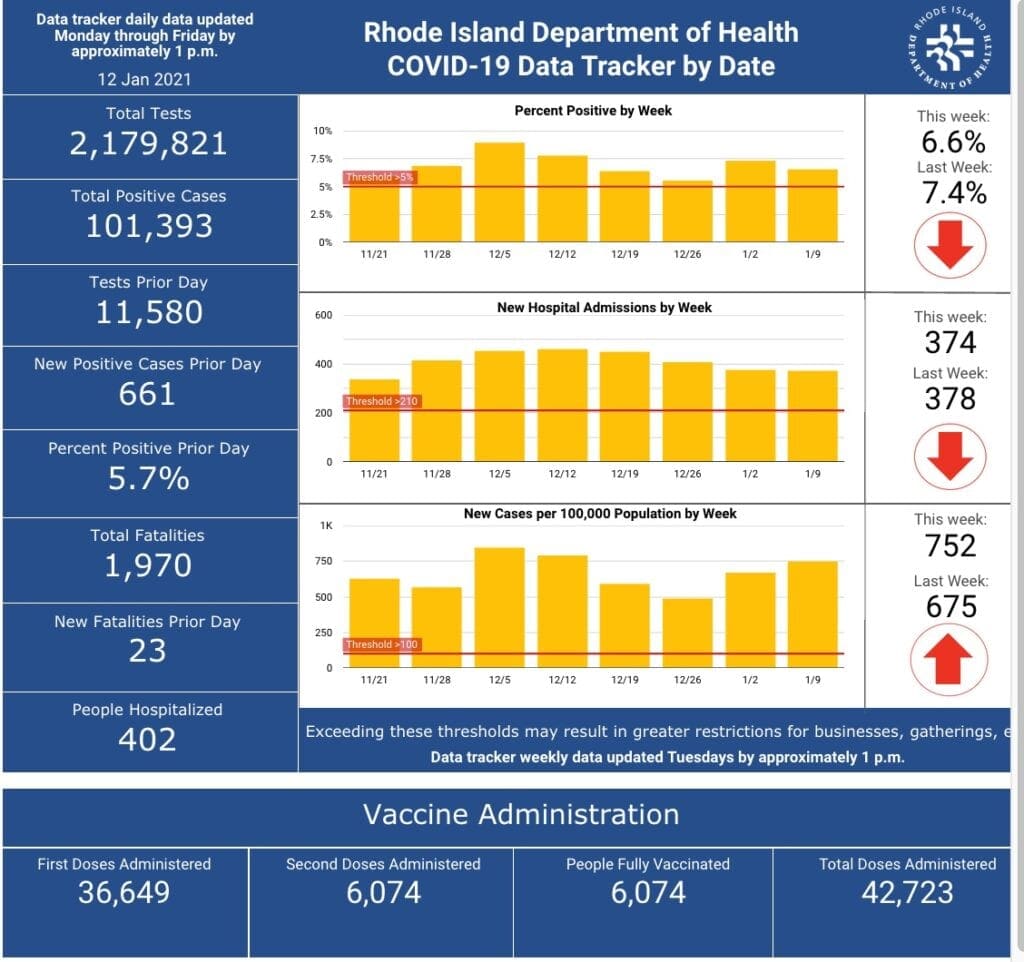 NATIONAL & INTERNATIONAL
Dr. Fauci said today that the death toll and cases are likely to continue for weeks to come.
Arkansas has lowered their age for vaccination from 75 to 70.
Queen Elizabeth and Prince Andrew were vaccinated.
With 4 NBA games having been called off because of COVID19, for "at least the next two weeks," the league and union said, players and team staff will have to remain at their residence when in their home markets and prohibited from leaving their hotels or having outside guests when on the road.
4 states have moved into Phase 2 with vaccinations – Michigan, Utah, New York, and Virginia – some doing those over 75 years old and teachers, among other prioritized groups.
Dr. Fauci said tonight that he is hopeful we can return to some semblance of normalcy by the fall of 2021.
Astra Zeneca and Johnson & Johnson vaccines are coming soon.
A leading physician at George Washington Medical Center in DC advises: "Open the vaccines to all groups. Allow people >75 to make reservations at pharmacies, etc and have walk-in first come, first served mass vaccination events open to everyone."
New Jersey Rep. Bonnie Watson, who was in confinement at the US Capitol, tested positive, and was not wearing a mask during that time in a small room with other representatives and senators.
In South Dakota, for the second straight day, no new deaths were reported.
Pennsylvania will speed up vaccines for seniors ages 65 and older at the urging of the CDC.
Prisoners being vaccinated first in several states has been causing controversy.
Pope Francis ok'd vaccinations, saying, "It's an ethical choice, because you are playing with health, life, but you are also playing with the lives of others," Pope Francis told the station. "I've signed up. One must do it."
Increased calls for hospitals to have family presence, especially if death may be imminent. Family presence at the bedside, along with regular communication between health care providers and their patients and families, are not indulgences — they need to be part of the standard of care. Richard Leiter and Samantha Gelfand are palliative care physicians at Brigham and Women's Hospital and the Dana-Farber Cancer Institute, both in Boston" – https://www.statnews.com/2021/01/09/even-during-a-pandemic-hospitals-must-make-family-visits-and-communication-the-standard-of-care/?utm_source=STAT+Newsletters&utm_campaign=932df6e13f-MR_COPY_01&utm_medium=email&utm_term=0_8cab1d7961-932df6e13f-132813241)
Britain will open seven large-scale vaccination centres helping to accelerate the rollout of COVID-19 shots that the government wants to deliver to all vulnerable people by mid-February.
The New Hampshire Senate is moving to remote public hearings and sessions, while the House is still figuring out how to conduct its business safely during the coronavirus pandemic.
The new strain of coronavirus has now been reported here: Georgia: 1 New York: 1 Pennsylvania: 1 Texas: 1 Connecticut: 2 Colorado: 3 Minnesota: 5 Florida: 22 California: 32
Pope Francis's personal physician died from complications of the virus. Francis himself expects to be vaccinated as soon as this week.
In Pennsylvania, the state on Friday released an updated vaccine plan that makes more people eligible for shots in the initial phases of the rollout. Health care workers and nursing home residents remain at the front of the line, followed by people 75 years and older and "essential workers" such as police officers, grocery store clerks and teachers.
LA essential workers are being asked to wear masks in their own homes
New Jersey opening megasites to speed vaccinations
Disneyworld in California will open to become a mass vaccination site.
Dodgers Stadium in California will host a mass vaccination site.
New York Governor saying the state must get back to business or there will be nothing left – must do so safely and smartly.
Moderna says COVID-19 vaccine immunity to stay at least a year
Moderna does not expect to have vaccine efficacy data for young children until 2022.
Chancellor Angela Merkel has told lawmakers in her conservative party that she expects a lockdown in Germany to curb the spread of the coronavirus to last until the start of April.
In New Hampshire, residents who are fully vaccinated or were previously infected with the coronavirus no longer need to quarantine after being exposed to an infected person or after traveling.
In Nebraska, over 40% of the state's 90,000 health care workers have received the first of two doses.
Uber has agreed to help promote vaccinations by sending reminder messages to over 78 million subscribers with apps on their phones.
2 gorillas in the San Diego Zoo have gotten coronavirus from their handler
Indian airlines started delivering batches of COVID-19 vaccines nationwide on Tuesday, preparing for the launch of a campaign to offer shots to 1.3 billion people, in what officials call the world's biggest vaccination drive. 300 million high-risk people inoculated over the next six to eight months.
Democratic Representatives Brad Schneider, Bonnie Watson Coleman and Pramila Jayapal all test positive – they were hiding in the US Capitol
New Jersey's failure to provide home health care services to qualifying elderly and disabled people puts them at risk of ending up in nursing homes that have been hard-hit by the coronavirus pandemic, according to a lawsuit filed against health officials
In New Jersey, more than 200,000 people have been vaccinated so far, double the number from a week ago.
New Yorkers are rushing to sign up for late-night vaccination slots, Mayor Bill de Blasio said Monday. Midnight to- 4 a.m. appointments at two 24hour vaccination sites were quickly snapped up, he said. "The city that never sleeps, people are immediately grabbing those opportunities to get vaccinated," the mayor said.
Joe Biden received his 2nd vaccine shot.
Bruce Willis asked to leave pharmacy for refusing to wear a mask
J & J in 'final stages' of analyzing trial results for its one-dose COVID vaccine