RI Winter High School Sports set to play again
by John Cardullo, RINewsToday sportswriter
Photo (above): During a time out, Central Lady Knights Head Coach Vin Sandura keeps social distancing a priority while instructing his team
It has been pretty much 10 months to the day since the Rhode Island Inter Scholastic League shut down all winter sports due to the increasing threat of the Coronavirus that had begun sweeping across the country. At the time, March of 2020 to be exact, the winter sports scene was wrapping up a successful season. Basketball, Hockey, Wrestling, Cheerleading were crowning their state champions. In both the boy's and girls' basketball program, teams were preparing to play in the popular State Basketball Tournament that was going to be held at URI's Ryan Center. As everyone is aware of by now, the pandemic hit full force and everything across the globe came to a screeching stop.
It was not until the fall of 2020 when high school sports ventured back into competition again, but with new rules, regulations and protocols put into place allowing those sports deemed as low risk to venture out onto the field of competition again. Track, Field Hockey, and Soccer were a few of the low-risk sports that played a shorter than normal schedule and were able to crown champions, and some of those schedules were interrupted with COVID-19 outbreaks and games were either rescheduled or canceled altogether.
It was clear that the Rhode Island Interscholastic League and the members schools were not gambling with the safety and health of their student athletes and under the leadership of their new executive director, Mike Lunney, the RIIL, was going to be patient and work something out in order to get the students athletes back into competition as soon as possible. High risk sports such as Wrestling, Football and Competitive Cheer were put on pause for when a plan could be made and executed for those student athletes to play and remain safe.
In a zoom news conference held last week, Lunney outlined the guideline and protocols that will be in place as the winter sports season begins. "For Basketball, instead of playing halves, the games will turn to four 8-minute quarters, altering the number of time outs each team receives, extending the length of time during time out so teams will be able social distance and sanitize, and adjusting the time between quarters and halves to limit exposure in a confined spaces such as locker rooms." He went on to point out that both pre- and post-game handshakes are being eliminated, and that traditions such as line up introductions and the National Anthem will be conducted while both teams are on the court and socially distanced.
"The adjustments and alterations have been made with a safety-first mindset for the players, officials, coaching, and game day staff in mind," said Central High School's Athletic Director Michelle Rawcliffe. Rawcliffe continued "we realize that this isn't what anyone wanted for the season, but given the alternative, we were all willing to make the adjustments to get back to playing. Additional basketball modifications include that everyone in the arena must wear masks at all times, and two balls will be rotated for play – while one is being used the other is being sanitized and will be used quarterly. Players entering the game as substitutions report to the scorer's table and must stand in a designated spot before being allowed to enter the game. Multiple substitutions must maintain social distance from each other while waiting to be allowed in the game. Finally, hand sanitizer will be available to all personal involved with the game, but the players will be encouraged to use the hand sanitizer before the game, substitution from the bench before entering the game, when coming off the court, between quarters and at the conclusion of the game." Rawcliffe concluded, "we have limited personnel at the table to essential personnel, the timer, home (official) scorekeeper, and the scoreboard operator. All will be socially distanced from each other. We even have staggered each team's bench area to help with social distancing. The league has asked each team to limit their rosters to only those players that will play in the game to limit the risk of exposure."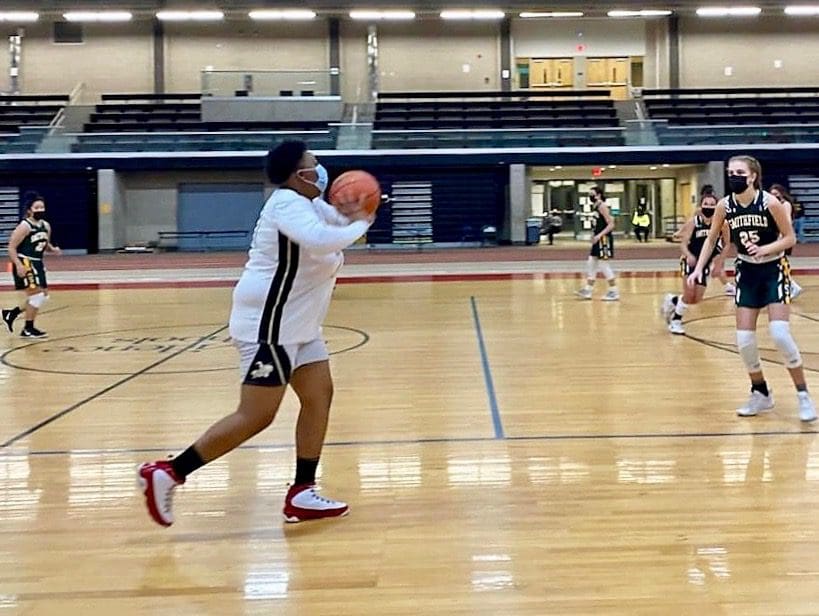 As far as the players are concerned, Central Lady Knight's senior Captain Ze-Harra Cook said it best. "We will do what we have to do to be able to get back onto the court and play!" This being her senior year she does not know what lies a head for her future athletic career, but she is certain that she and her fellow seniors of both the girls' and boys' teams want to play their senior year. "If it means that we must wear a mask while we play, we will wear a mask. If we have to socially distance, we will distance. If we must use sanitizer in order to play, well I will shower in the stuff to be able to play!" Cook is not the only Lady Knight player who feels this way. The same sentiment is echoed throughout the team.
The officials have been instructed on the penalties that are in place for mask violations. The penalty could run from an official warning to ejection, and technical fouls would be accessed to the player and coach. Because the officials themselves are required to wear masks as well, a handheld whistle device is being used for stoppage of play and foul violations. It is with this hope of everyone's cooperation, that the RIIL hopes to limit the risk of exposure to all participants involved it the game. As far as the families and friends who would like to go to the game but can not because of crowd limitations, each school is looking into live streaming each sporting event.
Anyone interested in signing on to the stream is encouraged to contact their schools Athletic Director to get the information.
One thing is certain, there aren't many more challenges than having to organize and manage sports through a worldwide pandemic and as far grading the efforts and execution of both the schools and the Rhode Island Interscholastic League they are doing it right and should be praised for getting the athletes back on the courts, ice and gyms. It hasn't been easy, but they are getting it done!