RHODE ISLAND & VICINITY
Providence has set immediate sign-up for 2-day mass vaccination clinic for residents over 65 years of age and from ONLY 3 zip codes – 02907 – 02908 and 02909. Sign up here: https://www.providenceri.gov/vaccinate/
A RI vaccination coordinator has been named by outgoing Gov. Raimondo as she appoints a transition from a RI Dept. of Education staff member, without Lt. Gov. McKee's involvement, according to multiple media sources.
CCRI vaccination site is closed for today due to the weather. Some vaccine can be expected to be delayed due to travel problems.
People under 75 have been able to register for the shot and are not being turned away at the vaccination centers.
In a "transition memo" from the Gov. to HealthSourceRI, they have been asked to trim $1M from their budget, regardless of their request for $3M more.
A vaccination clinic will be held at the John Hope Settlement House, for some Providence residents.
Lt. Gov. Dan McKee will hold a meeting today with his own coronavirus transition team.
With neither Gov. Raimondo nor Lt. Gov. McKee attending meetings, there has been wide discussion about a solid plan moving forward.
Kent Hospital is NOT opening up visitation – as well as Care New England facilities – Westerly Hospital is allowing 1 visitor per day.
Some nursing care facilities are loosening up visitation while some are mandating on-site rapid testing before entering the buildings.
Connecticut's largest teachers union is running a TV ad that encourages officials to begin vaccinating teachers immediately.
Springfield, Worcester among 20 communities identified for targeted outreach in state COVID vaccination effort.
The Yarmouth Clam Festival in Yarmouth, ME has been canceled.
Massachusetts is nearly doubling the number of residents who are eligible for COVID-19 shots, announcing that residents age 65 to 74 and those with two or more qualifying health conditions can book vaccine appointments starting Thursday.
Massachusetts furniture retailers see increase in sales as homes become offices
Maine's attorney general has issued a warning to health care providers against administering COVID-19 vaccines to ineligible people after MaineHealth gave shots to out-of-state consultants hired to fight an effort to unionize nurses.
Connecticut's essential workers, including teachers, and people with underlying medical conditions should learn in about 10 days when they can begin making their COVID-19 vaccination appointments.
Plymouth State University is returning to online classes, citing a growing number of student COVID-19 cases.
Dartmouth College has begun planning for a "normal fall term," if coronavirus cases remain low and community vaccination rates are high by summer's end.
Biggest hurdle in Taunton COVID vaccine rollout is lack of supply from state
Garland Pen Co. had announced they were closing, but now remains open thanks to a PPP loan.
School swim meets in RI will compete individually, wait up to a day to learn their results, and have no observers.
The L'il Bear Pub in Tiverton is closing.
Mohegan Tribe will open a clinic at Mohegan Sun for 300 shots per day for CT residents.
The Hotel Commonwealth in Kenmore Square has had all 3 of its restaurants close.
Fall River Mayor is complaining that Bristol County has not received a fair share of vaccine.
Massachusetts is nearly doubling the number of people eligible for COVID-19 shots, announcing that residents age 65 to 74 and those with two or more underlying health conditions, including asthma, can book vaccine appointments starting at 8 a.m. Thursday." After the new eligibility rules were announced about 250,000 people flooded to the appointment-booking website and caused brief crashes.
A report done by NBC10 says that anywhere from 25-75% of firefighters, police and EMTs in RI are not getting the vaccine, by choice.
RI and MA National Guard may drive to pick up the vaccine if it gets delayed because of national weather issues.
Massachusetts adds asthma to vaccine eligibility which is well received among those with asthma who were not included before.
Massachusetts Department of Public Health will focus resources on 20 cities and towns with high "social vulnerability" and coronavirus caseloads: Boston, Brockton, Chelsea, Everett, Fall River, Fitchburg, Framingham, Haverhill, Holyoke, Lawrence, Leominster, Lowell, Lynn, Malden, Methuen, New Bedford, Randolph, Revere, Springfield, and Worcester.
In Vermont, cities are vaccinating home-bound seniors by having EMTsgoing door-to-door, using the Moderna vaccine.
Warwick has issued a report of their vaccinations so far:
Between 12/28/20 and 2/10/21 we have fully vaccinated 239 uniformed first responders (Fire & Police) – 72% of the workforce
Between 2/3/21and 2/9/21 we vaccinated 390 75+ residents with their 1st COVID-19 Vaccine at the regional POD
On 2/15/21 we vaccinated 644 residents with their 1st shot at the City's first 75+ POD at Veterans Middle School.
On 2/22, 3/1 & 3/8 will plan to vaccinate at least an additional 1,920 of the City's 75+ population at the Veterans Middle School POD.
On 3/15, 3/22, 3/29 & 4/5 we will administer 2nd shots of the vaccine to the 2,564 residents that were vaccinated at the 1st shot clinics.
We currently have 3,200 75+ residents on the City's Vaccine Waitlist. 700 of the oldest residents remaining on the list were invited to the 2/22 vaccine clinic by email this afternoon.
The University of Massachusetts Dartmouth's commencement will be virtual.
The Newport Music Festival will host 17 outdoor concerts between July 4-17
The Blackstone Valley Community Health Center on Broad Street in Central Falls has apparently allowed non-residents who are also younger than the current state eligibility guideline of 75 and older to also sign up for vaccinations, according to several residents who spoke to the Providene Journal.
Massachusetts CIC Health issuing apologies on social media for signup glitches, downed website, etc. as hundreds of thousands of residents 65+ try to register.
With over 100 positive cases this week, Providence College is temporarily restricting student movement. Students who live both on and off campus are required to limit their activities to essential travel, including going to class, picking up food or groceries, medical appointments, outdoor recreation, and work, and visitors are not allowed in dormitories and on-campus students are not allowed to visit off-campus student residences.
RI Update:
Effective tomorrow – hospitals can return to Level 1 for visitation – all prevention measures in place, visitors will need to be screened and other supports will be in place. If you are sick do not visit, of course. Clinical judgement of facility will be deciding factor.
Effective tomorrow – nursing homes and assisted living facilities – visitation can resume with screening, etc. Guidance has been issued about ventilation, mask wearing, screening, hand washing.
Testing – if you are going to visit you should commit to get tested at least once a week – it is accessible everywhere.
New strain identified in RI – best way to protect is to get tested regularly, wear high quality mask, follow guidelines. 400K KN95 masks will be distributed at testing sites.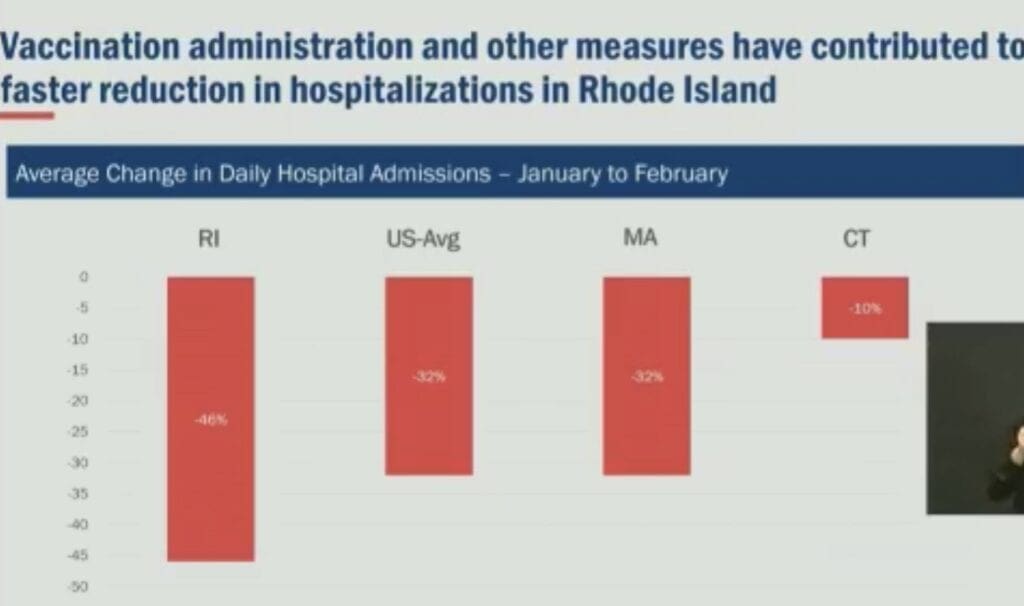 Vaccination campaign – initial portion was healthcare workers and congregate settings. 70% of our deaths have been in congregate settings. RI is ahead of the pack with 49% decrease in hospitalizations, particularly among groups we identified for vaccinations, but also treatment modalities and testing. RIDOH says no doubt vaccinations are responsible for this decline.
Vaccinations have been very complex and taken time. Much faster to have done it at mass vaccination sites. Administration rate of vaccines: we are a "little behind" other states who did not take our complex method of vaccination. Important we understand why RI chose the path it chose. We will measure health outcomes at the end – keeping people out of the hospital, avoiding deaths. Phase 1 has achieved by and large what we wanted to do. We can be confident in the fact that we are protected enough and now we can move on, still prioritizing by risk – age, underlying risk, geography.
2 mass vaccination sites for general public – The Dunk and the Sockanosset Crossroads facilities. Gen. Callahan is in charge. Today, alone, over 3,000 appts have been made so far – with 10,000+ over the next week and a half. Go to vaccinateRI.org – or call automated # 844-930-1779. We can do hundreds of shots per hour. We will stand up additional mass vaccination sites in RI.
We will consolidate clinics being run by cities and towns to 5 regional ones. This will allow vaccine to be shipped directly there and be stored without a lot of transport of vaccine.
Two objectives now: faster and simpler vaccinations. We understand it's time. We will also consolidate the registration sites. Pharmacies will continue to have their own. Goal is to move regional sites into the one registration system, too.
Q&A:
Q: How do you explain so much unused supply of vaccine?
A: Vaccines considered on-the-shelf were not held back, but were part of the distribution and redistribution process. Packaging and repackaging, getting it to other partners, if vaccine had not been administered we would collect it and redistribute it again. 0.2% waste of vaccines. This is what contributed to the large amount on-the-shelf.
Q: Harvard gave RI an "F" because it didn't go into people's arms.
A: Within 14 days, almost 100% was distributed. Now looking at 7 days. With fewer sites.
Q: Is any of the state's redistribution system a mistake?
A: We didn't expect for this to be measured that slow – we needed to prioritize and we did that, and now it's time to speed it up.
Q: Vaccination sign-ups are occuring now – and not after Monday – for 65 year olds?
A: From now until Monday it is 75 and older. After Monday, it is 65 and older. We will delete if those who do not qualify have set up. Over next 24-48 hours they will be deleted.
Q: Are you going to kick off 65 year olds who went on and signed up now?
A: If it is overwhelming, we can correct this – we will go carefully there.
Q: When does Governor plan on residing and have an orderly transition of government?
A: Dr. Scott said to reach out to Governor, but the Governor is fully engaged as is Lt. Gov. McKee.
Q: Significant appointments are being made in RI through the media and Lt. Gov. McKee's frustration seems to show a disorderly situation.
A: Dr. Scott – I can assure you that our information is flowing and interacting.
Q: Gov. Raimondo extended her executive orders through March 17th, long after she is gone. Did Gov ask Dr. Scott to do this?
A: Yes, she asked our opinion about Executive Orders. We were concerned about the new variant. It will be significantly more contagious. We can make updates to those changes.
Q: URI football was supposed to play Bryant. Game was canceled, but now URI is going to play now. Why couldn't someone sit outdoors and watch a game outdoors.
A: We're looking at improvements.
Q: Would you continue to describe Gov. Raimondo's management as brilliant?
A: Yes
Q: People under age of 65 can make appointments. They can make appointments – what will happen when they show up?
A: System is based on honesty and cooperation of people involved. Self-attestation is what is used. Hopefully between now and Monday, only those over 75 will go on, we do have ability to cancel them.
Q: What about the homebound?
A: We're continuing to work through agencies involved in home care and plan for this – should have news next week.
Q: Has the approach cut down on deaths and how do you know?
A: We know fatalities lag behind decreasing cases…we need a few weeks to determine that.
Q: On Monday, will RI's website crash as MA has?
A: Today we do not think it will. Because we've had over 10,000 sign up.
Q: Phone lines can't get through – is RI going to improve this?
A: RI already made changes – we've added live individuals.
Q: Both CT and NY and MA and NJ have increased gathering limits for events, weddings, etc.
A: In a month, we should see gathering limits increase even more.
Stefan Pryor ended the conference with a note of confidence in the Governor and Lt. Governor and the group quickly left the stage.
Cases by Cities & Towns:

Feb. 18, 2021
Deaths: 15
Tests – 17,924 – Positives – 320 – Percent positive – 1.8%
Hospitalized – 180 – In ICU – 32 – Ventilated – 18
Deaths in hospital – 3 – New Admissions – 20 – New Discharges – 38
First vaccines: 119,284 Total fully vaccinated – 2 shots: 54,350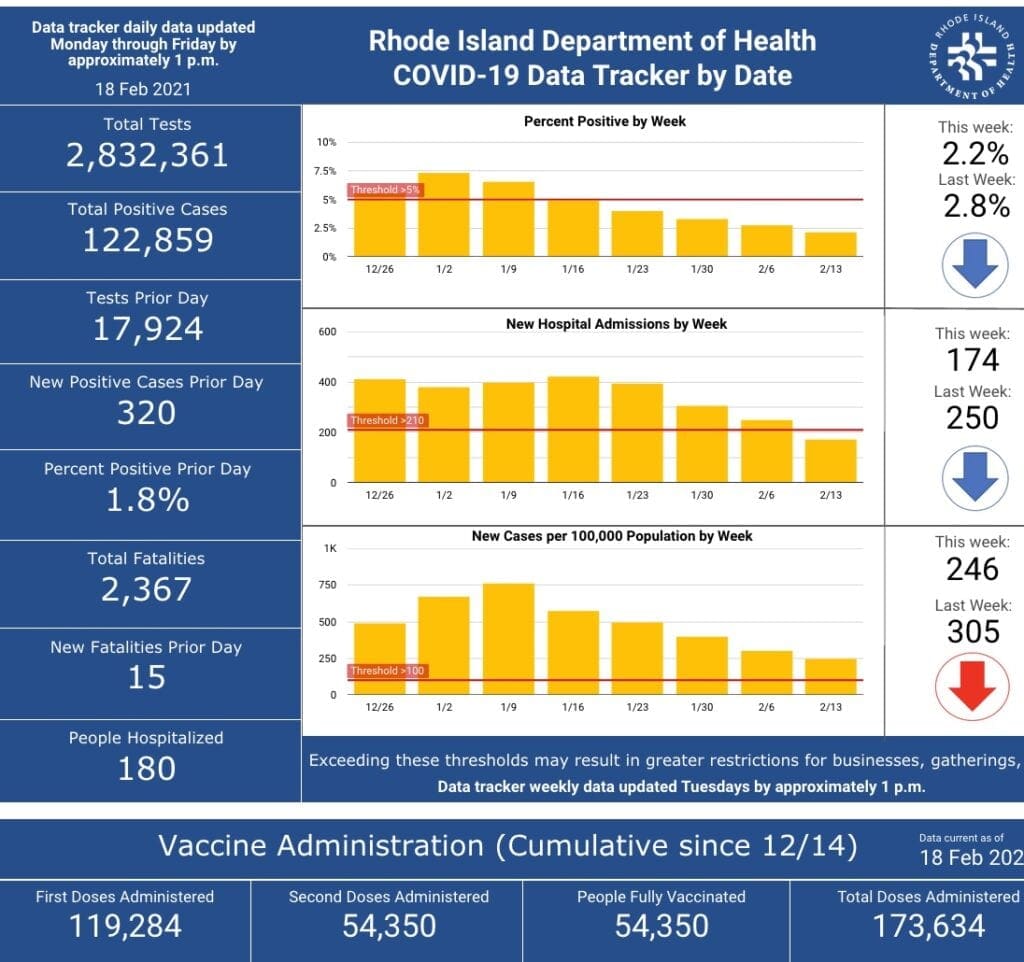 Feb. 17, 2021
Deaths: 8
Tests – 16,529 – Positives – 327 – Percent positive – 2%
Hospitalized – 193 – In ICU – 30 Ventilated – 19 Deaths in hospital
3 New Admissions – 23 New Discharges
27 First vaccines: 113,298 Total vaccinated, 2 shots: 52,190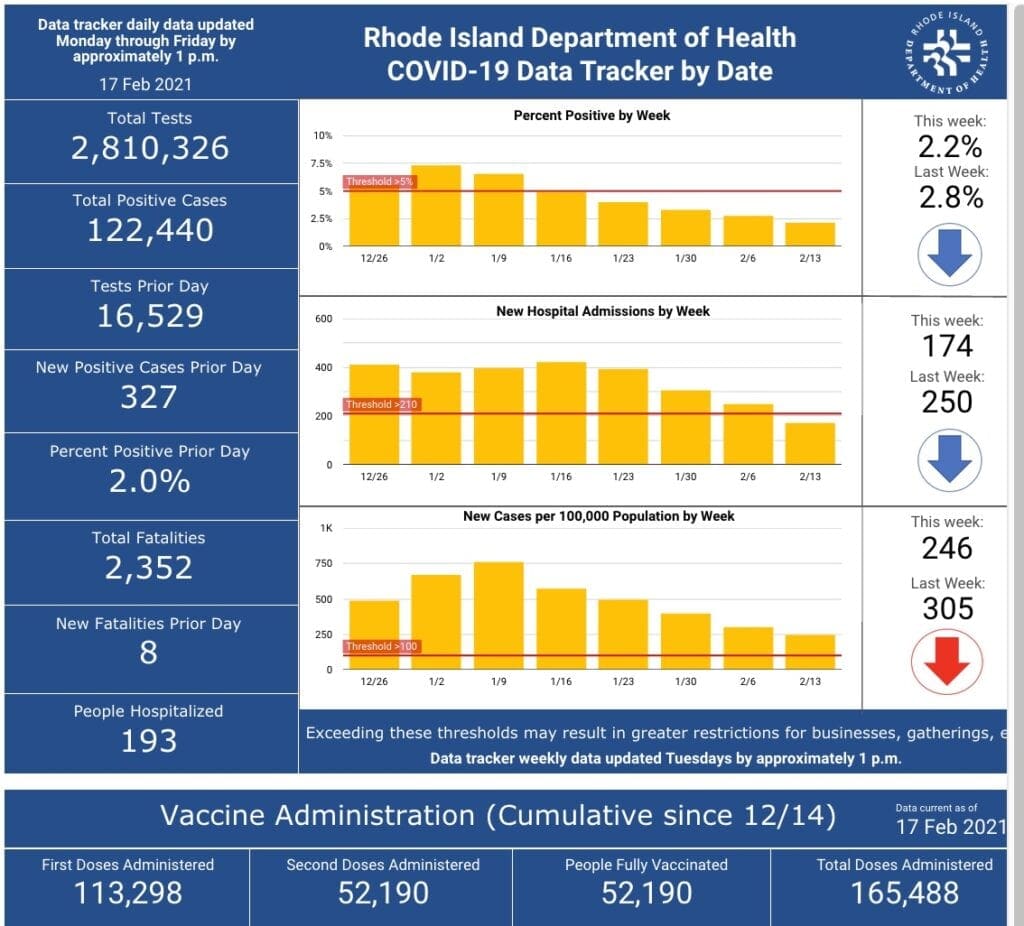 NATIONAL & INTERNATIONAL
The hazardous weather nationwide is delaying deliveries of coronavirus vaccine shipments.
Nearly 4 million Americans have been unemployed for 27 weeks or longer — trapped in a vicious cycle that makes it harder to get back to work
Vatican employees who refuse to get the COVID-19 vaccine will be fired. Pope Francis' COVID-19 commission says that individuals have a moral responsibility to get vaccinated "given that refusing a vaccine can constitute a risk for others'"
Walmart prepares 5,000+ pharmacies to administer the COVID vaccine – 90% of Americans live within 10 miles of a store
NIH funds study to evaluate remdesivir for COVID-19 in pregnancy
President Biden has been speaking a lot about the future with coronavirus – here are some statements in the last 24 hours:
"I think a year from now, … there will be significantly fewer people having to be socially distanced, have to wear a mask."
"I don't want to overpromise anything here," Biden added. "It matters whether you continue to wear that mask."
"By next Christmas, I think we'll be in a very different circumstance, God willing, than we are today."
"My guess is they're going to probably be pushing to open all summer, to continue like it's a different semester and try to catch up. … The goal will be five days a week."
Dr. Anthony Fauci said today that the timeline for when the general population could receive shots was slipping from April to May or June.
Covid is devastating Israel's ultra-Orthodox communities,
U.S. public health advisers are weighing recommendations for extending the interval between the first and second doses of Covid-19 vaccines, a potential strategy for quickly getting protection to more people.
Pres. Biden further explained his goal of back-to-school in 100 days, saying that his goal is 5 days a week.
3 Las Vegas hotels will again open 24/7.
PrepMod, the vendor for the crashing Massachusetts vaccination registration site is accepting responsibility for the difficulties which has locked out thousands trying to make appointments.
90-year-old Seattle woman walked 6 miles through snow to get her COVID-19 vaccine
Nevada will begin vaccinating residents 65+ at local pharmacies.
Oxford University. Last week, started the world's first coronavirus vaccine trial in young kids. This month, around 240 volunteers aged 6-17 will get the AstraZeneca shot. The goal: to assess the vaccine's safety and effectiveness in younger patients. Pfizer and Moderna are reportedly planning similar moves – and have already been carrying out trials in US kids as young as 12.
UMass Medical School announced the statewide launch of a Vaccine Corps to recruit and deploy volunteers to support and accelerate the COVID-19 vaccine rollout in Massachusetts. Over $435,000 have been raised to support the Vaccine Corps, led by a $200,000 gift from the Woburn-based Cummings Foundation that UMass Medical School was challenged to match.