Photo: Wenatchee High School, Washington. Band and choral practice safety tents.
RHODE ISLAND & VICINITY
No more capacity limits for restaurants in Massachusetts now.
Some maple producers are welcoming visitors this season, with pandemic restrictions in place. March is considered Maple Month in New Hampshire. Open houses set for Maple Weekend, 3/20-21.
URI hit another record last week with 132 positive cases while its positivity rate increased to just over 2%.
Brown University has reported 58 new cases in the past seven days as of Sunday, issuing warnings to students and faculty.
Mayor Walsh says St. Patrick's Day could be a super-spreader, even with new rules
Massachusetts can now have 6-person jury trials, while most other court services are happening virtually
WooSox will delay their April start in Worcester as AAA changes timelines of baseball
University enrollment news: Brown University has a 26% increase in applications; Providence College almost 3% increase; RISD a 15% increase; Salve Regina, up 3%; JWU is level; New England Institute of Technology up a whopping 35% – reported by Linda Borg in the Providence Journal.
High school football is back in session
Graduate Hotel in Providence set to reopen in April
Providence College will start to allow spectators in outdoor sports
The Bristol 4th of July Parade planning group is planning for a full parade, with adjustments if needed.
TF Green Airport will begin Delta flights soon.
9,000 new Johnson & Johnson shots are headed to RI
Cranston begins vaccinating those over 65.
Marble House, a National Historic Landmark that's been closed since last March because of the pandemic, is reopening to visitors.
Maine: With vaccines more plentiful, the state is expanding eligibility to those 60 and up this week and will use a strictly age-based approach moving forward
Safe Face, a Newport based company, has created a two-ply with a filter inside of it that allows the mask to exceed the N95 standard for doctors, nurses and healthcare personnel. Now the company is producing masks and gaiters for company's employees like Facebook and Shop Rite, NHL team players, and even the L.A. Dodger's right fielder Mookie Betts and his family. For more information on the company visit their website.
The move to loosen restrictions in Massachusetts includes: + Indoor performance venues can run at greater capacities + Capacity limits across all sectors have been raised + Indoor, higher-contact recreational activities can reopen at 50 percent capacity,
Today's Data – March 2, 2021
Deaths: 8
Tests – 9,654 – Positives – 264 – Percent positive – 2.7%
Hospitalized – 157 – In ICU – 25 – Ventilated – 17
Deaths in hospital – 2 – New Admissions – 6 – New Discharges – 9
First vaccines: 193,963 Total fully vaccinated – 2 shots: 78,350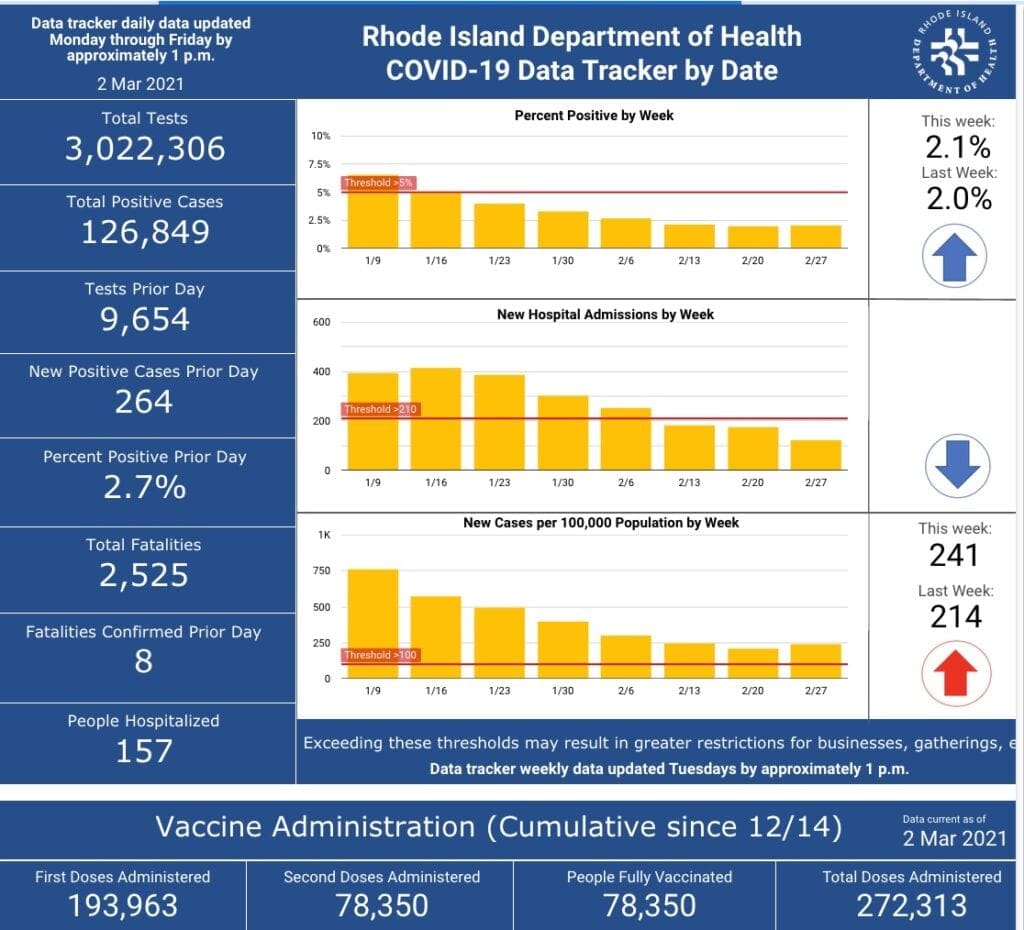 Today's Data – March 1, 2021
Deaths: 4 (15 total, Fri/Sat/Sun)
Tests – 126,588 – Positives – 152 -Percent positive – 2.6%
Hospitalized – 162 – In ICU – 28 – Ventilated – 18
Deaths in hospital – 1 – New Admissions – 8 – New Discharges – 11
First vaccines: 189,139 Total fully vaccinated – 2 shots: 76,451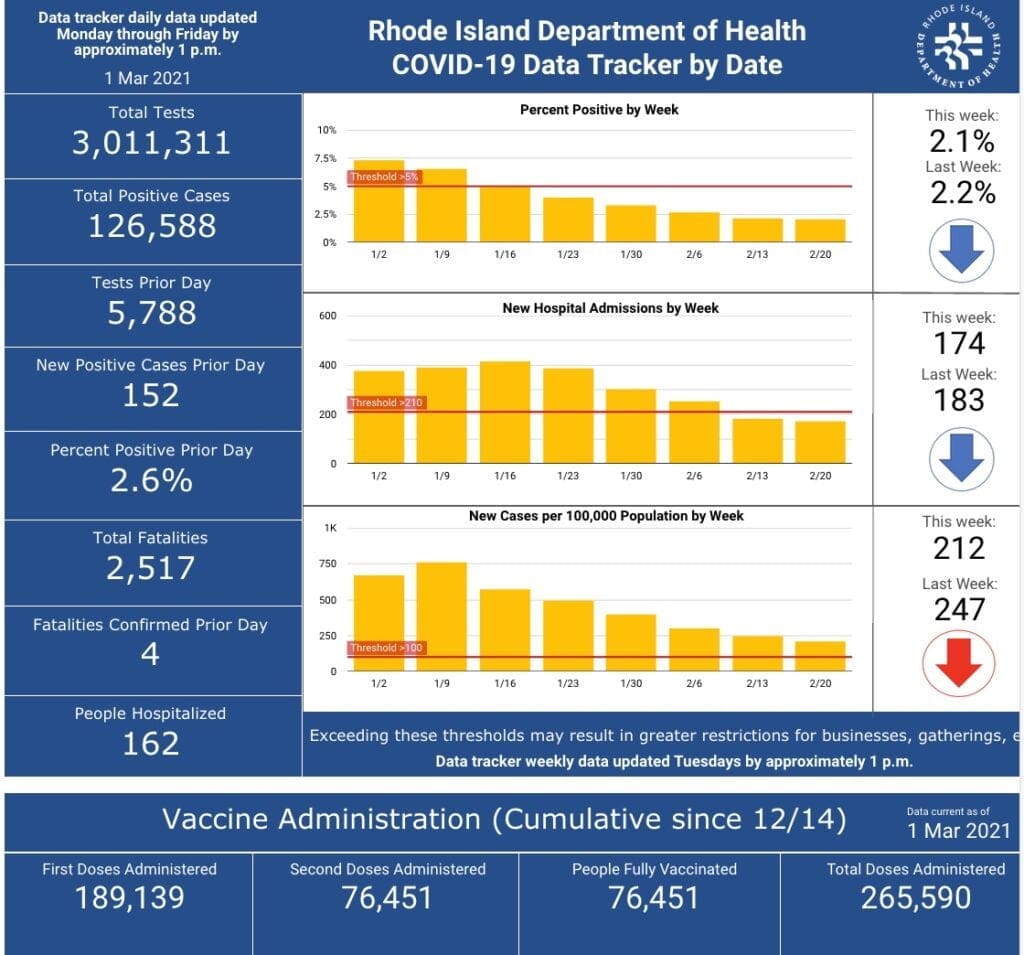 NATIONAL & INTERNATIONAL
President Biden announces states must begin vaccinating all school-related personnel, completing that in March.
President Biden announces that all people in the US wanting a shot will have access to a vaccine by the end of May.
After steady national numbers declined, they are now rising again – up by more than 2% and 2,000 more deaths.
CDC Chief says the US could lose the progress we have gained
Johnson & Johnson one shot vaccine is being shipped to all states.
Auckland will move to Alert Level 3 and the rest of New Zealand will move to Alert Level 2. The measures will remain in place for the next seven days. The case is a family member of a student from Papatoetoe High School. That could provide a straightforward explanation for this infection, but in this case it has not
Olympics – Dr. Ranney cautions that this event, if held with masks-optional policy and 70K in arena, will become a super-spreader event. –
Fry's Electronics, the go-to chain for tech tinkerers looking for an obscure part, is closing for good.
Delta Airlines will start up again in Minneapolis and St. Paul.
Texas Governor Abbott ends statewide mask mandate
Mississippi opens state totally.
Kansas opens state with modification on restrictions.
Finland declares a state of emergency, allowing it to close bars and restaurants to curb the spread of the coronavirus
At the University of Delaware, 300 students tested positive for the coronavirus last week – the most cases in one week the school has ever seen.
AAA baseball delayed nationwide.
Teachers, support staff and public transportation workers will be eligible for the COVID-19 vaccine March 15 in New Jersey.
Roughly 1/3 of the military have turned down getting the vaccine – some facilities, such as Fort Bragg, at 50%, are much higher.
There are many at-home COVID-19 tests approved and on the market right now. They tend to be single use and expensive – with high rate of false positives.
Cellphone usage up 34% during the pandemic
All Apple stores in the U.S. are open for the first time since businesses began widespread closures last spring.
The CDC warned states that "now is not the time" to lift public health restrictions, as the recent dramatic declines in coronavirus cases and deaths "appear to be stalling."
American Assoc Family Practitioners president Ada Stewart, MD, noted in a statement that "Despite many patients contacting their family physicians for information on how they can receive the COVID-19 vaccine, 85% of independent practices are unable to obtain COVID-19 vaccines for their patients … The AAFP is advocating that federal, state and local governments take immediate steps to supply community-based primary care physicians with COVID-19 vaccines, and those vaccination strategies should leverage trusted primary care physicians to reduce vaccine hesitancy."
To combat resistance to vaccine, we need to spread the word – speaking on radio shows and in virtual sessions with church and social groups, government officials, the state NAACP – answering questions and dispelling myths
In Florida, Gov. says, "we have put Seniors First from day one and I'm pleased to announce that starting tomorrow we are providing vaccines directly to seniors at the Venice Municipal Airport Festival Fairgrounds" and will vaccinate over 4,000 people in 2 days.