Central Falls, Rhode Island. The 27th most densely populated city in America. Approximately 20,000 people living in little more than 1 square mile.
Recently, we've all learned more about Central Falls as it became a hotspot for COVID-19 transmission. Dense housing, with streets of 3-tenement houses and multi-generational family living, made the transmission of a new, opportunistic virus especially concerting. Families with elderly loved ones living together with children and working age adults.
As the state of Rhode Island identified this area of immediate concern, testing and, now, vaccinations, have risen to an emergency level with an all out effort to get the spread of COVID-19 in this community under control. Knowing that many people who work in our nursing homes and front line workers also come from this area and the surrounding Blackstone Valley neighborhoods of Pawtucket and Cumberland, the urgency put Central Falls on a statewide, if not a national focus, in this battle.
In 2020, the Western Oil Company, a company that recovers used oil, which has 4 large, tall white storage tanks located in the heart of Central Falls, on the Lincoln line, began their plans to expand by 9 more tanks. Each tank holds 30,000 gallons. The four tanks now present hold 120,000 gallons of used oil. That would grow by 270,000 gallons to as much as 390,000 gallons, total – with expansion plans unstopped. Efforts to get zoning approval have failed and now the company is set to go to court to sue the zoning group.
In 2020 the city said 'no' to the proposal, after conducting a site tour and reviewing documents. They heard testimony about odors in the community when used oil is burned off. They heard testimony about neighbors literally in the backyard of the existing tanks. Western Oil returned in 2021 for an appeal – and is now pursuing their legal action against the city.
A map shows the location of the property and its close relationship to two bodies of water. One, Scott Pond. The other, Valley Pond. It is Valley Pond that has direct access to Narragansett Bay, where the pond empties after a route that also takes it by Heritage Park and River island Park. The zoning board decision mentions Narragansett Bay as a primary concern.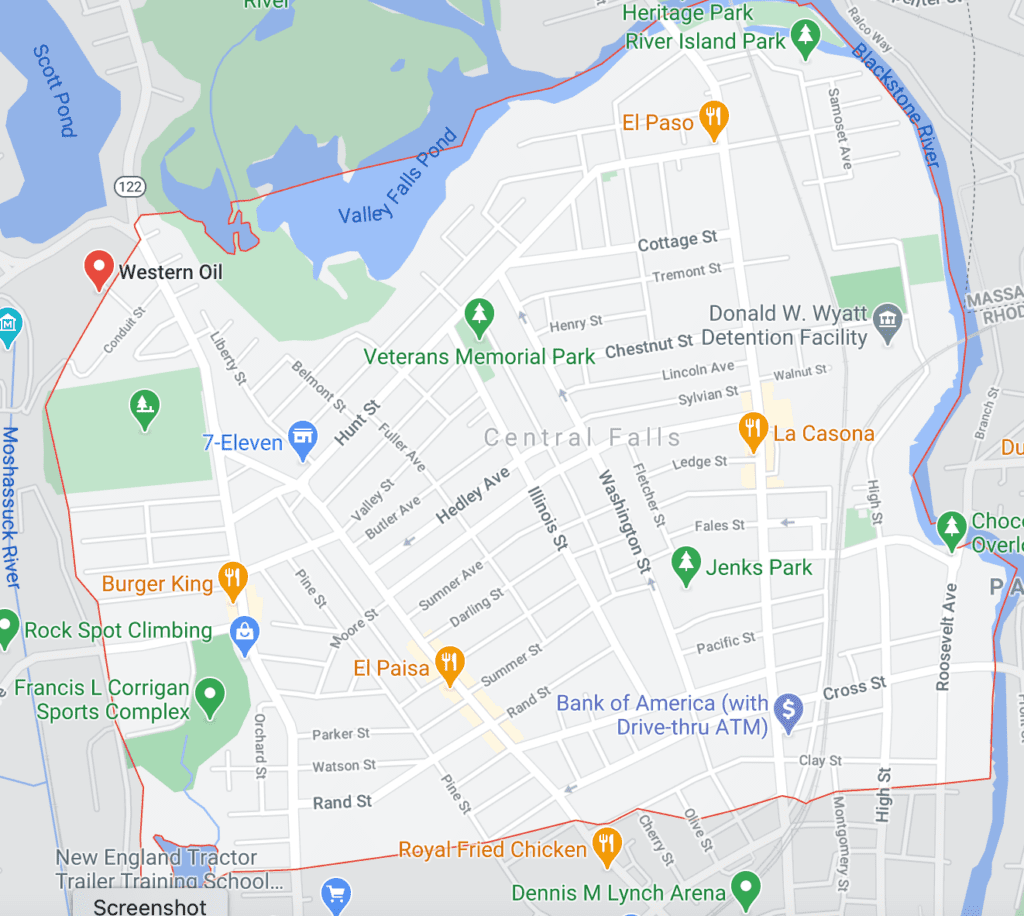 Other concerns are from neighbors. They involve what happens in the tanks with the used oil. Toxins, water, and unknown odious gases leave the tanks when the oil is burned off, emitting them into the air and the neighborhood. Fried food smells are common. There is spillage danger, they say. And, fire danger.
Neighbors and former employees have said there have already been spills. Spills that were covered up – instead of dug up – and removed – or treated. Leaked oil caused by the height and weight of the tanks, aided by the pull of gravity are concerns for spillage into the waterways. Other concerns are around noxious fires that could happen – fires that could take considerable time to put out, with toxic smoke being spewed into the dense neighborhoods. They also site the noise of trucks through the streets, and the fact that current ordinances limit 30 feet to the height of structures, and the company is seeking a height variance. The community is also seeking an analysis of the soil surrounding the existing tanks.
Western Oil's office is located on the Central Falls/Lincoln line off Lonsdale Avenue, near Walker Street, on Duchess Ave. Owners say they use contaminant barriers and inspect their tanks daily. The tanks four tanks have been onsite since 2008. Spokespeople have said this needed expansion might also need further expansion in the future.
About Western Oil
Western has been a leading provider of environmental and hazardous waste management services in New England since 1975, supplying our customers with a variety of environmental services and petroleum recycling systems. Western's Used Oil and Oil Products Recycling Services provide turnkey services to pickup, transport and recycle used oil, oil filters and antifreeze. Western is the only used oil re-refiner facility located in Rhode Island. Western provides automotive and fleet support services to service centers, dealerships, quick lubes and garages.
Western specializes in the recycling of:
Used oil: Recycled for use as boiler fuel and is burned in approved industrial furnaces.
Used antifreeze: Western collects used antifreeze in drum and bulk which is then re-manufactured for reuse.
Used oil filters: Residual oil is used as boiler fuel and is burned in approved industrial furnaces; the scrap metal is recycled.
Oil water mixtures: Processed to reclaim the oil.
Used absorbents: Used as supplemental fuel at approved energy recovery sites.