Photo: Johnston Mayor Joseph Polisena welcomes Gov. Dan McKee and Lt. Gov. nominee Sabina Matos to the Johnston vaccination center which opens today at the Johnston Recreation Center on Atwood Avenue. Johnston Sunrise photo
RHODE ISLAND & VICINITY
7,300 more appointments opened up Tuesday for Rhode Islanders over 50 – as well as special communities – check vaccineri.org for the most current information. Over 40 will begin next Monday – all ages a week after that.
Today in RI, Coventry Democrat Thomas Noret's bill will be heard in committee that would make vaccination status a protected class that defends people from discrimination based on their race, gender or sexual orientation. This would block the governor from making vaccination mandatory and financial institutions from refusing loans based on vaccination status.
Gov. McKee will tour Newport small businesses today.
RI is getting about $40 million in federal relief funding to address the hunger crisis exacerbated by the pandemic, with Food Bank demand up 25%.
In MA, only 1/2 of DCF visits to children are in person.
Informal results of Sunday vaccine appointment setting for the Black, Asian, Indigenous, Hispanic communities: 544 people registered across 5 sites in RI at these 7 sites on Sunday. Total registrants per RIDOH is approx. 900.
Downtown Providence empty office space is estimated to be 14.5%
Organizers hope that as many as 6,000 people of color in Rhode Island will receive vaccines on the weekend of April 10-11 at locations in Providence and Woonsocket.
Hasbro Children's first clinic for at-risk youth, more than 100 people age 16 to 25 received the first dose of the COVID-19 vaccine
97,000 shots were administered in Fall River on Saturday
In MA, 62% of restaurant employees who are out on unemployment are making more than they did when they were working their jobs.
Aging in Place home modification and improvement program aimed at seniors who prefer to remain in their own homes rather than moving to an assisted living or nursing facility. The program serves Blue Cross members who are enrolled in both Medicare and Medicaid. About 125 home modifications are expected to be completed within in the next two years
As more older Mainers are vaccinated, a surge of infections is being driven by people younger than 30.
The University of New Hampshire will host two COVID-19 vaccination clinics for in-state students, staff and faculty this week.
Rhode Island's football game against New Hampshire was postponed because of COVID-19.
University of Connecticut officials have placed five dormitories under quarantine because of a spike in coronavirus cases that may be related to large, off-campus parties.
On Saturday, Massachusetts set a vaccination record, with more than 97,000 doses administered. So far, 1.45 million people in the state are fully vaccinated.
In Massachusetts, the full list of vaccination qualifying compromising conditions now includes: Cancer, chronic kidney disease, chronic lung diseases, dementia or other neurological conditions, diabetes (type 1 or type 2), down syndrome, heart conditions, HIV infection, immunocompromised state, liver disease, overweight and obesity, pregnancy, sickle cell disease or thalassemia, smoking, solid organ or blood stem cell transplant, stroke or cerebrovascular disease, and substance use disorders. You now only have to have one of these conditions.
"Given the disruptions to traditional learning that Massachusetts students have faced in the past year, Gov. Baker implored education leaders Thursday to organize a 'robust summer school' program for students to help combat learning loss from the pandemic."
Boston Mayor announces $50 million for city's Rental Relief Fund
Connecticut has launched a homebound COVID-19 vaccination program that has drawn nearly 2,000 people so far,
The RI Superior Court Rules were amended today, permitting the Court to continue using remote hearings post-COVID
Tortilla Flats Restaurant in Providence will reopen soon, after closing due to the pandemic.
Island Cinemas 10 in Middletown reopened for business Friday
Gov. Chris Sununu's mandate that all New Hampshire K-12 schools return to full-time, in-person learning by April 19 caught administrators, school boards and teachers off guard, though many schools were already on track to meet that deadline.
The number of new coronavirus cases across Vermont continues to increase – losing its point of pride as one of the safest states in the country during the pandemic.
Restaurants in Boston's North End neighborhood are now able to offer outdoor dining, 10 days after restaurants throughout the rest of the city were able to do so.
RI Data – April 5, 2021
Deaths: 2 (2 for weekend)
Tests – 3,222/day – Positives – 79 – Percent positive – 2.5%
Hospitalized – 144 – In ICU – 23 – Ventilated – 15
Deaths in hospital – 1 – New Admissions – 19 – New Discharges – 18
Vaccinated – 374,696; Both shots – 256,834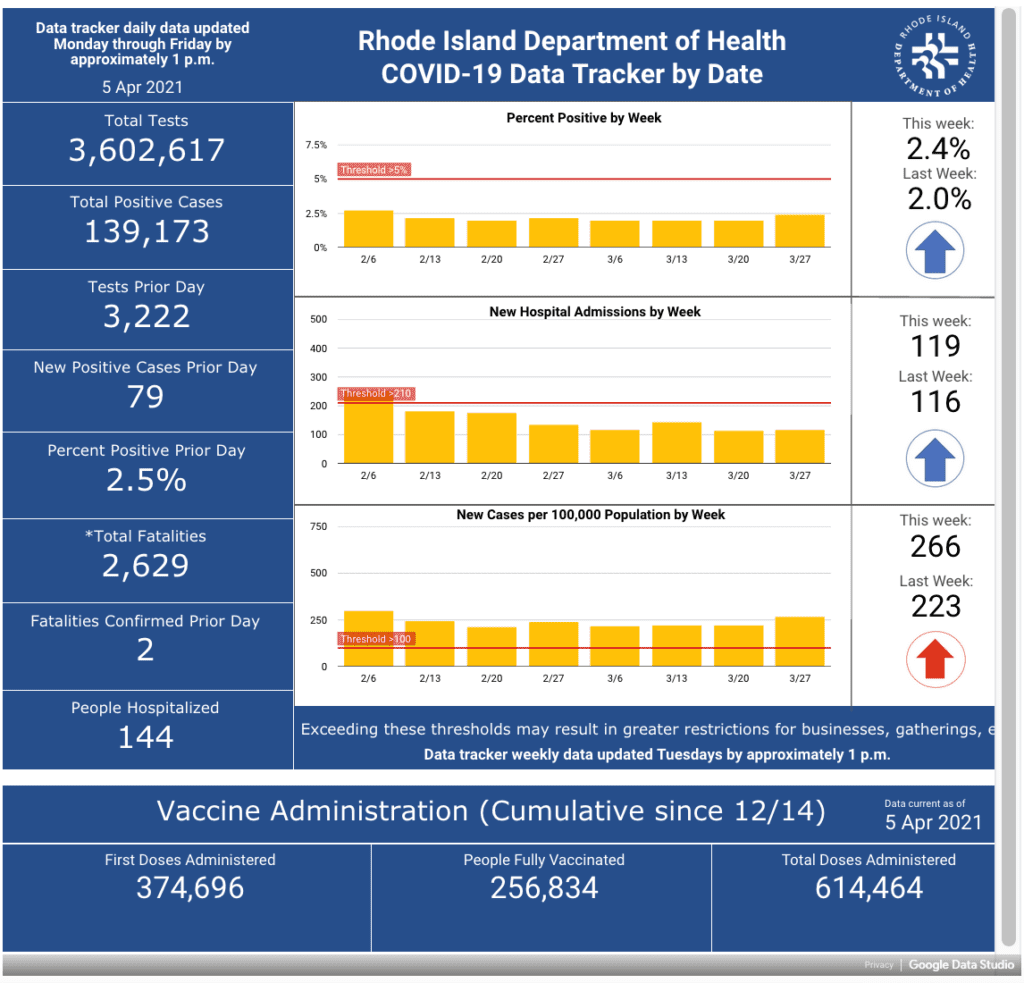 RI Data – April 2, 2021
Deaths: 6
Tests – 16,462­ – Positives – 314 – Percent positive – 1.9%
Hospitalized – 136 – In ICU – 13 – Ventilated – 9
Deaths in hospital – 3 – New Admissions – 29 – New Discharges – 21
Vaccinated – 354,736; Both shots – 237,843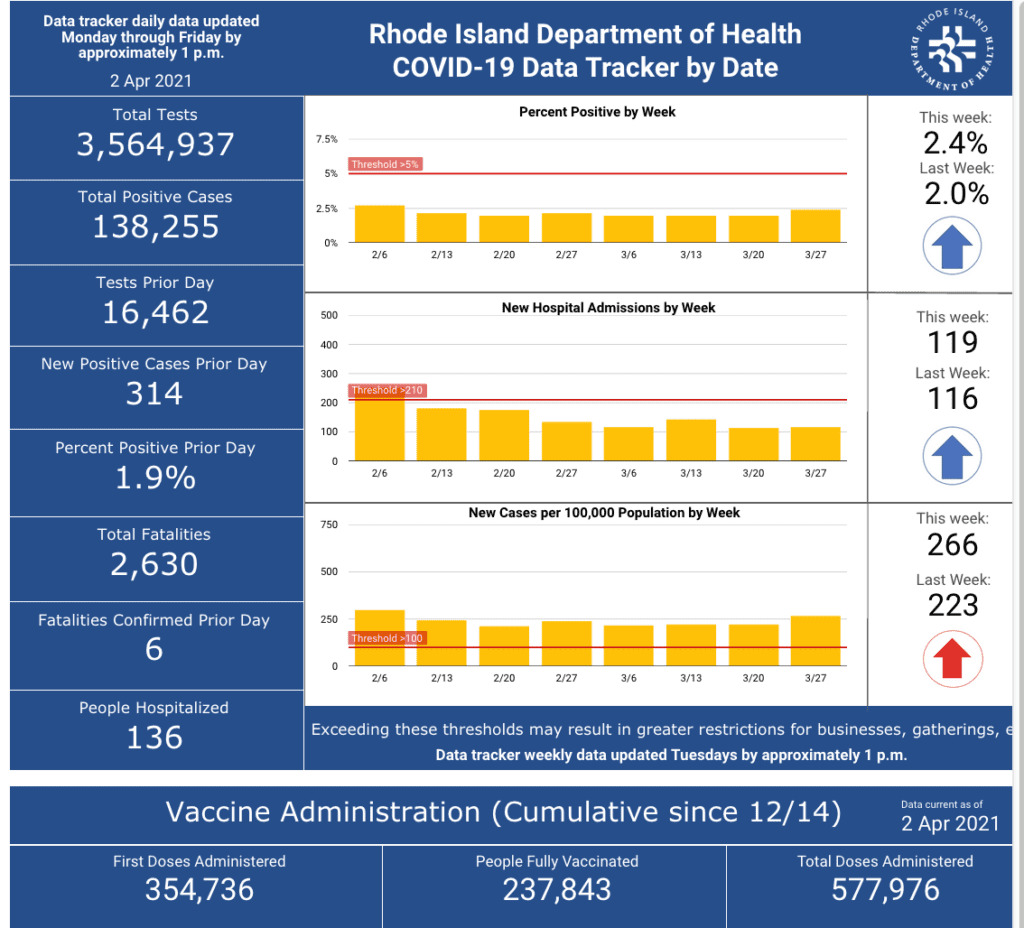 RI Dept. of Business Regulation Violators
Spritzers
63 Grove St.,
Pascoag
Combination Compliance Order and Immediate Compliance Order
3/30/2021
The Ave Bar and Grill
1428 Hartford Ave.,
Johnston
Combination Compliance Order and Immediate Compliance Order
3/30/2021
Home 2 Suites by Hilton
944 Douglas Pike,
Smithfield
Compliance Order
3/29/2021
The Duke Kitchen and Spirits
1839 Smith St.,
North Providence
Partial Immediate Compliance Order
3/16/2021
XTremo Restaurant and Bar
897 Eddy St.,
Providence
Compliance Order
3/16/2021
McT's Tavern
940 Mendon Rd.,
Cumberland
Citation
Compliance Order
3/15/2021

3/16/2021
Body Rock Fitness and Nutrition
3751 Mendon Rd.,
Cumberland
Compliance Order
3/9/2021
Still Under Ink
475 Atwood Ave.,
Cranston
Notice of Compliance with CO
Compliance Order
3/20/2021

3/9/2021
Nova Churrasqueira Restaurant
434 Broadway,
Pawtucket
Notice of Compliance with CO
Compliance Order
3/19/2021

3/5/2021
Sky's the Limit Barber Shop
6865 Post Rd.,
North Kingstown
Notice of Compliance with CO
Compliance Order
3/19/2021

3/1/2021
Chuck's Barber Shop
1075 Chalkstone Ave.,
Providence
Notice of Compliance with CO
Compliance Order
3/20/2021

3/1/2021
NATIONAL & INTERNATIONAL
The CDC has posted a report of side effects from the vaccine:
https://www.cdc.gov/vaccines/acip/meetings/downloads/slides-2021-01/06-COVID-Shimabukuro.pdf?campaign_id=18&emc=edit_hh_20210402&instance_id=28754&nl=well&regi_id=60874095&segment_id=54721&te=1&user_id=27ad7a356e9443ab2f28af54e7a0bd98
People fully vaccinated against COVID-19 can travel safely within the US, CDC says.
New Mexico is leading the way to herd immunity, with more than ¼ of population fully vaccinated.
COVID-19 is spreading faster than people can be vaccinated, and cases and hospitalizations are climbing throughout King County, Seattle, Washington
Cornell University will require students to be vaccinated against COVID-19 this fall as it makes plans for in-person instruction.
In the tiny, oil-rich sheikhdom of Kuwait, the foreigners who power the country's economy, serve its society and make up 70% of its population are struggling to get coronavirus vaccines, as citizens are vaccinated first.
Delta Airlines has had to cancel over 100 flights due to staff shortages.
With variants under way, researchers are beginning to think we may need booster shots and even another completely different, adjusted vaccine, to ward off new forms of the coronavirus.
Colorado will no longer require masks to be worn in most settings in the 31 counties that are on the lowest level of the state's COVID-19 dial system
Florida Gov. DeSantis signs EO prohibiting use of vaccine passports.
If you have lost someone from COVID-19 and incurred funeral costs, you may be able to recoup partial costs from FEMA, the US government – go to: https://www.fema.gov/disasters/coronavirus/economic/funeral-assistance?fbclid=IwAR1wWUgH_yb4fiTRB89tPv-qY4ARsBfMZMExsxUnjfRXvCCzshP9z5CRccg – This opportunity will end on April 12th. The Maximum amount given is $9,000.
Hiring accelerated in March as employers added 916,000 jobs, the biggest gain since August. The unemployment rate fell to 6.0%.
Some COVID0-19 long-haulers say vaccines are reliving their symptoms.
Octogenarians in Tuscany watched in disbelief and indignation as lawyers, magistrates, professors and other younger professionals got vaccinated against COVID-19 before them, despite government pledges of prioritizing Italy's oldest citizens. Even some of their adult children jumped ahead of them. By one estimate, the failure to give shots to the over-80s and those in fragile health has cost thousands of lives in a country with Europe's oldest population and its second-highest loss of life in the pandemic.
There are renewed calls to delay second vaccine doses and blanket more of the U.S. population with an initial shot.
40,000 fans were in the Texas Rangers stadium for the game, with no restrictions in attendance.
The Internal Revenue Service said late Thursday that its third batch of payments includes what it calls the first of many "plus-up" stimulus payments. The "plus-up" payments will continue on a weekly basis going forward, the IRS said, as the IRS continues processing tax returns from 2020 and 2019. Yes, some 2019 returns need to be processed, too.
CDC says schools no longer need to do daily disinfections of classrooms, etc.
Many high schoolers have not taken pre-college courses due to wi-fi problems.
Cruise ships must be equipped with medical labs to be able to process testing
Children are now getting the virus at the same rate as adults. The variants are also deadlier as well as faster spreader.
The CDC is saying that the spread among children is not happening in the classroom, it's happening outside of the classroom, in after school programs, etc.
A Polish pastor threw out the police who tried to shut down his church in Calgary
Britain's government is planning to test a coronavirus status certification plan over the coming months to allow the safe return of mass gatherings at places like sports grounds and nightclubs. The trial events will include soccer's FA Cup semifinal and final, the World Snooker Championships, and a comedy show.
China reports biggest daily COVID-19 case jump in over two months
Johnson & Johnson has filed its application for emergency use authorization of its COVID-19 vaccine in the Philippines
Mariah Carey joins celebrities in encouraging people to get the COVID-19 vaccine.