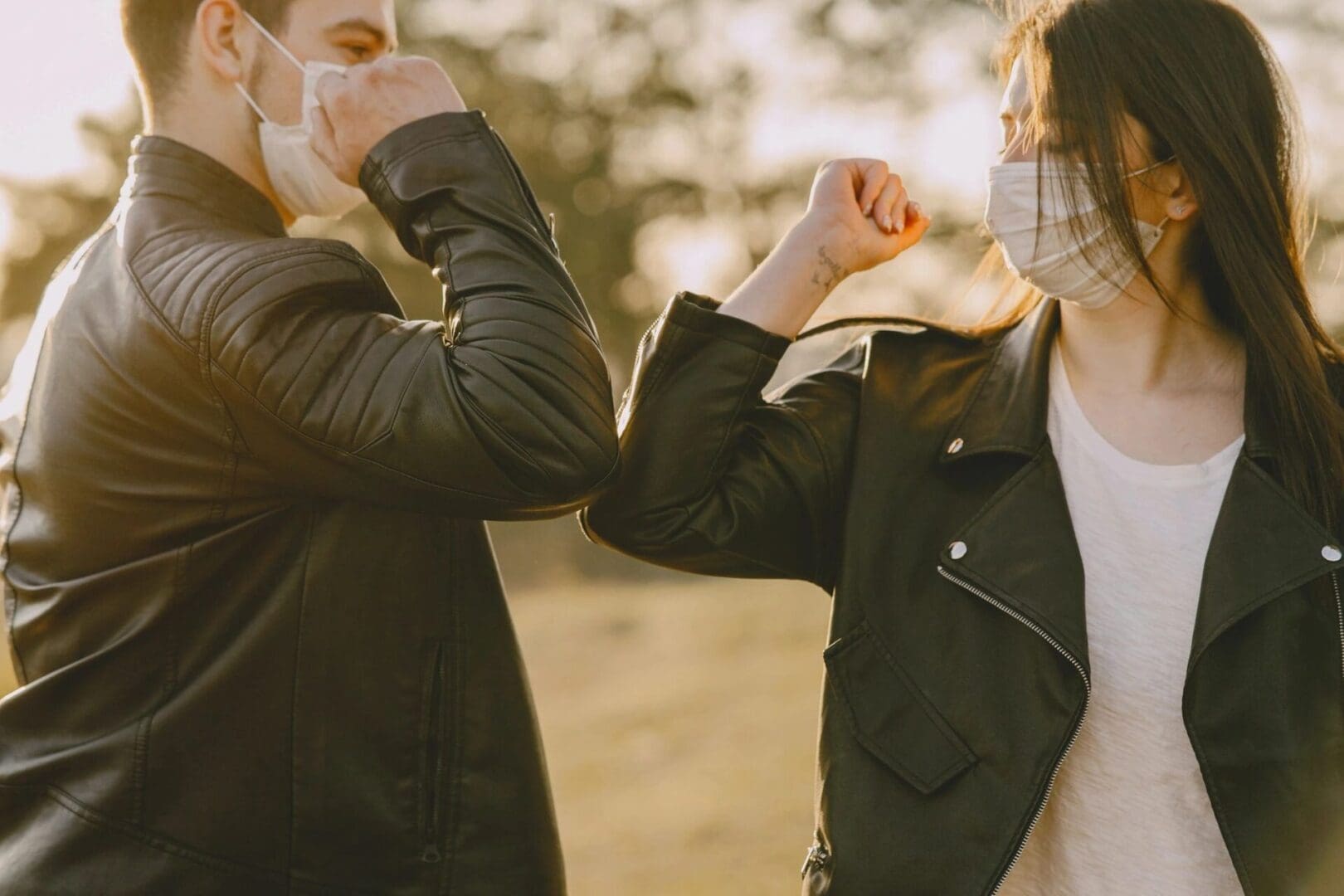 Your Coronavirus Update – Today, April 27, 2021
RHODE ISLAND & VICINITY
New cases in Rhode Island K-12 schools (in-person) in the last 7 days ending 4/17 are approx. 359 in students and 34 in staff. Details, here: https://bit.ly/32V3bje
6% to 10% of Massachusetts residents admit that they are reluctant to receive a COVID-19 vaccine, a low number when compared to other states.
MA schools required to open fully by Wed.
Touro Synagogue Foundation announced its reopening in Newport.
CVS will begin booking appointments again for the J&J vaccine.
Portuguese Feast of the Blessed Sacrament in New Bedford is canceled for 2021
RI can open schools with 3 feet of space – buses can have increased capacity to 75% – more cafeterias can open – day cares are open full capacity
Celebrating its 90th year this summer, the Gilbert Stuart Museum opened for the season this weekend following a year of remaining closed through the pandemic.
LaSalette Shrine in Seekonk will run a clinic next Monday.
Dartmouth-Hitchcock Medical Center has launched a specialized program to treat COVID-19 long-haulers.
Comcast has made 30 Massachusetts community locations free WI-FI connections, mainly Boys & Girls Clubs with dozens of others in consideration.
If you have made multiple vaccination appointments, please cancel the ones you will not be using so they don't go to waste. Simply click on the "cancel" option in your confirmation email.
Boston College will require vaccinations to return to school.
Connecticut diners who have been vaccinated will be offered a free drink during the latter part of May at participating establishments.
Santa's Village is promising college students free housing and utilities to attract workers for the summer.
In Danbury, CT – Nearly 40% of the inmates inside the federal prison complex in the city have refused to receive a COVID-19 vaccine
UMass Amherst says it will require all undergraduate/graduate students to be fully vaccinated prior to the beginning of the fall semester.
Northeastern, Boston University, and Emerson College are among the Massachusetts schools already requiring students to get vaccinated.
Hearthside House in Cumberland has re-opened its doors
The Vermont Brewers Festival will not be held in 2021
The Veterans Home in Exeter has still not had its too narrow doors repaired; they identify COVID as the reason construction could not be done
Newport Gulls mandate vaccines for all players, coaches, and staff
Appointments for Johnson & Johnson vaccine will again be available in RI on www.vaccinateRI.org this week, as well as through other channels. (People can also make appointments by calling 211.) Johnson & Johnson vaccine is a single dose COVID-19 vaccine available to people who are 18 years of age and older. Rhode Island healthcare providers have been provided with information and guidance about CVST and appropriate medical treatment. Updated clinician guidance will continue to be provided. Healthcare providers should ensure patients understand the risk of any vaccine and have all of their questions answered prior to any vaccine administration. Patients do have a choice of which COVID-19 vaccine they receive. State vaccine sites will do their best to have as many vaccine options as possible. Although the side effects of concern are extremely rare, the FDA and CDC recommend that people who develop severe headache, abdominal pain, leg pain or shortness of breath within three weeks of receiving the Johnson & Johnson vaccine should immediately contact their health care provider.
Today's Data – April 26, 2021
Deaths: 3
Tests – 5,082 – Positives – 100 – Percent positive – 2%
Hospitalized – 134 – In ICU – 28 – Ventilated – 26
Deaths in hospital – 1 – New Admissions – 111 – New Discharges – 18
Vaccinated – 521,615- Both shots – 257,313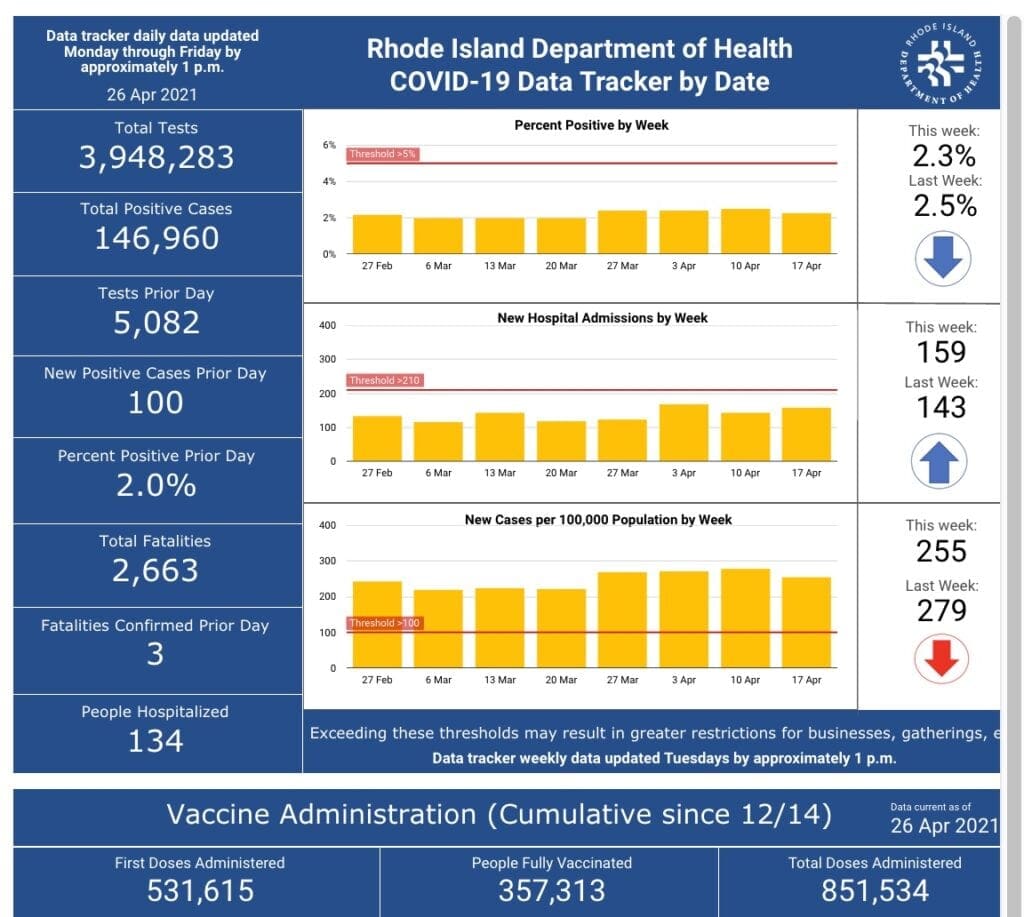 NATIONAL & INTERNATIONAL
The President is expected to make an announcement today about mask-wearing outdoors dependent on vaccination status.
A federal summer school meal program will provide funds from a relief package for 34 million schoolchildren during the summer months, continuing through the summer a payments program where families of eligible children would receive $6.82 per child for each weekday, approx. $375 per child.
Temple University made no promise to provide in-person learning to students who launched a proposed class action in May seeking tuition refunds after the school moved its classes online due to the coronavirus pandemic, a Pennsylvania federal judge ruled.
Restauranteurs will be able to apply for to apply for a $28.6 billion federal restaurant relief program within a few weeks.
Hotel, restaurant and retail store owners warn that staffing shortages will force them to limit occupancy, curtail hours and services or shut down entirely. Reasons are the lessening of the seasonal foreign workers because of the pandemic, and the struggle to attract workers who are now on unemployment.
VP Harris told a UN group that we must begin to prepare for how the world we handle the next pandemic.
The U.S. provider of tickets to the 2021 Olympics has been sued for allegedly refusing to issue full refunds.
Over 166,000 Portuguese teachers received their vaccine last week in Portugal.
The FDA says N95 masks are now plentiful, should no longer be reused.
Sanofi announced this morning that it had signed a "fill and finish" agreement to help produce up to 200 million doses of Moderna's Covid-19 vaccine.
Madeira expects complete opening in October.
At least 82 people in a Baghdad hospital's ICU COVID unit lost their lives when oxygen exploded and a fire erupted
The Japanese government is planning to open large vaccination centers in Tokyo and Osaka in the coming weeks to administer shots in a bid to speed up its inoculation drive
Those arriving in Puerto Rico must take and present a negative COVID-19 test within 72 hours — or face a $300 fine.
There's a 1 in 50 chance a person will answer the phone when you call the IRS as most workers are still working from home.
The EU has said that vaccinated Americans can once again travel, with proof of vaccination.
U.S. women who received either the Moderna or Pfizer shots while pregnant saw similar rates of miscarriage, premature births and other complications to those observed in published reports on pregnant women before the pandemic. Research is assuring pregnant women that the COVID-19 vaccination is safe.
COVID-19 vaccine responses to be studied in people with immune deficits
Next big group to take the vaccine should be over-40 and overweight, according to some researchers.
NYC – Appointments are no longer mandatory at any of the vaccination sites run by the city
Germany is under an emergency brake law restricting dining, curfews, school closures, etc.
Germany is rushing aid to India – as well as the US.
Astra-Zeneca vaccine in European countries that was paused due to similar blood clot concerns – EU regulators say that benefits of not getting COVID far outweigh concern of the vaccine. The UK is offering an alternative vaccine to those under 30.
India is still setting records daily, with bodies being burned in parking lots as crematoriums are full. Graveyards are reaching capacity. Half the cases are the more contagious and younger victims. Vaccine shortage
The Smithsonian announced Friday that it will be reopening seven of its museums and the National Zoo on a rolling basis throughout May
The Church of Jesus Christ of Latter-day Saints is encouraging but not requiring missionaries across the globe to be vaccinated against COVID-19
Maryland's public higher education system will require students, faculty and staff returning to campuses in the fall to be vaccinated against COVID-19.
Moderna applies for emergency COVID-19 vaccine use in the Philippines
The CDC says vaccinated people do not need to quarantine or get tested if they've been around someone who has COVID-19, as long as you don't develop any symptoms. The only exception: people who live in a group setting such as a nursing home.
Norwegian climber first to test positive for COVID on Mount Everest
Maggie Williams, an 800-meter runner, collapsed three meters shy of the finish line this week. She fell across the line and set a school record, passing out because of lack of air as she was mandated to wear a mask – her coach will not let her run again and is calling on a national change for runners.
Indian government asks Twitter to take down criticism of its COVID-19 response
US is now planning to send all its stockpile of Astra-Zeneca vaccine to countries in need.
Honduras has only 59K doses of vaccine, and 10 million people
Michigan now requires masks for children over the age of 2.
Houston hospital threatens to fire workers who refuse COVID-19 vaccine
The CDC has released guidelines are opening summer camps: https://bit.ly/2S91UDh. The guidelines include all mask-wearing over the age of 2, activities in pods 3 feet apart – 6 feet if pods/adults are mixed. Upon arrival at camp, campers should be assigned to cohorts that will remain together for the entire camp session without mixing with other campers and staff in close contact circumstances.