Photo: VP Kamala Harris and Sect of Commerce, Gina Raimondo will come to Rhode Island on Wednesday – specific plans not yet announced
RHODE ISLAND & VICINITY
Pawtucket will be holding vaccination clinics at their two public high schools to vaccinate the students over 16 years old. Clinics are scheduled at Shea High School on May 13th and Tolman High School on May 18th. Students will be given a voucher for an item from the food trucks parked outside set up as a "block party" to encourage their participation in the clinic. The Mayor thanked the Pawtucket Fire Department, EMS and EMA, along with the Pawtucket City Council, School Committee, and other partners helping to spread the importance of getting vaccinated."
Vaccine Clinics at Providence Schools for Students 16+:
Pfizer vaccine first doses will be administered Friday, May 7 (A day) and Wednesday, May 12 (B day) from 11AM-5PM at the following locations. Sign-up information will be available https://www.providenceschools.org/CovidVaccines. No photo ID is required and appointments for the second dose of the vaccine will be made on-site. Clinics will be held at the same locations for second doses.
Mount Pleasant High School
Hope High School
Alvarez High School
JSEC

Will serve students from: 360 High School

PCTA

Will serve students from: Central High School, Classical High School

E-Cubed Academy
A member of Gov. McKee's staff has tested positive – and another member is in quarantine.
Fall River continued on a positive trajectory this week with its COVID statistics, with new cases declining for the sixth week in a row.
All RI state beaches will operate at full capacity this summer
In Connecticut, as of Saturday, bars that don't serve food can open on an outdoor-only basis, and an eight-person limit per table for outdoor seating has been lifted.
Patients in the ER at any Lifespan hospital can be vaccinated upon discharge from the hospital.
RI will no longer allow a religious exemption from childhood immunization requirements for schools, colleges and day care facilities, becoming the sixth state to end that policy.
Maine now says outdoor graduation ceremonies can be safely held this year, guided by common sense.
Worcester Public Schools K-8 students returned to in-person learning for the first time this week.
Rhode Island State Council on the Arts is getting more than $750,000 in federal coronavirus relief funding to help arts-related small businesses, artists, and arts and culture organizations recover from the pandemic.
Fenway Park hosts graduations for Bentley, Emerson classes of 2020, 2021
Billy Joel Boston MA Fenway Park concert is the 19th top selling ticket event since events have opened up.
The RI Philharmonic has announced it will resume a full season, at full capacity, beginning in September. Until then select performances will take place with socially distanced, smaller audiences.
RI Treasurer Magaziner is quarantining after exposure to someone with COVID19 – he has no symptoms.
The Newport Music Festival announced its schedule from July 4-20. Tickets on sale now. There will be limited capacity, social distancing, and mask wearing at all times. Performances will not have intermission. newportmusic.org -849-0700.
The Audrain Newport Concourse & Motor Week was canceled in the fall because of COVID, but it is set to return from Sept. 30 to Oct. 3.
LL Bean opens 24 hours again in Maine
The Restaurant Revitalization Fund through the SBA is now accepting applications by local restaurants – contact your SBA for applications procedures. If qualified, funds equal to pandemic-related revenue loss up to $10 million per business; $5 million per physical location.
New England leads the rest of the US in vaccination rates.
Massachusetts will wind down mass vaccination centers by next month and switch to reaching people in their doctor's offices. The state will close four of seven mass COVID-19 vaccination sites in June and will provide regional collaboratives with more doses to run their programs, double the vaccine allocation for 20 hardest-hit communities, and expand mobile vaccination clinics.
Data – May 3, 2021
Deaths: 3 (7 total since Thurs)
Tests – 3.000 – Positives – 91 – Percent positive – 3%
Hospitalized – 124 – In ICU – 22 – Ventilated – 19
Deaths in hospital – 3 – New Admissions – 10 – New Discharges – 11
Vaccinated – 553,101- Both shots – 395,714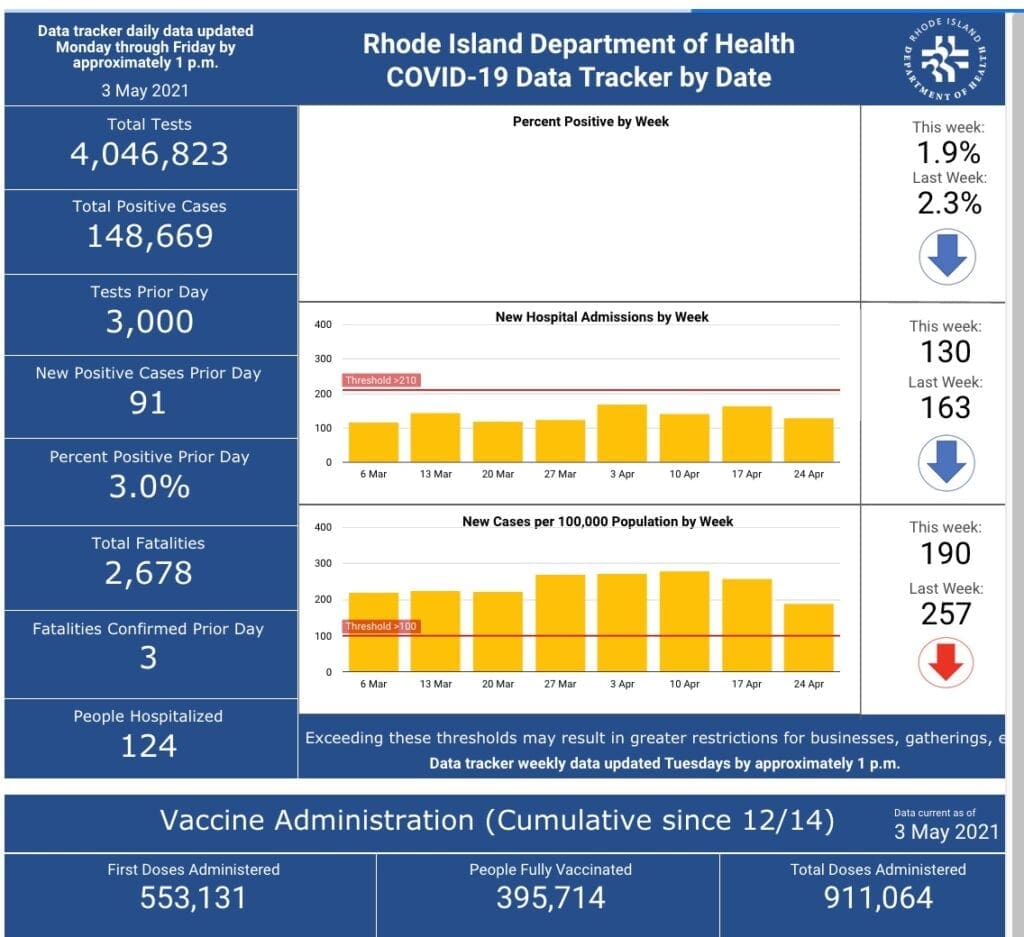 NATIONAL & INTERNATIONAL
Over 156,000 doses of Remdesivir donated by Gilead Sciences being shipped to India
Pfizer may now be eligible for 12+ year olds – a decision may come by the FDA this week.
The TSA said they will extend the mask requirement on flying/airports through September
Cruises can begin in July as long s 98% of crew and 94% of travelers are vaccinated, according to the CDC
In NYC, Businesses "won't need to abide by the six-foot rule if they require that all individuals present proof of full vaccination or a negative coronavirus test result – restaurants can put tables closer than 6 feet if they put plexiglass between them.
San Francisco is 70% open due to high vaccination compliance.
Moderna will supply 34 million doses of its COVID-19 vaccine this year and Sweden has donated 1 million AstraZeneca shots to the global COVAX programme.
"There is no major religion that prohibits vaccinations,' said Peter Hotez, dean of the National School of Tropical Medicine at Baylor College of Medicine. 'The argument has really very little to do with religion and everything to do with the anti-vaccine, vaccine choice movement.'
Florida's Gov. DeSantis has eliminated all mandatory protocols including mask mandates, limitations on business operations and the shuttering of schools. Some mayors have said they disagree.
In New York, the subway will begin rolling all night again, and capacity restrictions for most businesses will end statewide in mid-May,
Russia has produced the world's first batch – 17,000 doses – of COVID-19 vaccines for animals
India reports less than 2% of its population has received one vaccine.
Some cities with many open office buildings are turning them into housing.
16 people in the security section of the Olympic Torch run have tested positive – they were all wearing masks.
Disneyland reopened today after 13 months of COVID closure
Walgreen's is bringing vaccinations to the neighborhoods in Chicago, high density, high risk areas.
US will restrict travel from India starting May 4 due to the COVID-19 surge there.
Los Angeles reports 0 COVID19 deaths for 2nd day in a row.
Mt. Rushmore July 4th fireworks have been canceled – Governor is suing to open it.
Boris Johnson says there is a 'good chance' social distancing can be scrapped next month