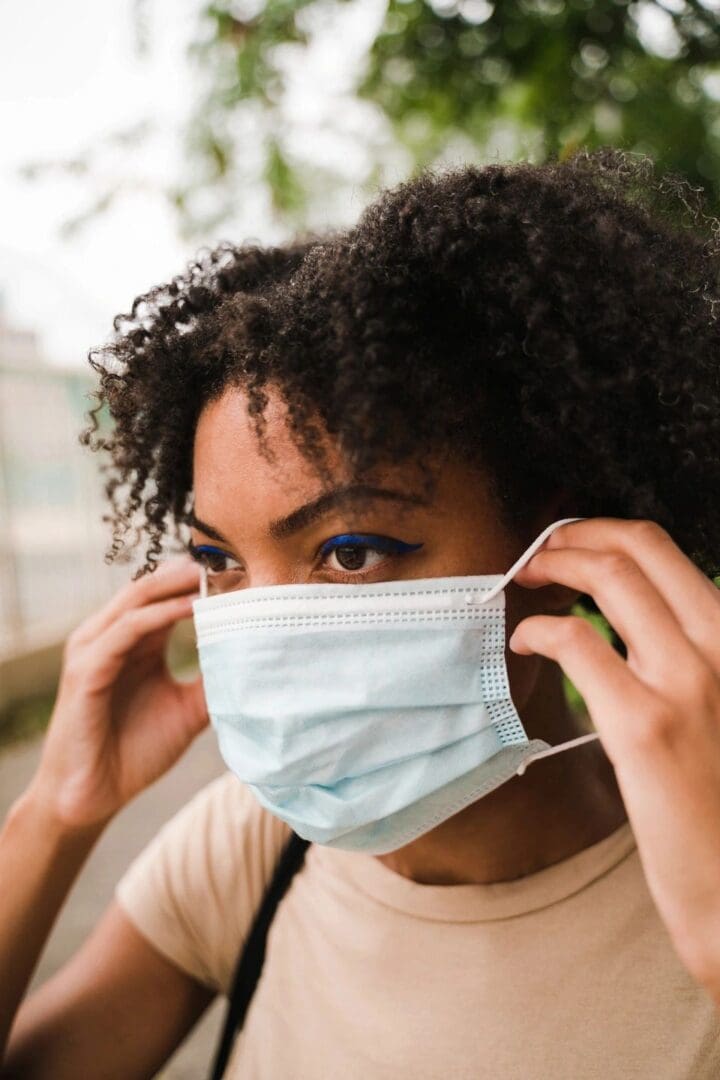 Your Coronavirus Update – Today, May 18, 2021
RHODE ISLAND & VICINITY
Mask-on/Mask-off – Note: Mask regulations and recommendations are changing and inconsistent from venue to venue and state to state.
From Gov. McKee – We will align RI's guidance with CDC's effective today Tuesday, May 18th. This is an opportunity to get fully vaccinated NOW.
Massachusetts will lift all pandemic-related restrictions on May 29, moving up the full reopening date by two months
There will be a vaccination clinic at Tolman High School today from 12 to 4:30pm for students.
Gov. McKee announced that this Thursday's presser will be the last one held at The Vets and there will be no presser on May 27. They will be held at the State House starting June 3 and be held every other week.
Anyone going to the VA for services must wear a mask until further notice.
Two Kent Hospital doctors seek donations for India's COVID-19 battle.
Dr. Jha and Dr. Ranney both say they will wear their masks longer, until a higher percentage of people have been vaccinated.
School students, staff should continue to wear masks until end of academic year.
Rhode Island reset to 100% capacity in offices, gyms, restaurants, businesses, etc. Memorial Day weekend lifting of business restrictions now will be lifted on Friday, May 21st. This includes all restrictions on businesses, sports, events, etc.
Gillette Stadium will be able to return to FULL CAPACITY as of August 1st
Fenway open at full capacity May 29th.
RI Nightclubs that require full vaccination of patrons can open to full occupancy on May 28,
Rhode Island's colleges and universities have been allocated over $178 million in federal stimulus funds
Professional hockey – P-Bruins – will return to Rhode Island in October.
The Crowne Plaza announced its $35M renovations and said that their employees have all returned to employment and they are now fully open.
Massachusetts communities organize weekend COVID-19 vaccination clinics for children ages 12 to 15 years old.
Data – May 17, 2021
Deaths: 1
Tests – 3,025 – Positives – 57 – Percent positive – 1.9%
Hospitalized – 78 – In ICU – 18 – Ventilated – 15
New Admissions – 2 – New Discharges – 5
Vaccinated – 612,140- Both shots – 510,133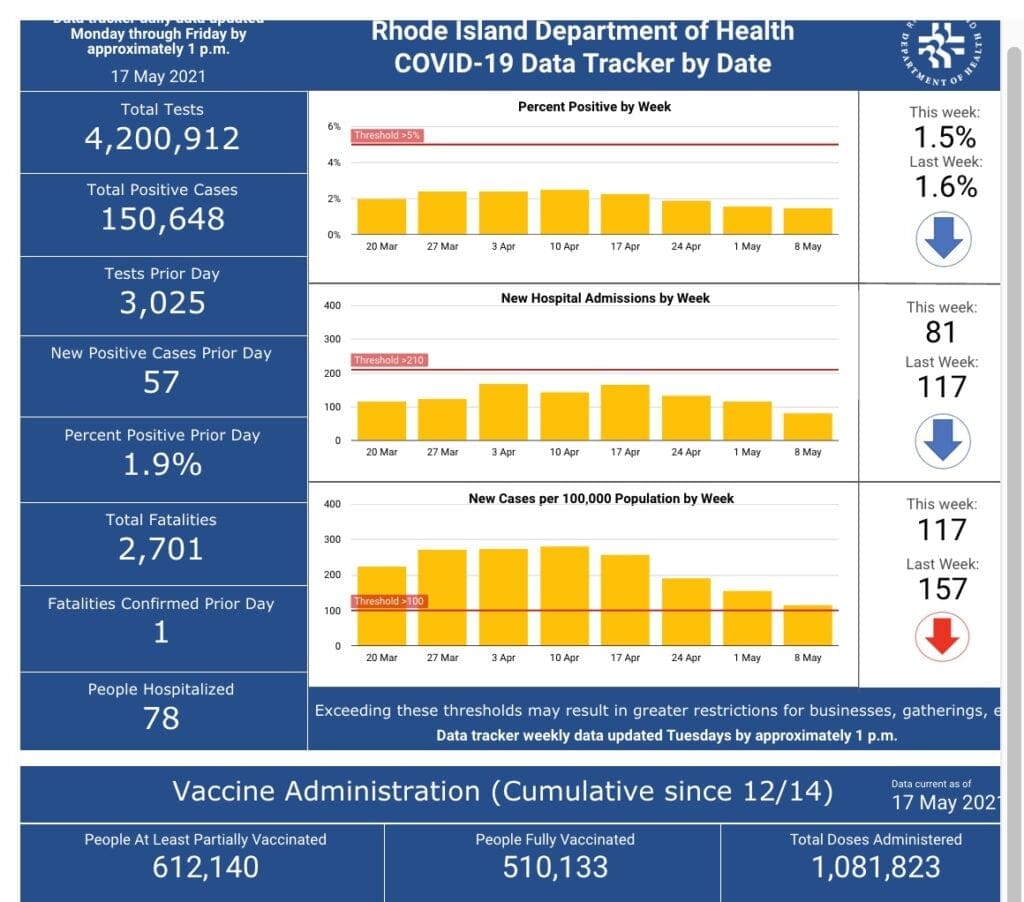 —–
NATIONAL & INTERNATIONAL
A day after she announced sweeping changes to federal mask guidance, Walensky cautioned that the pandemic may not be fully over for vaccinated Americans. 'We'd be naive to think we're completely out of this,' she told McClatchy. 'We need to remain vigilant. I'm hopeful that we're completely out of it, but what we need to do is see where we are in the fall with our vaccination rates, with our case rates.'
Americans are expected to hit the road in force over the Memorial Day holiday weekend as more people are vaccinated and consumer confidence grows
COVID-19 rapid antibody testing now available near you at CVS Pharmacy.
The families of more than 65 million children in US will start receiving enhanced child tax credit monthly payments of up to $300 on July 15, the Biden administration announced Monday. The temporary benefit, which will be sent to 39 million households and covers 88% of children in the U.S., stems from the Democrats' $1.9 trillion coronavirus rescue package. The vast majority of families will receive the funds via direct deposit, while the rest will get checks or debit cards in the mail. The Internal Revenue Service will send the payments on the 15th of the month, unless it falls on a holiday or weekend, through December. Eligible parents will receive $300 a month for each child under age 6 and $250 for each one ages 6 to 17.
Around-the-clock subway service is set to return Monday in the Big Apple, one of several major reopening steps for New York and the rest of the tri-state this week.
Delta Airlines will require all new hires to be vaccinated.
Yale has extended vaccination requirements beyond students to all faculty and staff.
Walmart, Costco to Stop Requiring Masks for Vaccinated Workers and Shoppers
Trader Joe's, Disney World dropping mask requirements.
Ride-share, Uber and Lyft still require masks.
Defense Department lifts mask mandate for fully vaccinated personnel
British tourists can return to Portugal now, ending days of uncertainty over whether thousands of U.K. vacation bookings for Portuguese destinations would be allowed.
Greece launched its tourism season Friday amid a competitive scramble across the Mediterranean to lure vacationers emerging from lockdowns.
Anthony Fauci told CNN's Wolf Blitzer that children who haven't been vaccinated for COVID will need to wear masks in schools this fall "when they're out there playing with their friends and … particularly in an indoor situation."
In-N-Out is accused of failing to follow pandemic safety protocols.
Some of the biggest U.S. employers of entry-level workers are adding tens of thousands of new positions as the economy roars back from the coronavirus pandemic. Many are raising wages or adding perks to entice workers from other jobs or off the sidelines of the labor market.
New York City officials say they will soon begin internment plans for hundreds of bodies of people who died during the Covid-19 pandemic and have been stored for months—and in some cases a year—in freezer units in a temporary mortuary.
Govt wants to issue $5.4 billion in housing vouchers for low-income people at risk of homelessness because of the pandemic. That would cover 200K people.
The National Nurses United is a Washington, D.C.- based labor union representing nurses that is known for its far-left-of-center stances on various issues. NNU was founded in 2009 unifying three of the most active, progressive organizations in the U.S. The organization was founded in 2009 when several nurses' unions merged. It is a member union of the AFL-CIO. "This newest CDC guidance is not based on science, does not protect public health, and threatens the lives of patients, nurses, and other frontline workers across the country," said NNU Executive Director Bonnie Castillo, RN. "Now is not the time to relax protective measures, and we are outraged that the CDC has done just that while we are still in the midst of the deadliest pandemic in a century." https://www.nationalnursesunited.org/press/nurses-condemns-cdc-rollback-of-covid-protection-guidance
An estimated 40% of evangelicals say they are hesitant to get vaccinated. Franklin Graham, of Samaritan's Purse, said he'd be happy to work with President Biden to encourage evangelicals to get COVID vaccines. "I would work with the Biden administration. I would work with the CDC. I would work with all of 'em to try to help save life," he said.
Dr. Fauci said, Unvaccinated kids must wear masks in school this fall
Nancy Pelosi says masks will still be required on House floor, despite CDC guidance. Pelosi's spokesperson cited the lack of clarity about which House members and their staffs are fully vaccinated
Dr. Ashish Jha:
Wise to hold off on listing mask mandates until June 15th. You can go ahead and not wear masks if you are fully vaccinated. Outdoor mask mandates make sense – vaccinated or not. Much, much safer if vaccinated. It's really about indoor settings – for the next few weeks. "I'm fully vaccinated – I still wear a mask when I go to the grocery store. I think it's a good thing to do for a few more weeks. I certainly don't wear one inside. Non-vaccinated can come over and we can sit in the backyard – but not inside." Not a good idea for unvaccinated to mix with vaccinated. Testing has a value and some sort of testing regimine is important.
DR. Ranney on masks: