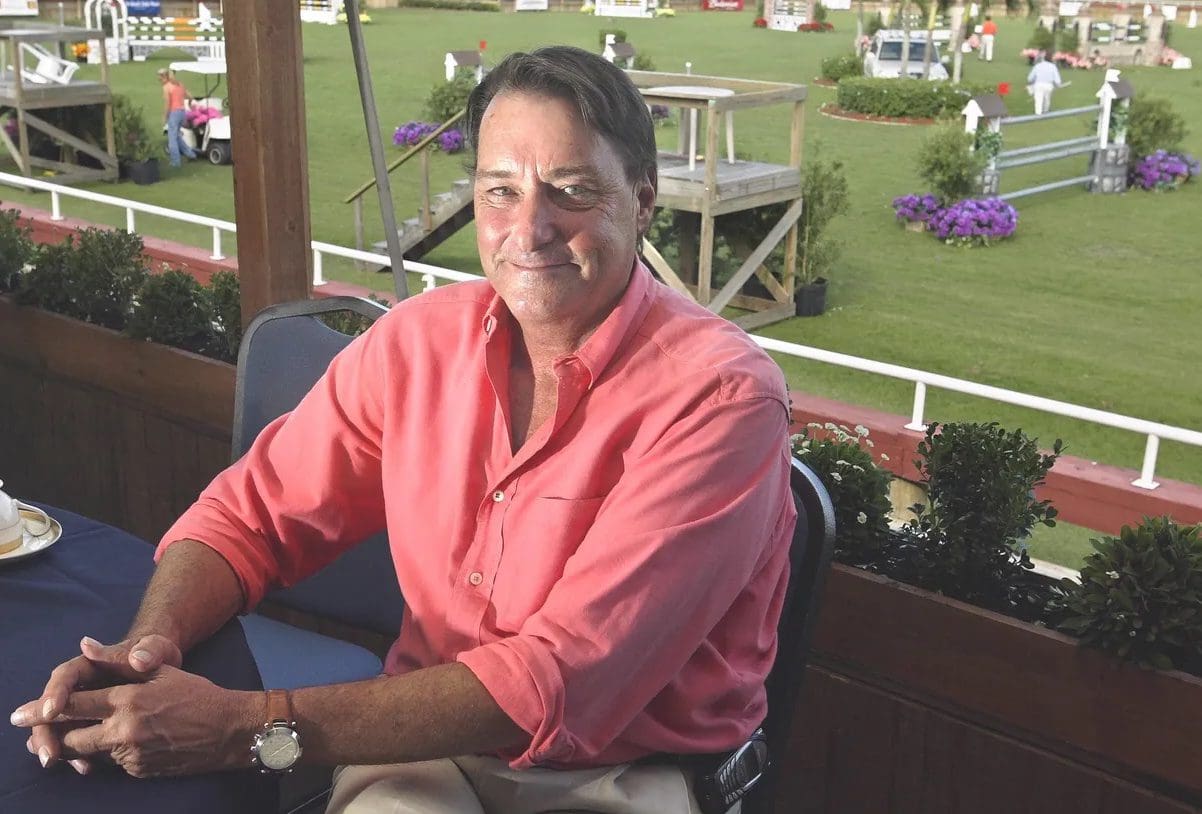 Mason Phelps – equestrian innovator, Jumping Derby & Newport Roundup founder, dies at 72.
Photo: The Palm Beach Post
Mason Phelps, a lifelong horseman, with deep Rhode Island connections and contributions, participated in many aspects of the equestrian world including as a rider/trainer, Olympic athlete, groom, event manager, governance leader, multi-media executive, and philanthropy/charity organizer. Phelps passing was announced by Phelps Media Group, "[Our] founder and Chief Executive Officer, Mason Phelps Jr.. Mason passed away unexpectedly but peacefully at his home in Wellington, Florida of an apparent heart attack. He was 72. With the passing of Mason Phelps, the entire equestrian community has suffered an unimaginable loss," said Lenore Phillips, President of Phelps Media Group.
In Rhode Island
In the 1970s, Phelps lived in Portsmouth, at Glen Farm, owned by his maternal ancestor, Moses Taylor, who purchased it from the Vanderbilts with the intent of located an equine business.
It was while at Glen Farm, that Phelps found yet another undiscovered talent — producing equine-related events. According to the Newport Daily News, "His International Jumping Derby at Glen Farm was a wildly successful event on the equestrian circuit for more than a dozen years, not only for its 220-acre English style banks-and-ditches course, but also for its unfettered after-party. The rowdy Newport Roundup drew more than 700 people in its heyday". Wanting to support horses, riding, and children, Phelps formed the Aquidneck Island Pony Club, where every Saturday he provided free riding lessons and instruction in how to muck stalls and do other chores involving equine care. At its peak Phelps was educating 75 children on an average Saturday. In the 80s he replicated the Newport Roundup at the Palm Beach Polo & Country Club as a fundraiser for the U.S. Equestrian Team.
In 1976, Phelps founded, produced, and managed the first International Jumping Derby in Newport, which drew top athletes and was a major show on the jumping circuit through 1988. In 1977, Phelps founded and created the New England Horsemen's Association Hunt Seat Medal, which is still a popular event today, held in Springfield, Massachusetts. In the late 1970s and 1980s, Phelps produced a driving event for the Newport Preservation Society in Newport, Rhode Island. The event was held over three days and included as many as 16 four-in-hand carriages that drove to Newport mansions for lunches, teas, and dinners; classic Newport stables that had ceased operation were opened for the event. In the 1980s, Phelps produced the Newport Roundup in Newport, Rhode Island, as a charity event for equestrians.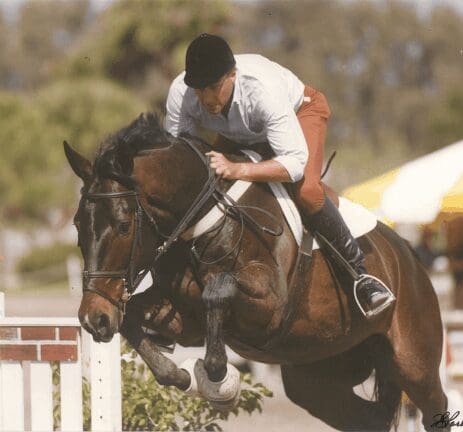 Phelps was a rider and trainer in his early years, competing in eventing and the hunter/jumper ranks. He earned national and international recognition as an equestrian athlete. In 1968, Phelps was named Alternate to the U.S. Three Day Team that competed in the Mexico City Olympic Games. That same year, he was named the U.S. Combined Training Association's Rider of the Year. Phelps began his career as a trainer in 1972, working for two years as an Assistant Trainer to the legendary Jimmy Williams at Flintridge Riding Club in Pasadena, California. Phelps later developed his own training stable for hunter/jumpers, working with riders on both the east and west coast until his retirement from competition in the late 1990s.
While still in his twenties, Phelps expanded his role in the horse world to include event manager. In 1970, Phelps created and produced the "AA Rated Xmas Show" in San Antonio, which is now a popular annual event and an integral part of the Texas equestrian community. In the early 1990s at the Winter Equestrian Festival (WEF) in Wellington, Florida, Phelps created innovative classes including the first equitation class for previous winners of the Maclay or the Medal Finals; an equitation class for riders who had represented the U.S. in an Olympic Games, Pan American Games or a Nations' Cup; and the first hunter classic for the American Hunter Jumper Foundation, which was held in the grand prix Internationale Arena. Currently, Phelps is Chairman of the National Horse Show of America Ltd.
Phelps has also played an important role in horse sport governance, primarily in the 1980s. He was Chairman of Zone I for the former American Horse Shows Association (AHSA, now USEF), and was on the boards of both the AHSA and the USET. Phelps also served as president of the New England Horseman's Council from 1985 through 1988. He organized an annual Gay Polo Tournament, for the Gay Polo League.
As a philanthropist, Phelps was instrumental in numerous charity and fundraising events in the equestrian world. In the 1980s, Phelps produced the Newport Roundup in Newport, Rhode Island, as a charity event for equestrians, with topnotch entertainment that included Sleepy LeBeef, Asleep at the Wheel, New Riders of the Purple Sage, and Tammy Wynett. In 1996, Phelps was one of the founders of the Equestrian Aid Foundation (EAF, formerly the Equestrian AIDS Foundation), a fundraising and charitable organization for equestrians in need. Phelps brother had died of AIDS. The Foundation is now called the Equestrian Aid Foundation, where it expanded its mission to include financial assistance those in the equestrian community who have suffered serious and lasting injuries from the sport. In 1998, Phelps produced the first Denim and Diamonds, a benefit party for the United States Equestrian Team (USET), and presented the popular event again in 1997, 1998, 1999, 2000 and 2004, raising millions of dollars that supported the USET.
Phelps remained active in philanthropy, supporting the Rare Species Conservatory Foundation, the Equus Foundation, Compass, the American Society for the Prevention of Cruelty to Animals, the Palm Beach County Human Rights Council, the Hanley Foundation, and most recently, Back to Basics, which provides back-to-school essentials to children in need.
Recently, Phelps was involved in equestrian media. In 2001, he founded Phelps Media Group, Inc. International, an equestrian public relations firm, and counts as clients the USET Foundation and the National Horse Show, as well as many top-tier equestrian events, organizations, companies, athletes, and trainers. In 2006, he founded PhelpsSports.com, an equestrian news website. In addition to bringing international equestrian coverage to subscribers of the website, PhelpsSports.com has also sponsored numerous events including the PhelpsSports.com Palm Beach Dressage Derby in Loxahatchee, Florida; Horse Shows by the Bay in Traverse City, Michigan; and the Junior/Amateur Grand Prix at the Syracuse Sport Horse Invitational in Syracuse, New York. Representatives of PhelpsSports.com have been credentialed for top international events around the world including the World Cup Finals for dressage and show jumping, and all three equestrian sports at the 2008 Beijing Olympic Games.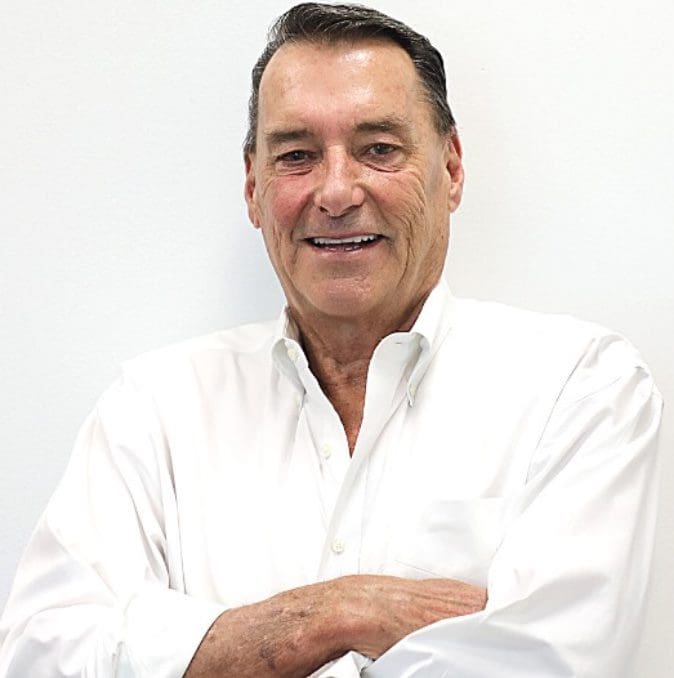 Family
According to the Palm Beach Daily News obituary, Phelps was born in Lake Forest, Illinois. His late father, industrialist Mason Elliott Phelps Jr. of La Jolla, was a graduate of Phillips Andover and Yale who served with the U.S. Marine Corps in World War II. His late mother, Margaret "Peggy" Taylor, a graduate of Miss Porter's School and Sarah Lawrence, was a patroness of the arts and a philanthropist in the California cities of Pasadena and Los Angeles. His paternal grandfather, Mason Elliott Phelps, was part of the U.S. golf team that won the gold medal in the 1904 Summer Olympics. His maternal grandmother, Cecilia Evans Taylor of Buffalo, was a former master of the Genesee Valley Hunt. He is survived by his sister, Evans Phelps of Nevada City, California, where she served as mayor; three grandnieces, Erin Thiem, Megan Michelson and Larissa Roelofs; a grandnephew, Miles Michelson; and several great-grandnieces and great-grandnephews.
A memorial service is planned for the future.