Vaccinating children, as young as 6 months, may be focus by the fall
Moderna's CEO said at a professional conference yesterday that he predicted that its COVID-19 vaccine will likely be available for children as young as five by the early fall.
"I think it's going to be early fall, just because we have to go down in age very slowly and carefully," the Cambridge-based company's CEO Stéphane Bancel said Monday at an event hosted on the social media platform Clubhouse.
Moderna said it is now testing its vaccine on children as young as six months. Moderna started a study of its vaccine in children under 12 years in March.
Bancel noted the process will take time as it determines the appropriate dosages for small children.
"We anticipate data available in the September/October time frame," he said.
Children and COVID-19
In a JAMA publication, titled, "Underlying Medical Conditions Associated With Severe COVID-19 Illness Among Children", the data showed…
Of the 43,465 COVID-19 patients ages 18 years and younger who visited an emergency department or were hospitalized showed those with underlying health conditions were more likely to experience severe illness or hospitalization, with about 28.7% of all those patients having underlying health conditions.
Among the 4,302 who were hospitalized, more than 2,700, 62.9%, had underlying health conditions, researchers noted.
Patients with Type 1 diabetes and obesity were the most likely to be hospitalized, while those who were born prematurely were more likely to experience severe illness from COVID-19, the data showed.
The report suggested that this information be considered as vaccination priorities and regulations are created.
It is important to remember that for the overwhelming majority of children, Covid-19 is a mild illness.
American Academy of Pediatrics – RI highest in US for Cumulative COVID-19 Cases per 100,000 Children:
This chart shows Rhode Island placed at the top of all states for cumulative cases per 100,000 in children (ages below18) – with nearly 10,000 cases. 15.5% of all cases in RI were in children, a total of approximately 142,137 cases. 238 children, or 2.9% of all hospitalizations in RI were children. No child fatalities were reported. This data is through June 3, 2021. You can access the full report, here:
https://downloads.aap.org/AAP/PDF/AAP%20and%20CHA%20-%20Children%20and%20COVID-19%20State%20Data%20Report%206.3.21%20FINAL.pdf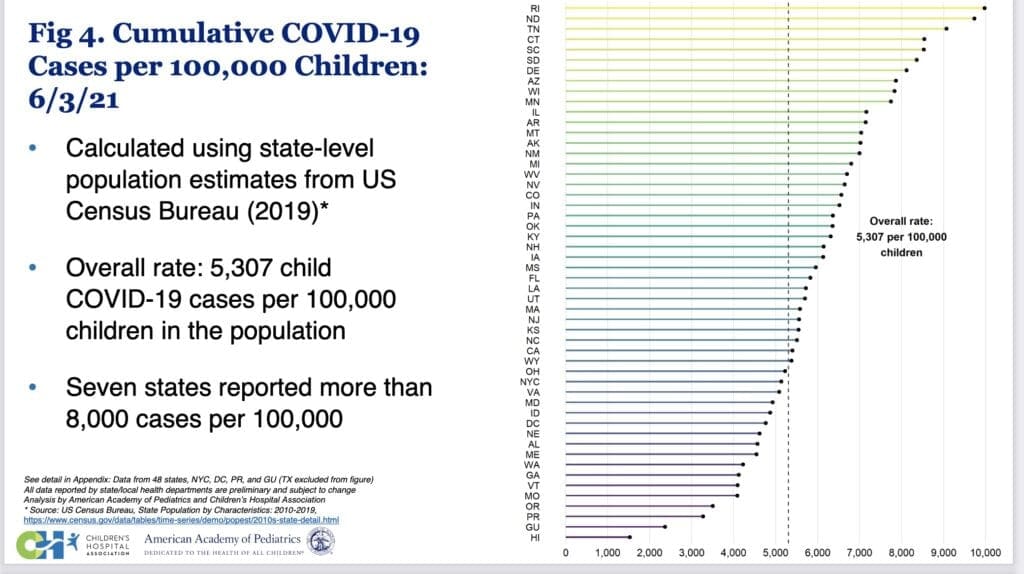 Research shows the vaccines are remarkably effective and safe. The American Academy of Pediatrics (AAP) ?urges? children and adults to get the COVID-19 vaccine as soon as it is available to them. This is especially important with a rise in cases caused by variant strains of the virus, which seem to be more contagious.?
Middle-school, high-school, and college students who get both doses of the vaccine now authorized for age 12 and up (Pfizer) can be fully immunized by the 2021-22 school? year. The timing for when the vaccine will be available for younger students ?depends on the results of the clinical trials. But based on the current pace of research, it may be possible to have a vaccine for children in grade school and preschool later this year.
Once a vaccine is approved, health authorities, including the U.S. Centers for Disease Control and Prevention and the AAP, will recommend when and how children should get it. However, each state's government decides which vaccines are required for school entry.
In the meantime, the AAP says to make sure children are caught up on their vaccinations against measles, influenza, whooping cough, and any others that your pediatrician recommends.
Pfizer News
Pfizer Inc said on Tuesday it will begin testing its COVID-19 vaccine in a larger group of children under age 12 after selecting a lower dose of the shot in an earlier stage of the trial. The study will enroll up to 4,500 children at more than 90 clinical sites in the United States, Finland, Poland and Spain, the company said.
Reuters reported that "Based on safety, tolerability and the immune response generated by 144 children in a phase I study of the two-dose shot, Pfizer said it will test a dose of 10 micrograms in children between 5 and 11 years of age, and 3 micrograms for the age group of 6 months to 5.
A Pfizer spokesperson said the company expects data from 5- to 11-year-olds in September and would likely ask regulators for emergency use authorization later that month. Data for children 2 to 5 years old could arrive soon after that, he said.
The testing is not so much to determine safety or effectiveness as it is to determine dosage. At this point, Pfizer is looking at 10 micrograms of vaccine for ages 5-11, which is one-third the potency the dose given to those 12 and over. Children 5 and under will receive 3 microgram shots.
Pfizer researcher Dr. Bill Gruber called the company's approach to testing with children "deliberate and careful."
Back to School
Availability of vaccines for children under 12 and as young as 6 months may change the conversation in the fall and winter of 2021 to be an all-out effort to vaccinate first children at higher risk, then all children. Returning to fully open schools will be a major priority and having a vaccinated school population will be integral to the comfort and safety of doing so.
Colleges are already moving to mandatory vaccinations – with students unable or unwilling to be vaccinated moved to virtual learning. As fall approaches vaccination clinics and promotion for graduating high school seniors is intensifying so they will be ready for college either in-state in RI or out of state.