Your Coronavirus Update – Aug. 11, 2021
RHODE ISLAND & VICINITY
Chatham, MA has canceled their summer camp program because of positive cases.
RI has decreased its risk from very high to high.
Newport Secret Gardens Tour is canceled for 2021
Salem, MA has mandated masks for indoors – this will include popular Halloween season.
RI School departments have to submit mask/COVID mitigation plans by Saturday
Chariho will not mandate masks.
Washington Co. Fair will be held – masks required on the shuttle from the parking lots to the grounds.
Some retail locations in Vermont are opting to close for one week as the surge of vaccine rises.
Secretary Gorbea consulted with local health experts and senior staff. Due to the higher transmissibility of the Delta variant, she is implementing the following policies as of Monday, 8/16:
In-person services from the Department of State will be available by appointment only.

This includes research at the State Archives, Business Services filings, Public Information support, and the Elections Division.
While the State House remains open to the public, all research requests involving the State Library can and should be done virtually.

All of the Department's in-person events will be cancelled through at least mid-October or until it is deemed safe to congregate in-person.
All in-person State House tours are cancelled through at least mid-October or until it deemed safe to congregate in-person.

Self-guided audio tours are available.

Anyone entering Department of State offices is required to be masked.
Department of State staff working in communal areas or with the public will be masked at all times.
_____
RI Press Conference
TY to press and educators who are working to get out the information to the RI people.
Important for RI to know our team is in direct daily contact and looking at the data to keep Rhode Islanders safe and in the recovery mode.
We know the best weapon we have is to get vaccinated. 99.1% of those vaccinated will not be in the hospital or die if they get the new variant.
Data: 145 new cases yesterday. 3.2% positivity. 1 death. We are 5th and 6th in US for 1st and 2nd shots. We have the lowest death rate in the US. Only 3 states are stronger than us. We're in a good spot – but we still need to do everything we can.
Every week we will count down the vaccination number from over 205,000 unvaccinated – today it is below 200,000. 80% over 18 are vaccinated – and give progress updates.
Past 4 weeks we've seen increase in vaccinations.
Vaccinations: RI is in top 5 in the US for percent vaccinated.
NEW POLICY: RI Healthcare workers, state licensed healthcare facilities will be required to be fully vaccinated by Oct. 1st. All workers who are unvaccinated, until then, will have to wear a surgical mask and be tested with a PCR test twice a week – applies to public and private facilities.
RI Gives Back: we reached first 25,000 goal – more than 27,000 vaccinated since challenge began – thought it would be October – done by August 10th. New nonprofits have received grants.
SCHOOLS: RIDOH, RIDE, GOV OFFICE agree: Not vaccinated need to get vaccinated. Kids over 12 can be vaccinated. Every district will be matched with school vaccination clinic for ease of access. CDC is requesting all students, staff, faculty wear masks at the beginning of school year. We must protect children, especially those under 12, who can't receive vaccine. RI supports the CDC recommendation, but stops short at a mandate. MASKS: Delta variant is more contagious. Possible to get COVID after vaccinated, and important to know that there are often side effects from COVID that last.
No one suggesting RI impose mask mandate – you and your family need to know risks and you need to make the best decision for you. Mask wearing is going to be dependent on where you are – some retail locations will require it – some won't.
If you look around you can see many people wearing masks and our vaccination sites are picking up – a lot of this is what we are doing already.
We will continue to monitor RI's numbers closely.
Our campaign is a simple one: "It is time" – Time to get vaccinated.
Visit VaccinateRI.org
The panel took questions. Q&A
Mask wearing at RI State House and public buildings will be required. If you work for the state, you will be wearing a mask. Discussing with unions policy about this.
AAP letter saying every student should wear a mask under the age of 12 – what do you think?
Dr. Scott: We appreciate the AAP's position. We know what the CDC has recommended.
Some districts will not implement a mask mandate for children under 12.
Dr. Scott: They need to recognize how important masks can be. If children are too young to b vaccinated, a mask is another layer of protection.
A couple of weeks ago you said you would only have to take emergency steps if you saw "a fire" – what would you have to see?
Gov: We're following science and the govt.
Why not mandate masks?
Gov: I expect supt. to follow the CDC guidance. We may have to huddle with the Health Dept. to see what next steps are.
Do you support mandatory vaccinations among teachers?
Gov: No – but I would be interested in learning more – ATF's position, etc. Our teachers are at 90% – working staff are at 90% – child care workers at 90%. We'll continue to watch this. Now we want to see the student population follow the teachers' lead.
Expect to see a booster campaign?
Tom McCarthy: We do. Anticipate we will open additional testing sites, easily accessible. Expanding capacity tomorrow – just over 5,000 appts a day will be available. We've been planning for boosters from Day #1 – we have several plans already prepared – must streamline them through the federal governments.
Haven't seen Dr. Scott? Why? Was that responsible?
Dr. Scott – From public health perspective, always important to get the message out – this is only one way I am doing this. If people want more info through this route, we are ready to do that. We'll use whatever we need to get the message out.
RIDOH is working at 110% level – burnout? State resources at RIDOH and frontline health workers?
Dr. Scott – our colleagues are my heroes – sacrifices to families, etc. – burnout is very real. Exhausted hours and days, skipped vacations, continues to remain top priority what other resources are out there, what tools can we put in place to support them.
Oct. 1st mandate for state licensed facilities – what are they?
Gov: Nursing homes, group homes, any health organization licensed by state, including state hospitals, congregate care – if they are not, we will deal with that. We don't want to take any risks.
NY Times story about 15% of population will NOT get vaccinated. That # won't budge. That defies national averages. Are you giving us false hope?
Dr. Scott: We always strive for the best. Similar to seat belts, smoking, etc. We are putting policies in place that allow for the path of least resistance. We've always led the national in immunizations. No reason why we can't do better than that,
30-40% of firefighters in Providence aren't vaccinated? Will you consider all first responders should be mandated to be vaccinated.
Gov: yes, I would consider it – there is a path there for greater compliance. Colleges, healthcare workers, there is a path. When Pfizer gets FDA approval that will be a game changer and that will be in the next few weeks.
What changed your opinion about vaccine mandates?
Gov: after meeting with nursing homeowners and know that they will support it – and hospitals will do a 9/1 date for vaccines, it makes sense to do this.
RI is looking to do genome sequencing for every test – to test for variants.
RI Data – August 10, 2021: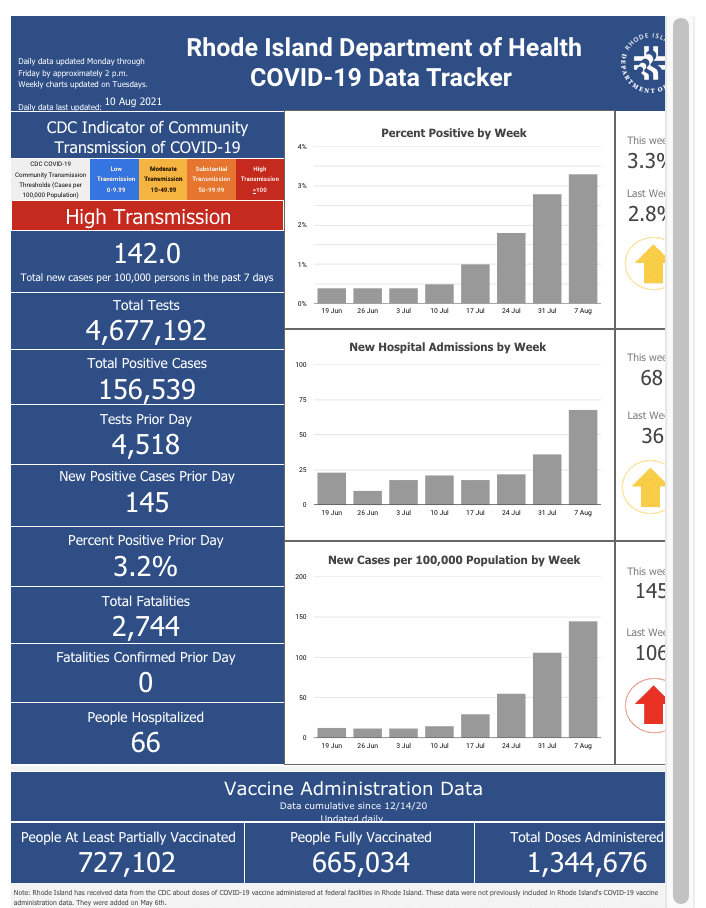 NATIONAL & INTERNATIONAL
FEMA will test the National Alert System today at 2:20pm – could be on TV, radio, and cell phones.
Randi Weingarten of the largest teacher's union now believes vaccinations should be mandatory
There are approx.1 million more job openings than people looking for work.
Florida's Board of Education approved letting families take their money to other schools if they do not agree with their school's masking policy.
Moderna offered a contradictory message yesterday, saying a booster "will likely be necessary prior to the winter season" even though "emerging data also confirms effectiveness against variants."
Pfizer has said boosters may be needed within a year.
Forecast sees most U.S. weddings in 38 years
CDC urges avoiding travel to Israel, France, Thailand
Rep. Sharice Davids, D-Kansas, tested positive, has mild symptoms and is quarantining at home – she had been vaccinated and recently underwent a surgical procedure
The Union Square Hospitality Group became one of the first restaurant groups to require all staff and dine-in customers be vaccinated. The group operates New York's Gramercy Tavern, Manhattan, and Union Square Café, as well as Anchovy Social in Washington, D.C.
The business review platform Yelp said it will add COVID-19 guidelines to its business listings, which will allow people to filter companies based on whether they require proof of vaccination and whether staff are fully vaccinated.
New York City, Microsoft, Tyson Foods and the U.S. auto industry joined state and local governments and big employers that are requiring vaccinations. Vaccination cards or state and city apps will be accepted as proof of inoculation.
Some Atlanta schools have been back in session, in person, for 5 days, and are now on quarantine due to positive cases.
Cruise lines can require proof of vaccination, legally.
Restaurants may likely keep many of the changes instituted in the pandemic such as spacing, single use menus, etc.
Some Texas hospitals are now sending patients out of state for care, as they begin to run out of space.
The U.S. is averaging more than 100,000 new cases a day, the most since February.
Florida is averaging more than 19,000 new cases a day.
Austin, TX has declared a state of emergency with only 6 ICU beds available.
Arkansas Governor who had signed into law that mask mandates were illegal, has changed his mind.
New Orleans Jazz Fest canceled for 2nd year in a row.
North Carolina will enter a state of emergency this Monday.
430 positive tests came from the Olympics
Baltimore – indoor mask mandate now in effect.
Country star Reba McEntire is urging everyone to "stay safe" as she and her boyfriend have both tested positive – but had been vaccinated.
Florida leads the country in hospitalized children.
Doctors are advising Floridians who are not vaccinated not to go into a bar or other public place – "you will absolutely contract COVID".
Head of notorious Wuhan lab warns more COVID-19 mutations are coming
The Lambda variant is becoming a prominent strain in South America.
Dick Farrel, a former television commentator and radio talk show host denied the coronavirus was real and was described as an "anti-vaxxer", has died at 65 of COVID19. One of his colleagues wrote: "RIP Dick Farrel. He is the reason I took the shot! He texted me and told me to 'Get it!' He told me that this virus is no joke and he said, 'I wish I had gotten it!'
Texas Republican H. Scott Apley, died on the same day as Dick Farrel, five days after posting mask-mocking memes and questioning the vaccine.
Stephen Harmon, who belonged to a California mega church and joked that he had "99 problems but a vax ain't one" has died of COVID19.
6 members of a church in Florida died of Covid-19 in less than 2 weeks. None of the victims were vaccinated, and 4 of them were healthy and under the age of 35
The Portuguese government has announced a staged plan to lift restrictions, with all current limits being removed by October 2021. This comes as Portugal's vaccination rate has surpassed that of the United States, with 55% vaccination rate, and an 80% goal by October.
France's 'sanitary pass' was extended to cafes, restaurants and other venues. The pass — which will be used to show proof of vaccination, a recent negative Covid-19 test or recovery from infection — was already required for large venues
Moderna will build a manufacturing plant in Canada.
China reported on Monday more COVID-19 infections in its latest outbreak of the disease, while some cities added rounds of mass testing in the bid to stamp out locally-transmitted infections.
The Pentagon will require all military members to receive vaccinations by 9/15 or sooner – they must also wear masks, keep distances, and limit travel until fully vaccinated.
Canada has opened its borders to US travelers – must use the app and be tested – borders aren't opened for Canadians to come to US.
In Israel, despite the Delta variant, vaccines are delivering high protection, and the rate of serious infections is six times higher among those 60+ who are not vaccinated than others of the same age who are.
Birthright cancels dozens of trips to Israel due to new quarantine rules
On behalf of the American Academy of Pediatrics (AAP), a non-profit professional organization of more than 67,000 primary care pediatricians, pediatric medical subspecialists, and pediatric surgical specialists dedicated to the health, safety, and well-being of all infants, children, adolescents, and young adults, I write to urge the Food and Drug Administration (FDA) to continue working aggressively towards authorizing safe and effective COVID-19 vaccines for children under age 12 as soon as possible.
Here is the letter sent by AAP to the FDA: