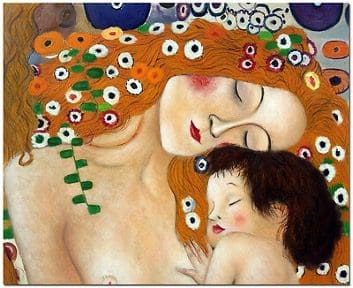 20+ medical organizations strongly urge pregnant women to be vaccinated against COVID-19
Photo: Mother & Child, Gustave Klimt
The American College of Obstetricians and Gynecologists (ACOG) had issued a new statement strongly recommending that all eligible persons, especially those who are pregnant or lactating, receive full COVID-19 vaccination as soon as possible. It also dispels rumors that vaccination has shown any adverse effects on fertility.
Going further, the premier professional membership organization for obstetrician–gynecologists also joined with over 20 other organizations concerned with pregnant women and healthcare for an even stronger recommendation, recognizing that as many as 3 out of 4 pregnant women are unvaccinated at this time.
Recently countries have prioritized reaching pregnant women with vaccines, with Japan's Society of Obstetrics and Gynecology in the news after several pregnant women and babies have died from COVID who were unvaccinated.
Statement of Strong Medical Consensus for Vaccination of Pregnant Individuals Against COVID-19
The following is a joint statement among these organizations:
The American College of Obstetricians and Gynecologists
The American Academy of Family Physicians
American Academy of PAs
American Academy of Pediatrics
American Association of Nurse Practitioners
American College of Nurse-Midwives
American College of Osteopathic Obstetricians & Gynecologists
American College of Physicians
American Pharmacists Association
Association of Immunization Managers
Association of State and Territorial Health Officials
Association of Women's Health, Obstetric and Neonatal Nurses
Infectious Diseases Society of America
Infectious Diseases Society for Obstetrics and Gynecology
National Association of Chain Drug Stores
National Association of County & City Health Officials
National Association of Nurse Practitioners in Women's Health
National Foundation for Infectious Diseases
National Hispanic Medical Association
North American Society for Pediatric and Adolescent Gynecology
Society for Maternal-Fetal Medicine
Society of OB/GYN Hospitalists
Vaccinate Your Family
"As the leading organizations representing experts in maternal care and public health professionals that advocate and educate about vaccination, we strongly urge all pregnant individuals—along with recently pregnant, planning to become pregnant, lactating and other eligible individuals—to be vaccinated against COVID-19.
"Pregnant individuals are at increased risk of severe COVID-19 infection, including death. With cases rising as a result of the Delta variant, the best way for pregnant individuals to protect themselves against the potential harm from COVID-19 infection is to be vaccinated.
"Maternal care experts want the best outcomes for their patients, and that means both a healthy parent and a healthy baby. Data from tens of thousands of reporting individuals have shown that the COVID-19 vaccine is both safe and effective when administered during pregnancy. The same data have been equally reassuring when it comes to infants born to vaccinated individuals. Moreover, COVID-19 vaccines have no impact on fertility.
"Pregnant individuals and those planning to become pregnant should feel confident in choosing vaccination to protect themselves, their infants, their families, and their communities."
ACOG Statement on Medical Misinformation
The following is a statement from J. Martin Tucker, MD, President of the American College of Obstetricians and Gynecologists (ACOG), about the U.S. Surgeon General's Advisory on Building a Healthy Information Environment:
"ACOG is grateful to Surgeon General Vivek Murthy, MD, MBA, for his timely report on the threat of health misinformation and its outsized, harmful impact during the COVID-19 pandemic.
"Throughout the pandemic, misinformation has proliferated when it comes to COVID-19 and women's health, especially specific to the COVID-19 vaccines. ACOG, its partners, and its members have worked hard to rebut dangerous myths—such as the lie that the COVID-19 vaccines cause infertility or the conspiracy that the COVID-19 vaccines can shed to unvaccinated people, impacting their reproductive health. This misinformation has compromised our patients' health by discouraging many of them from receiving the life-saving vaccines. Misinformation may have also exacerbated the health inequities we have seen during the pandemic, particularly in communities of color. And with nearly all recent deaths from COVID-19 occurring among unvaccinated people, this health misinformation has cost lives.
"ACOG is especially aware of the dangers of health misinformation because the field of obstetrics and gynecology has long been the subject of mistruths and myths. These have led to underutilization of proven routine immunizations or other needed health interventions during pregnancy. They also have led to confusion about how contraceptives work—and how they prevent, rather than end, pregnancies. Further, misinformation about the provision of medical care has led our members and their patients to be targeted with threats of violence.
"We join the call for additional research to more comprehensively understand the real-life impact of health misinformation on our patients, and we will continue to do our part by communicating evidence-based, patient-centered information with the public and partnering with other organizations who share in that commitment. Discourse and shared decision-making are at the heart of clinical practice, and it is essential that those conversations be informed by reliable scientific information and transparent dialogue—not by dishonest interference."
_____
Women who have hesitancy about the vaccine and concern for their personal medical condition, underlying condition or concerns should always contact their physician and OB/GYN in making a decision about vaccination.
The RI Department of Health has this information for Rhode Islanders concerned with pregnancy, lactation, and COVID19:
For people who are pregnant:
Pregnant people are more likely to get severely ill with COVID-19 compared to non-pregnant people. Pregnant people with COVID-19 might be at increased risk of adverse pregnancy outcomes, such as preterm birth, compared with pregnant women without COVID-19.
CDC recommends that pregnant people receive a COVID-19 vaccine. Getting a COVID-19 vaccine during pregnancy can protect against severe COVID-19.

Pregnant people should consider their risk of exposure to COVID-19, the risks of severe disease, the known benefits of vaccination, and the limited but growing evidence on the safety of COVID-19 vaccines during pregnancy.
A conversation with a healthcare provider may help them decide when to be vaccinated.
CDC and FDA have safety monitoring systems in place to gather information about vaccination during pregnancy and will closely monitor that information.
Most of the pregnancies in these systems are ongoing, so we don't yet have information on the outcomes of these pregnancies. We need to continue to follow pregnancies long-term to understand effects on pregnancy and infants.


Read the CDC's new report in the New England Journal of Medicine: Preliminary Findings of mRNA COVID-19 Vaccine Safety in Pregnant Persons.
For more information, see CDC's page on COVID-19 vaccination considerations for people who are pregnant.
For people who are breastfeeding:
Clinical trials for the COVID-19 vaccines currently authorized for use under an Emergency Use Authorization in the United States did not include people who are breastfeeding. Because the vaccines have not been studied on lactating people, there are no data available on:
The safety of COVID-19 vaccines in lactating people
The effects of vaccination on the breastfed infant
The effects on milk production or excretion
The COVID-19 vaccines authorized now are non-replicating vaccines, meaning they are able to create an immune response but do not reproduce inside host cells. Because non-replicating vaccines pose no risk for lactating people or their infants, COVID-19 vaccines are also thought to not be a risk to the breastfeeding infant. Therefore, lactating people may choose to be vaccinated.