Your Coronavirus Update – Today, Sept. 1, 2021
Photo: Taken this week by RI Coalition, of a group opposed to mandated vaccines attempting to gain access to the RI State House
Rhode Island & Vicinity
The Blackstone Valley Prep board voted to support the vaccination of staff by adding 5 additional paid personal days to vaccinated staff for COVID-related absences (e.g. breakthrough cases, childcare issues). (Unvaccinated staff will need to test weekly).
Models in Massachusetts predict a peak of the virus in the late fall of 2021.
8 members of the Boston Red Sox have tested positive as well as members from the back offices – they have one of the lowest vaccination rates of all MLB teams.
Boston College faculty would like to have all students/faculty wear masks in the classroom, even though they have a 99% vaccination rate success.
The Rhode Island Public Transit Authority (RIPTA) is advising passengers that the Transportation Security Administration (TSA) has extended the federal mandate requiring face masks to be worn when using public transportation – including trains and buses. The mandate, which has been in place since February 1, 2021, has now been extended through January 18, 2022.
On Monday, a gathering of vaccine protestors tried to "storm the RI State House" but were turned away by security.
The RI nursing home group said that nursing homes may start to limit new admissions because they are anticipating a shortage in staff due to mandatory vaccinations.
RI health officials are predicting a peak in October of COVID virus.
In Vermont, only one school will not honor a mask mandate – 75% of students over 12 and faculty are estimated to be vaccinated statewide.
A group estimated to be approx. 50 people opposed to mandatory vaccines protested in front of the RI State House, then attempted to come into the building, later going to the RI Dept. of Health to continue the protest. Video from the RI Coalition:
Bishop Thomas Tobin: Bishop Tobin posted on Twitter in reaction to the growing division in the country and in RI: "The ultimate victory of the coronavirus might be the anger and division it has caused among us-over masking, vaccinations, mandates and exemptions. We really need to work together on this, respecting other people's viewpoints and concerns. And asking for God's guidance too."
The Rhythm & Roots Festival will return on Labor Day weekend to Charlestown.
Marc Bernier, originally from RI, a prominent anti-vaxxer and conservative radio show host in Daytona Beach died of COVID19 after a 3-week battle
Gov. McKee signed EO allowing retired health workers to return to employment without sacrificing pensions.
The Mayor of Boston has banned evictions within the city.
The RI Dept. of Health has asked Rhode Islanders to be selective about use of the emergency room at RI hospitals and to use them for true emergencies, particularly not for COVID testing, etc. (https://www.ri.gov/press/view/41983).
Cranston's plans for a Fall Harvest Festival are curtailed because of the pandemic, to the spring or next fall.
Fall River Diocese schools have a mask mandate in place.
New hospital visitation at Lifespan facilities, including limiting # of visitors, etc. Available by facility, here: https://www.lifespan.org/centers-services/coronavirus-covid-19/information-hospital-visitors
Providence Journal reports some college vaccine waivers – that Johnson & Wales has approx. 12% of its population on vaccine waivers – URI has 7% – PC, 3%. (https://providencejournal-ri.newsmemory.com?selDate=20210831&goTo=A11&artid=0)
BCBSRI has said that all staff need to be vaccinated by Nov. 1 or have accepted medical excuse.
Gov. McKee Press Conference
Working with federal government to make rent relief and mortgage relief programs easier to complete – $200M in rent relief pending – will do everything we can to help Rhode Islanders utilize this aid. Eviction moratorium was struck down nationally but RI still trying to help by having RentReliefRI is positioned in District Court when evictions are being heard to help on the spot. Center for Justice can now represent people in court and in mediation. Doing all we can to prevent evictions. $13-$14 million has been spent of the $200 million so far. 855-608-8756. RI Housing will help pay landlords with payments in arrears. Rentreliefri.com.
Lt. Gov. Matos addressed assistance for small businesses. RIDLT notes 40K Rhode Islanders will be coming off unemployment. Time to get back to work. RIDLT can assist – ridlt.ri.gov. Small biz town hall: steps are available to make sure employees and customers are safe. Cultural groups spoke about safety as well. Proof of vaccination, negative COVID test, masks.
Pfizer vaccine is now approved – don't be hesitant.
Funding to help pay utility bills – reach out to RentReliefRI, too. Also internet connection assistance – up to $50/month.
Waterfire this weekend – Lt. Gov. will be joining it.
Housing Lunch & Learn – 9/15.
Matos is working with Gold Star families to build a memorial in Exeter – go to Military Initiative on Lt. Gov. website for more info.
Q&A:
Michael Bilow: RI Partnership for Home Care – has been picketing, etc. regarding mandatory vaccination. Gov: Healthcare workers need to keep themselves healthy to keep their patients healthy. We've worked with our hospital groups to work strongly on vaccinations. More are vaccinated than are publicized. In hospitals, updated #s could be over 70% – not 50%. People are going to get vaccinated – they have pride in what they do.
John DePetro: Asks about Chief of Staff investigation – no legal counsel and will keep public posted.
ProJo: Home care workers are asking for an exemption. Will you also mandate for RI state employees? Gov: in short order there will be a vaccine protocol coming soon. Home care workers: we need to be healthy and make our healthcare workers a priority. Same for teachers. Booster shots: as availability comes out, we need to have a good rollout and keep up to date with most vulnerable first. People need to be as healthy as they can be. Large majority have been over 80, over 65 – workers in a healthcare setting will see this and agree to get vaccinated. We're not moving off of that.
Afghan resettlers: we've made an offer, received no further contact.
?: Kennedy Plaza: Something coming up shortly on plans there. Deadline for a plan before Nov. 1. $35Million will be spent elsewhere if all the groups don't come together.
Narcan shortage – high priority to be properly supplied
?: Magaziner's order for school/teacher vaccination plans – remind people that Gov. was the one who suggested it – we are at 90% success – we'll see where we are with that – 90% is strong. No state in the US is where we are – at 90%.
Nursing Homes/Long Term Care – new cases in last 14 days – as of 8/25/2021:
Avalon – Warwick – less than 5 cases
Grand Islander – Middletown – less than 5
Heatherwood – Newport – 5-9
St. Antoine's – No. Smithfield – 5-9
West View Nursing Center – West Warwick – less than 5
Woonsocket Health Center – Woonsocket – less than 5
All American – Warwick – less than 5
Anchor Bay – Johnston – less than 5
Ethan Place – Warwick – less than 5
Franklin Court – Bristol – less than 5
Smithfield Woods – Smithfield – 10-14
Sunrise House – Providence – less than 5
Cherry Hill – Johnston – less than 5
DATA: Aug. 31, 2021: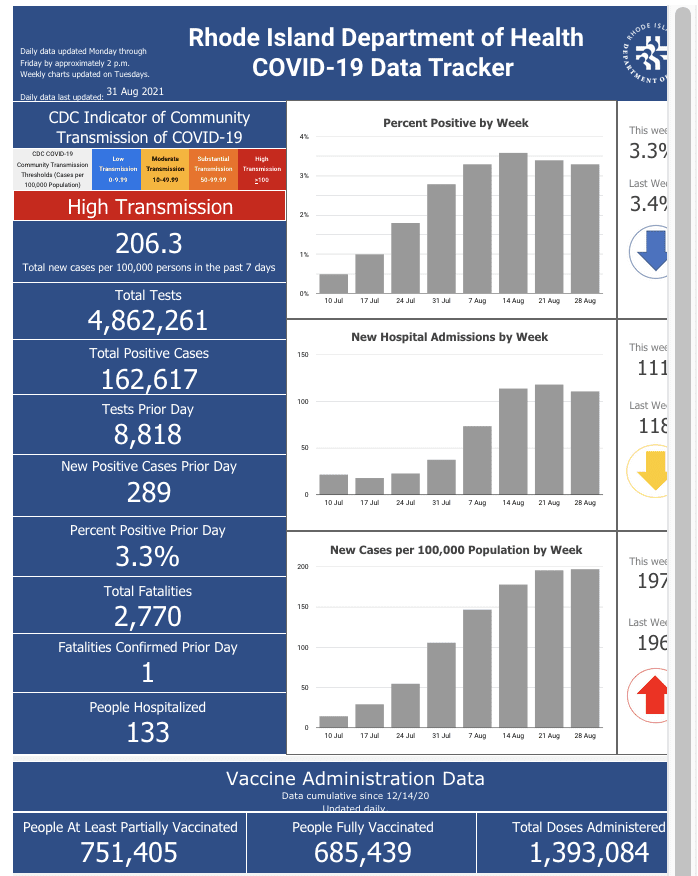 _____
National & International
70% of EU adults are now estimated to be vaccinated
Children can receive monoclonal antibody treatment – an hour long infusion – for 2 weeks Hasbro Children's Hospital has been making this accessible for children with COVID-19.
Monoclonal antibody treatment also available for adults in RI.
Moderna has finished the rolling submission process with the FDA to request a full approval of its COVID-19 vaccine in adults 18+. It requested priority review.
Research is being done using the tobacco plant for a plant-based COVID19 vaccine. Trials are starting in Florida.
Using monoclonal antibodies can reduce death by 85% if used early. Clinics are popping up in Florida locations and no longer just at hospitals.
Delta Airlines employees without a vaccine must pay an extra $200 to count for increased insurance costs.
The Supreme Court rules that the CDC and Pres. Biden overstepped in implementing the eviction moratorium and if it is to continue, Congress must enact it.
Krispy Kreme will give you 2 glazed heart-shaped donuts with proof of vaccination.
After a decline in early summer, child cases have increased exponentially — with more than a four-fold increase in the past month, according to the latest report from the American Academy of Pediatrics and the Children's Hospital Association.
Zimbabwe opens shots to 14-year-old children
Third doses of the mRNA COVID-19 vaccines may start at 6 months from the last dose, rather than the previously announced 8 months.
Caleb Wallace, an organizer of the anti-mask 'Freedom Rally' in Texas, is hospitalized with COVID-19.
US has confirmed the world's first cases of COVID-19 in deer, expanding the list of animals known to have tested positive for the disease.
Mass vaccination sites are being set up in Washington, DC and Philadelphia for Afghan arrivals.
Number of French COVID-19 intensive care patients drops.
The NFL vaccination rate is estimated to be 93% – while mandatory vaccines were discussed, they were not – as of yet – implemented.
Marc Bernier a prominent anti-vaxxer and conservative radio show host in Daytona Beach died of COVID19 after a 3-week battle
3 weeks after 500,000 people attended a motorcycle rally in South Dakota, 63 cases of COVID have been reported in SD and 178 cases across 5 states so far.
Schools in 19 states have sent at least 90,000 students to quarantine, while others have shut down, just days and weeks into the year.
The US Open tennis tournament announces that proof of vaccination will be required for EVERY spectator who wants to attend this year's upcoming tournament
Kansas hospitals are clamoring for traveling nurses as the number of COVID-19 patients rises to levels last seen in January.
Leslie's, a pool and spa retailer with more than 900 stores across the country, you need to be vaccinated against the coronavirus. The company, which employs more than 5,000 people
The EU may restrict travel from US due to our increasing numbers.
The Moderna vaccine is said to make twice as many antibodies as other vaccines in a study reported by Bloomberg News.
2 FDA leaders in vaccine development will be leaving in the fall. Marion Gruber, head of the regulator's Office of Vaccines Research and Review and Philip Krause, deputy director for the FDA's Center for Biologics Evaluation and Research.
A new variant – C12 – has been reported in South Africa
Google searches in the U.S. for "how to get covid vaccine" rose an average of 13% a week prior to the FDA approval of Pfizer's vaccine – after that it rose 76%.