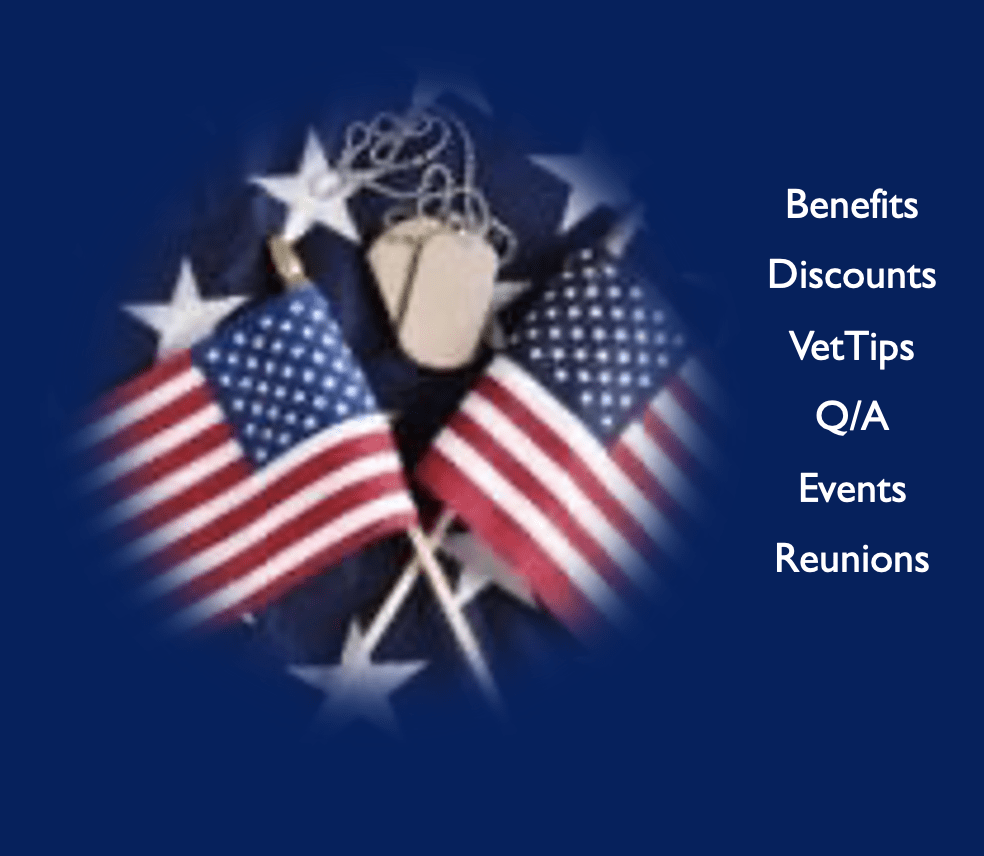 RI Veterans: Did you know? 9 September 21 – John A. Cianci
by John A Cianci, Department Veterans Service Officer,
Italian American War Veterans (ITAM)
Discounts For Veterans
Did you know a Rhode Island business that offers discounts to veterans and members of the military? If yes, email news@RINEWSTODAY.com is gathering intel on retail businesses offering discounts to veterans, which will be included weekly in a new discount section of the weekly veterans' column.
Q & A – How does a business verify I am eligible for the veteran discount being offered? Donna P from North Providence
A: Most businesses have their own policy in having employees verify veteran status.From my own experience as a Veteran and a20 year retiree of the U.S. Army, here are the most frequent ways a business can verifies you are active member of the armed forces or a veteran: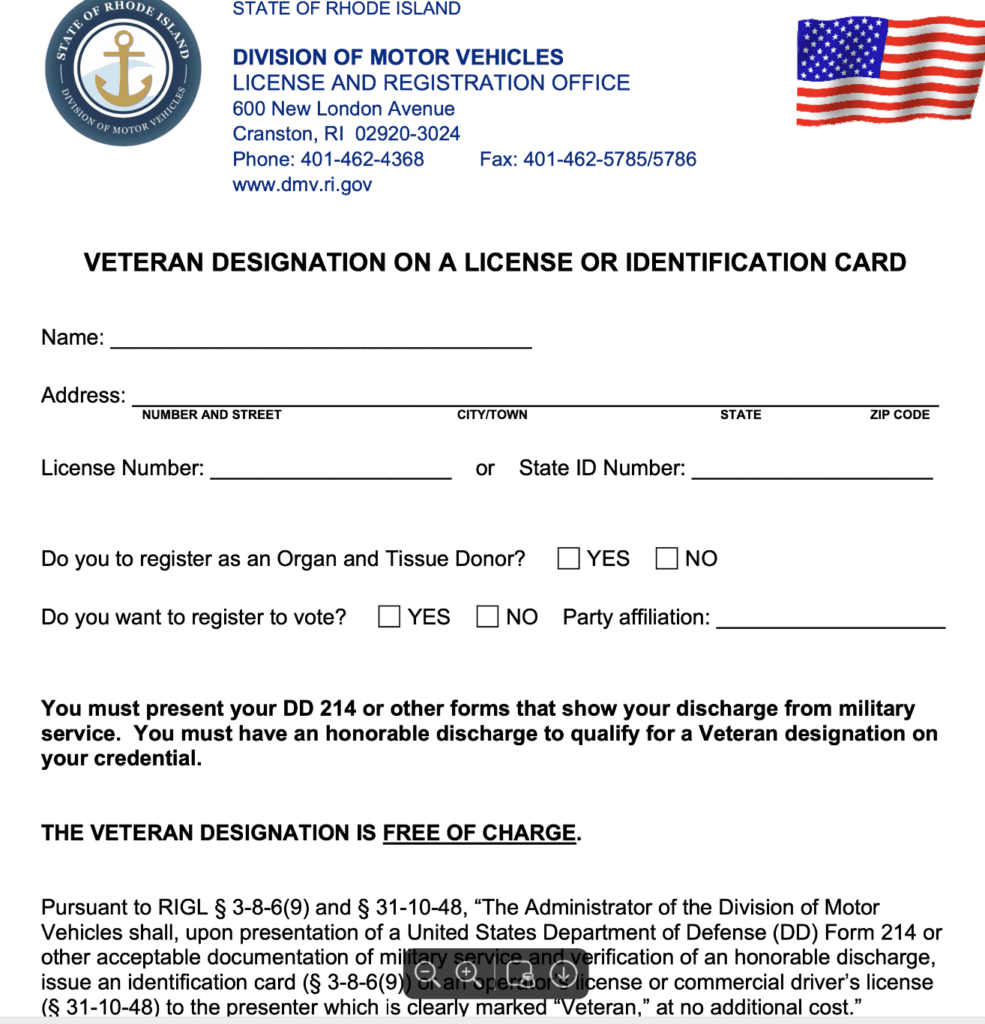 1. A veteran can have veteran designation on his or her license or Rhode Island identification card. To obtain veteran designation by the Division of Motor Vehicles, follow the instruction on their website: http://www.dmv.ri.gov/licenses/veteran/
The form the RI DMV requires you to complete for the veterans designation on your license or identification card.
2. A military identification card which identifies the individual is an active member of the armed forces or a retiree.
3. A veteran administration (hereafter VA) health care, which a veteran enrolled in the veteran health care system is issued free from the VSA<
4. A veteran identification card, ( hereafter VIC) which a veteran can apply for from the veterans administration, https://www.va.gov/records/get-veteran-id-cards/vic/
VETTIP – To be eligible for a VIC, both of these must be true. You:
§ Served on active duty, in the Reserves, or in the National Guard (including the Coast Guard), and
§ Received an honorable or general discharge (under honorable conditions)
If you received another than honorable, bad conduct, or dishonorable character of discharge, you're not eligible for a Veteran ID Card. If you have an uncharacterized or unknown discharge status, we'll have to verify your eligibility before we approve your application.
5. Copy of your DD214.
6. Membership card from a veteran organization like the Italian American War Veterans, Veterans Foreign War, AMVETS, American Legion, Military Women Across the Nation, Vietnam Veterans, Jewish War Veterans, Korean War Veterans, etc…
VETTIP – Membership in a veteran organization could save you hundreds of dollars annually. Moreover, veteran organizations provide a wealth of information on benefits and other programs for veteran and their families.
Some businesses, like Lowes and AAA , and government agencies verify veterans status with ID.me : ID.me helps you prove your identity and group affiliation across multiple websites. It serves the same purpose as the physical ID cards you carry in your wallet. Signing up is FREE. https://api.id.me/en/registration/new
VETTIP – I just saved almost $100 on a purchase at Lowes with easy verification at the point of sale once I asked for the 10% veteran discount. The process was simple, the cashier asked for my telephone number, and my telephone number was linked to my ID.me account, noting I was a veteran. To receive the Lowes discount, you must register with ID.me before shopping.
Here are some businesses offering the discount, ones I have used in the last 12 months,
Restaurants
Applebee's – Military Discount … With more than 2,000 locations, Applebee's is a family grill restaurant. Applebee's gives 10% off for active duty and veteran. Last verified 07/31/2028
Denny's, Hartford Ave, Johnston – Offers 10% discount for veterans and active duty. Denny's is a table service diner-style restaurant chain. Last verified 07/31/2028 (PS I had breakfast there on Saturday).
Outback Steakhouse – 10% Discount to active and veterans. Last verified 07/28/2021
99 Restaurant & Pub – The 99 Restaurant & Pub offers a 10% military discount to members of Veterans Advantage. Available at select locations only. Bring valid military ID.
Retailers
Advance Auto Parts 10% for Active Duty, Veterans and families. Last verified 07/28/2021
Bass Pro Shops – Bass Pro Shops offers a 5% discount to active duty military, reservists, and National Guard. Sign up and verify your status online or bring your military ID when you shop at your nearest Bass Pro store (source).
BJs Wholesale – Reduced membership fee. J's offers all military personnel over 25% off their Membership. Last verified 07/28/2021
Lowes – Enroll in the Lowe's Military Discount Program to Activate Your 10% Discount
Our way of saying "Thank You" to our active duty, retired and military veterans and their spouses with a 10% discount on eligible items. Verification of your military status is fast and easy through our partner, ID.me. ID.me is our trusted technology partner in helping to keep your personal information safe.
GameStop – is offering a 10% in-store military discount on all pre-owned products, collectibles, and select new products. Available to current and former military members who bring any valid proof of service or when they verify through ID.me
Home Depot – Home Depot offers a 10% OFF military discount on regularly priced merchandise for in-store purchases for active duty, retired military, and reservists at participating locations. Customers are required to show a valid government-issued military ID card to redeem this offer.
Kohls – 15% off for active military, veterans, retirees and their immediate family members a 15% discount on purchases made on Mondays, in store only. In order to receive the military discount, eligible customers must present proper identification along with any tender type.
Jiffy Lube – HONORING VETERANS ALL DAY EVERY DAY!
We didn't want to wait for Veteran's Day to express our appreciation and gratitude for your service. That's why every Team Car Care owned and operated Jiffy Lube® service center is offering our BEST discount of 15% OFF as a "Thank You" to the men and women of our Armed Forces for their service to our country. *Disclaimer*- I.D. required. No coupon is required. Excludes batteries and brakes, alignment, and diagnostic services. Available only at select locations listed below:
Tioque Ave, Coventry RI
Bald Hill Road, Warwick RI
Park Ave, Cranston RI
Michaels – Michaels Stores offers a 15% OFF military discount on the entire in-store purchase including sale items for active duty, retired military, guard, reservists, veterans and family members. How to get:
1. Create an Account. Log in or create a Michaels Rewards account.
2. Get Verified. Provide your military information to get verified instantly.
3. Go Shopping! To use your discount online and in store, just sign in to your account or provide your Michaels Rewards phone number at checkout.
O'Reilly Auto Parts – 10% discount on in store items for Active Duty, Veterans and families. Last verified 3/4/21.
If you are a retailer and or a veteran aware of a business not listed above, please forward information to itamri4vets@gmail.com: the business's name, location, and military and veteran discount offered.
In closing, when veterans and their families receive the military and veteran discount, let's not forget the sacrifices of those who gave the ultimate sacrifice. The members of the armed forces currently serving and undoubtably fueled by the support and sacrifices made by their families.
VETTIP – From museums to movie theatres, I always ask if the business offers a military and or veteran discount. Often, the business confirms the discount, and applies to the bill. Always ask the business you are visiting—savings could be at your fingertips.
I encourage all to go to US Navy veteran Ross Boyer video – here: this video – he talks about how a simple discount triggers his PTSD from bearing the weight of his experiences.
Thank You to all those retailers who participate in a military and veteran discount program.
Now you know Rhode Island businesses offering a military and veteran discounts.
Free College Course Program For Veterans
Sign up by September 12, 2021 for the FREE
Providence Clemente Veterans' Initiative (PCVI), which provides free humanities classes to Rhode Island veterans (and those in nearby MA communities).
The program, due to the pandemic, wis currently to running our fall program online (on Zoom), instead of in-person. Since we start up on Monday September 13th, I need to get the word out to our veterans community about this change ASAP.
The Providence Clemente Veterans' Initiative (PCVI) is now accepting applications for its 4th year, which will begin Monday September 13th. At least for the fall, we will meet on Zoom. We hope to return to in-person gatherings in the spring.
The PCVI is a free humanities program that is open to all Rhode Island veterans (Bristol County MA too), regardless of deployment, disability, education and discharge status; the goal is to provide meaningful intellectual community to veterans who are trying to process their thoughts and experiences, and grappling with readjustment to civilian life. Those who participate are eligible to earn 6 college credits. Books and school supplies are free, and transportation assistance is available for those who need it. In 2020 the PCVI won the "Innovation in the Humanities" award from the RI Council for the Humanities.
The course enrolls 12-15 veteran-scholars, and is taught by faculty from UMass-Dartmouth, URI, and the Rhode Island School of Design. In the fall we'll explore the ancient Greeks and the American Civil War through history, literature, philosophy, art history, theater, and creative writing. In January, we'll pick up with the World Wars, Vietnam, and the post-9/11 conflicts.
Why should a veteran participate in the PCVI?
US Army veteran Jeremy Bergantini graduated from the PCVI this past May. In this powerful video, he talks about why every veteran should consider participating.
US Navy veteran Ross Boyer graduated this past May as well, and in this video he talks about how engagement with the humanities in the PCVI has helped him to bear the weight of his experiences.
VETTIP – Spend the time watching Ross's video, and learn how a simple veteran discount received on a family vacation triggers his PTSD.
Classes will meet on Monday and Thursday evenings from 6pm to 8pm on Zoom, starting Monday September 13th.
To apply online, go here: https://pvdvets.org/enroll/
If you have any questions, or would like a paper application mailed to you, please email Dr. Mark Santow, Academic Director, at PVDClementeVets@gmail.com.
The PCVI is supported by our partners: Operation Stand Down Rhode Island, the RI Council for the Humanities, the National Endowment for the Humanities, the URI College of Arts and Sciences, Trinity Rep, and the Providence Journal Legacy Fund.
.
EVENTS/REUNIONS
September 11, 2021, 1:00PM, Dedication of Post 272, Warwick RI – A Veterans of Foreign Wars post in Warwick will be rededicated in honor of a late U.S. Army veteran Sgt. Adam S. DeCiccio . Post 272, located at 840 West Shore Road in the Conimicut neighborhood, will formally become known as the Sgt. Adam S. DeCiccio Warwick Memorial Post 272.
For more information, visit www.vfw272.org or follow Sgt. Adam DeCiccio Warwick Memorial Post 272 on Facebook.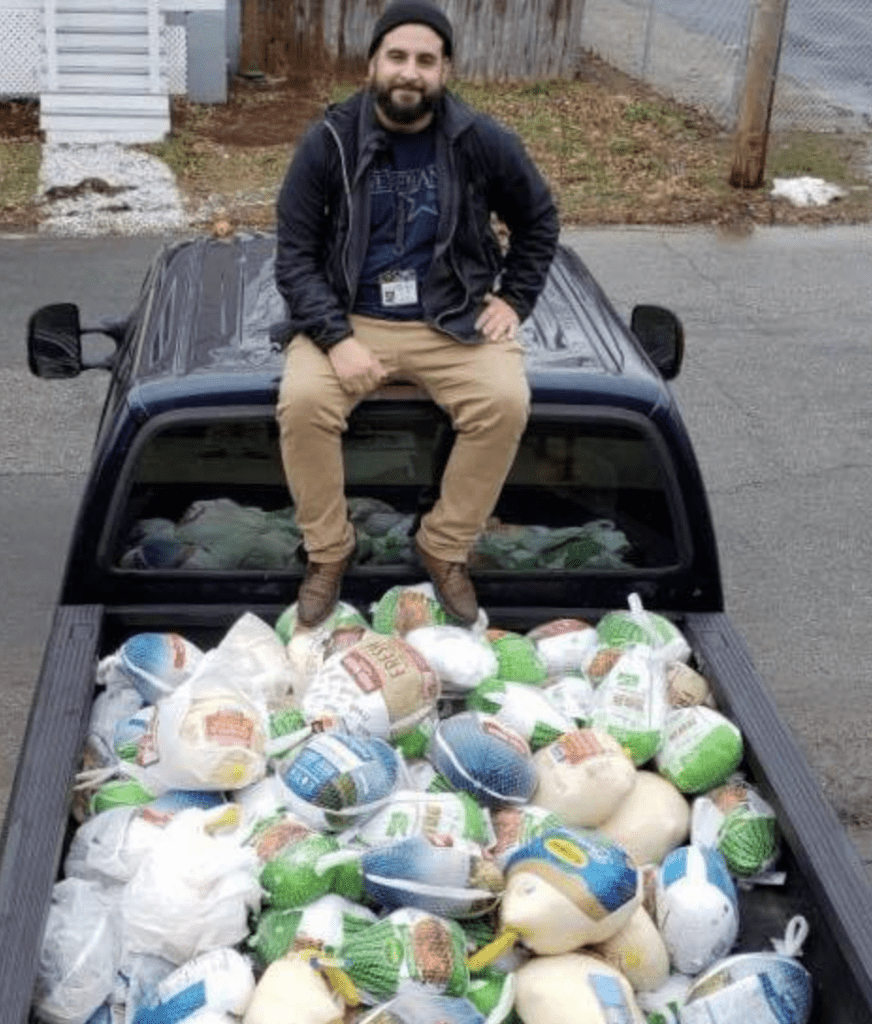 Adam sitting in his truck awaiting veterans in need of a turkey to pick-up. Many veterans benefit from Adam's passion for helping fellow veterans. Never did I imagine the day before meeting up with Adam for a turkey for a veteran in need the afternoon before Thanksgiving, would be the last time we teamed up helping veterans. RIP Adam.
September 15-20, 2021, USMC Tankers Association Facility: Crown Plaza Providence-Warwick, 801 Greenwich Ave., Warwick RI 02886. Point of Contact Name: John Wear. Point of Contact Telephone: 719-495-5998. Point of Contact Email: johnwear2@verizon.net . Comments: The USMC Vietnam Tankers Association will be holding our 12th biennial reunion. Anyone who served with any of the Marine tank battalions or Ontos units in Vietnam . . . in any capacity is welcome!!!
Sunday, September 26, 2021, War veterans Tribute Cruise In at the Rhode island Veterans Home, Metacom Ave, Bristol, Rhode Island. Registration 9:00 to 12;00, award at 3:00pm. Suggested donation $15 per vehicle. Admission is free. All proceeds will go to recent non-profit organization managed by a committee to provide funds available for recreational activities for the veterans the Veterans home. Can't make the event, donations can be sent to ITA, 18 Winchester Ave, N. Smithfield RI 02896.
Sunday, November 20, 2021 Comedy/Dinner show at the Officers Club, Newport RI. ComedyfactoryRI comedians will perform at the Veteran Fundraiser. Tickets are $50 per person, dinner at 5:00. Show starts at 6:00PM. Event is sponsored by the Italian American war Veterans and all veterans residing at the Veterans Home the event will be free, to include a ticket for their guest. Sponsorships for a veteran attending from the Veterans Home, are encouraged for those who can't attend, $50 (which covers the veteran and a guest), 1:00PM.