RI Veterans: Did you know? 16 September 21 – John A. Cianci
by John A Cianci, Department Veterans Service Officer,
Italian American War Veterans (ITAM)
Did You Know Rhode Island Veterans and businesses played a key role in raising thousands of dollars for local veteran organizations?
Afghan Veterans Hand Off to RI World War II Veteran at Annual Golf Tournament Benefiting Veterans
Two of the tournament stars Louie Dolce, 97-year old Rhode Island World War II veteran and Travis Mills, 34 years old retired Army soldier, who became a quadruple amputee while serving in Afghanistan, met for the first time at the Side by Side Golf Tournament held at exclusive Pleasant Valley Country Club in Sutton Massachusetts.
When Travis approached Louie to thank Louie for his service, Louie sat there speechless. Travis thanked him for his service. During their conversation, Louie asked him "What the hell happen", to which Travis replied, "Bad day out for a walk". Travis continued to joke with Louie and sought Louie's military career story, which Louie detailed serving in the Coast Guard during World War II.
Concluding their meeting, Travis insisted to shake Louie's hand with his prothesis hand. In an apparent prank, Travis backed away and released his prothesis hand. A stunned Louie just sat there; another successful Travis's prank intertwining his "Never Give Up. Never Quit". attitude on life, despite being a quadruple amputee from an injury he suffered while serving in Afghanistan.
The annual golf tournament has raised over $100, 000 each year since 2014, except last year due to COVID 19 restriction. All profits go directly to supporting programs for local veterans and other 501 ( c) (3) organizations. Profits from the tournament will be donated to nonprofits providing distributed to Travis Mills Foundation, Habitat Humanity of Worcester County, On Course, and NEADS.
One of the non-profits the tournament profits will benefit is The Travis Mills Foundation, https://travismillsfoundation.org. According to the foundation website, donations support recalibrated veterans and their families through long-term programs that help these heroic men and women overcome physical obstacles, strengthen their families, and provide well-deserved rest and relaxation.
Later, Travis, speaking to the participants of the tournaments at the dinner, spoke of the expansion of his Veterans Health and Wellness Center and Retreat located in Maine, helps combat-injured veterans and their families adjust to their new normal. The expansion will expand to assist veterans and their families mitigating the invisible wounds of war, post-traumatic stress disorder (PTSD) and traumatic brain injuries (TBI). Travis's retreat allows them to recover while surrounded by others who know what they've gone through. The groundbreaking took place Saturday on the 20th anniversary of the Sept. 11, 2001, terrorist attacks, which inspired many to serve in the U.S. military. He ensured the participants and donors, every single dollar donated is stretched and NOT ONE dollar benefits his family or himself.
Another organization recipient, the NEADS organization has been providing FREE service dogs to veterans, which until recently signed into law, the Puppies Assisting Wounded Servicemembers, or PAWS, for Veterans Therapy Act — to help connect veterans with their own service dogs.
In the past, the Veterans Administration did not provide funding for service dogs. According to NEADS's website, their service dogs are trained to assist veterans with a physical disability by performing tasks to assist their partner. They accompany their partners wherever they go. Service Dogs can help with all kinds of tasks; retrieve objects from tables, counters, floors, turn light switches on and off, push elevator/automatic door buttons, stand and brace for stability during a transfer, barking on command for help, and getting a cordless phone in an emergency
Another recipient organization, On Course Foundation, supports the recovery of wounded, injured and ill service personnel and veterans through golf. According to the On Course Foundations website, their mission is to build confidence and self-belief in our members through golf skills and employment events and set them on the path to meaningful employment opportunities in the golf industry.
As a sport, golf offers a unique platform where players of all skills and backgrounds can compete healthily, improving not only their physical but mental strength too. With many lacking self- beliefs, it's our aim to help our members realize their potential and set them on a fulfilling career path in the golf industry.
Other recipient organizations of this year's tournament profits are Veteran Inc. and Habitat of Humanity. Both organizations provide veterans assistance in housing and a host of other programs supporting veterans and their families. For example, Habitat Humanity of Worcester Count has program to provide kids with this personal space. Playhouses built by Habitat's corporate partners are offered to children of local veterans and active-duty military personnel.
The playhouse built on site at Pleasant Valley Country Club, was presented to a veteran son named Mateo. To see the look in Mateo's eyes when he was surprised by the presence of playhouse with his name on the door, surely assures donors how their time and efforts are making a difference in veterans and their families' lives.
Rhode Island business owners, Luke Semmelrock and Mary-Jo Hurley, owners of Partners Auto Auction, Foster, RI were part of the original group of local business leaders interested in supporting veterans through an annual charity golf tournament. According to Side by Side Charitable Organization website, https://www.sidebysidepvcc.com. Luke told RINEWSTODAY without the generosity of the Magill family of Pleasant Valley Country Club and the many sponsors and participants, the tournament would not be such a huge success.
The tournament has raised over $500, 000 million dollars since 2014, and after this year's donations to non-profit organizations providing benefits and support to veterans, has provided over $500, 000 to numerous organizations . This information was verified by RINEWSTODAY.com research on the IRS Charitable Organization Search, https://apps.irs.gov/app/eos/all, Search by Side Charity Organization Inc.
According to Luke, on the second Monday in September, the tournament is held at Pleasant Valley Country Club. The club turns away lucrative corporate sponsors wanting to use the venue on a prime date in September, choosing to provide exclusive use for an event benefiting local veterans.
Unique feature of the tournament, the donors and participants turn away high celebrity appearances and high-profile speakers, choosing rather maximum veteran participation in the event; the majority of teams sponsor one or two wounded veterans to be members of their team.
During Luke's phone interview, he told RINEWSTODAY, https://rinewstoday.com, without the Pleasant Valley Country Club membership actively engaging and financial support of Pleasant Valley Country Club members, the event would not be so successful. Many of the members already have membership to this exclusive golf resort, however, donate anywhere from $10, 000 to $25, 000 to participants and have a On Course golfing veteran representative be part of their team.
This annual charity golf tournament honors and supports United States military veterans. Moreover, success is intertwined with the appearances of the stars of the vent, veterans like Travis and Louie.
RINEWSTODAY salutes the tournament organizers, donors, and participants—-GOD SPEED!!!!
Discounts
Restaurants
Applebee's – Military Discount. With more than 2,000 locations, Applebee's is a family grill restaurant. Applebee's gives 10% off for active duty and veteran. Last verified 07/31/2028
Denny's, Hartford Save Johnston Offers 10% discount for veterans and active duty . Denny's is a table service diner-style restaurant chain. Last verified 07/31/2028 (PS, I had breakfast there on Saturday).
Outback Steakhouse 10% Discount to active and veterans. Last verified 07/28/2021
99 Restaurant & Pub: The 99 Restaurant & Pub offers a 10% military discount to members of Veterans Advantage. Available at select locations only. Bring valid military ID
Retailers
Advance Auto Parts 10% for Active Duty Veterans and families. Last verified 07/28/2021
Bass Pro Shops: Bass Pro Shops offers a 5% discount to active duty military, reservists, and National Guard. Sign up and verify your status online or bring your military ID when you shop at your nearest Bass Pro store (source).
BJs Wholesale Reduced membership fee. J's offers all military personnel over 25% off their Membership. Last verified 07/28/2021
Lowes. Enroll in the Lowe's Military Discount Program to Activate Your 10% Discount
Our way of saying "Thank You" to our active duty, retired and military veterans and their spouses with a 10% discount on eligible items. Verification of your military status is fast and easy through our partner, ID.me. ID.me is our trusted technology partner in helping to keep your personal information safe.
GameStop. GameStop is offering a 10% in-store military discount on all pre-owned products, collectibles, and select new products. Available to current and former military members who bring any valid proof of service or when they verify through ID.me
Home Depot. Home Depot offers a 10% OFF military discount on regularly priced merchandise for in-store purchases for active duty, retired military, and reservists at participating locations. Customers are required to show a valid government-issued military ID card to redeem this offer.
Kohls. 15% Kohl's offers active military, veterans, retirees, and their immediate family members a 15% discount on purchases made on Mondays, in store only. In order to receive the military discount, eligible customers must present proper identification along with any tender type.
Jiffy Lube. Jiffy Lube is HONORING VETERANS ALL DAY EVERY DAY! We didn't want to wait for Veteran's Day to express our appreciation and gratitude for your service. That's why every Team Car Care owned and operated Jiffy Lube® service center is offering our BEST discount of 15% OFF as a "Thank You" to the men and women of our Armed Forces for their service to our country. *Disclaimer*- I.D. required. No coupon is required. Excludes batteries and brakes, alignment, and diagnostic services. Available only at these locations: Tioque Ave, Coventry RI – Bald Hill Road, Warwick RI – Park Ave, Cranston RI.
Michaels. Michaels Stores offers a 15% OFF military discount on the entire in-store purchase including sale items for active duty, retired military, guard, reservists, veterans, and family members. How to get:
1. Create an Account. Log in or create a Michaels Rewards account.
2. Get Verified. Provide your military information to get verified instantly.
3. Go Shopping! To use your discount online and in store, just sign into your account or provide your Michaels Rewards phone number at checkout.
O'Reilly Auto Parts. O'Reilly is offering a 10% discount on in store items for Active Duty, Veterans and families. Last verified 3/4/21.
If you are a retailer and or a veteran aware of a business not listed above, please forward , itamri4vets@gmail.com: the business's name , location, and military and veteran discount offered
.
EVENTS/REUNIONS
September 15-20, 2021, USMC Tankers Association Facility: Crown Plaza, Providence-Warwick, 801 Greenwich Ave., Warwick. Point of Contact Name: John Wear. Point of Contact Telephone: 719-495-5998. Point of Contact Email: johnwear2@verizon.net . Comments: The USMC Vietnam Tankers Association will be holding our 12th biennial reunion. Anyone who served with any of the Marine tank battalions or Ontos units in Vietnam . . . in any capacity is welcome!!!
Thursday , September 16, 2021, James Ray Chapter #818 Vietnam Veterans of America . Lincoln Senior Center, Lincoln RI monthly meeting.
Sunday, September 26, 2021, War veterans Tribute Cruise In at the Rhode Island Veterans Home, Metacom Ave, Bristol, Rhode Island. Registration 9:00 to 12;00, award at 3:00pm. Suggested donation $15 per vehicle. Admission is free. All proceeds will go to a non-profit organization managed by a committee to provide funds available for recreational activities for the veterans at the Veterans home. Can't make the event, donations can be sent to ITAM, 18 Winchester Ave, N. Smithfield RI 02896.
Saturday, November 20, 2021, Comedy/Dinner show at the Officers Club, Newport RI. ComedyfactoryRI comedians will perform at the Veteran Fundraiser. Tickets are $50 per person, dinner at 5:00. Show starts at 6:00PM. Event is sponsored by the Italian American war Veterans and all veterans residing at the Veterans Home the event will be free, to include a ticket for their guest. Sponsorships for a veteran attending from the Veterans Home, are encouraged for those who can't attend, $50 (which covers the veteran and a guest).
NOTE: If you have an event, meeting, other pertinent veteran information, or email questions or help needed, contact the Italian American War Veteran Service Officer, John A Cianci, itamri4vets@gmail.com, ITAM Office 1-(401)677-9VET(9838)
_____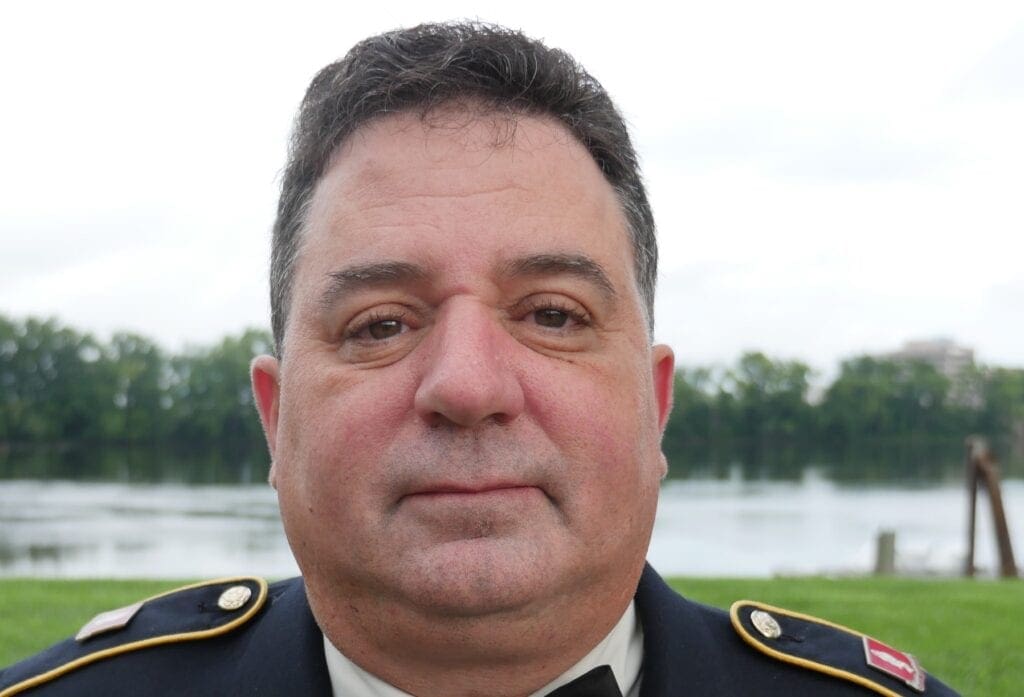 John A. Cianci is a Veteran Service Officer. Retired, U.S. Army MSgt., Persian Gulf War and Iraq War combat theater.
Cianci, a combat disabled Veteran, served in Desert Shield/Storm and Operation Iraqi Freedom. His awards include Bronze Star, Combat Action Badge, Good Conduct, and others.
Cianci belongs to numerous veterans organizations – Italian American War Veterans, American Legion, Veterans of Foreign War, United Veterans Council of Rhode Island, and many more organizations. He is an active volunteer assisting veterans to navigate federal and state benefits they have earned. He is Department of Rhode Island Department Commander Italian American War Veterans and Veteran Service Officer.
He is a graduate of Roger Williams University (BS Finance), UCONN business school* (Entrepreneur Bootcamp For Veterans), Solar Energy International Residential, Commercial and Battery Based Photovoltaic Systems certificate programs, numerous certificates from the Department of Defense renewable energy programs, including graduate of the Solar Ready Vets Program.