Your Coronavirus Update – Today, Oct. 30, 2020
Photo: The exodus leaving Paris, France last night as lockdown restrictions were going into effect at midnight. There is also widespread demonstrating with the familiar "yellow vests" happening throughout Paris.
NATIONAL & INTERNATIONAL
More than 9 million Americans have been infected with coronavirus, as of yesterday.
Success in controlling the coronavirus may have a lot to do with "obedience" culture in various countries. For instance, "there is generally a lot of deference to authority in Canada," said a US reporter who covers Canada, noting that this type of compliance, or being unable to leave one's home, as was the case in Italy at one time, could not be implemented successfully here. Even a mandatory mask order proposed for the US is acknowledged as unable to enforce.
New York's Greenwich Village Halloween Parade will not take place, but will be a virtual re-enactment of the parade, using miniature puppets made by about 30 artists. It will start at 7pm – https://halloween-nyc.com/watch/
American Hockey League said the earliest play would start would be in early 2021
Only 35 people have died from Covid-19 in Vietnam – they have a rigorous contact tracing and compliance program.
Death rates from coronavirus have dropped significantly. In one NY hospital system those rates have fallen from 30% to 3%,
CDC says there is now a low – 0.65% death rate – virus seems to be more highly transmissible, but less lethal.
The US posted a 33.1% GDP Q3 increase that shattered all records on Thursday.
Germany and France have closed all their cinemas once again.
More than 10,000 nursing homes will share $333 million worth of incentives for a month-over-month drop in COVID-19 infections and deaths.
Lower unemployment numbers than expected this week.
Boston Mayor Martin J. Walsh on Thursday unveiled the Hub's "Get The Test Boston" pledge, aimed at getting residents tested for the virus regardless of symptoms. Companies are encouraged to take the pledge by encouraging all employees to get tested — especially workers with symptoms, those at risk for health complications upon infection, anyone in close contact with someone infected, and anyone who's traveled or attended a large gathering.
Somerville and Medford, MA are teaming up with Tufts University to launch a new COVID-19 testing program for the cities' school systems.
Dr. Fauci said we will know in December about a plausible vaccine. Later that day when asked about when he expects the FDA will greenlight use of the first vaccines, he moved the administration's stated goalpost. "Could be January, could be later. We don't know," he said.
There is a growing shortage in protective gloves, particularly in smaller communities. Most are made in Asia – with only one plant in New Hampshire. The owner of the company said China tried to buy his entire company. The federal govt is expected to announce a new make-it-in-US initiative for gloves.
Regeneron's treatment, REGN-COV2, had a statistically significant effect on lowering viral load over seven days and, perhaps most important, reduced the number of required medical visits by 57% over 29 days. The effect on the virus was even more pronounced in patients with a particularly high viral load.
There are concerns that people will begin stockpiling products again – 57% say they will, but stores and manufacturers say they are well-prepared now.
Worcester has extended its outdoor dining program put in place in June to help restaurants struggling during the coronavirus pandemic.
The University of Connecticut is suspending a new free-tuition program for lowerincome students as it struggles to raise private funds amid a pandemic.
RHODE ISLAND & VICINITY
Sunday, Groundswell Café, a new cafe, which will serve breakfast, lunch and dinner, is located at the former Provender, in Tiverton.
Halloween parties in college communities could be the next super-spreader events – so colleges are monitoring this and encouraging activities among those who already live together.
40% of new cases in RI come from workplaces
RI Data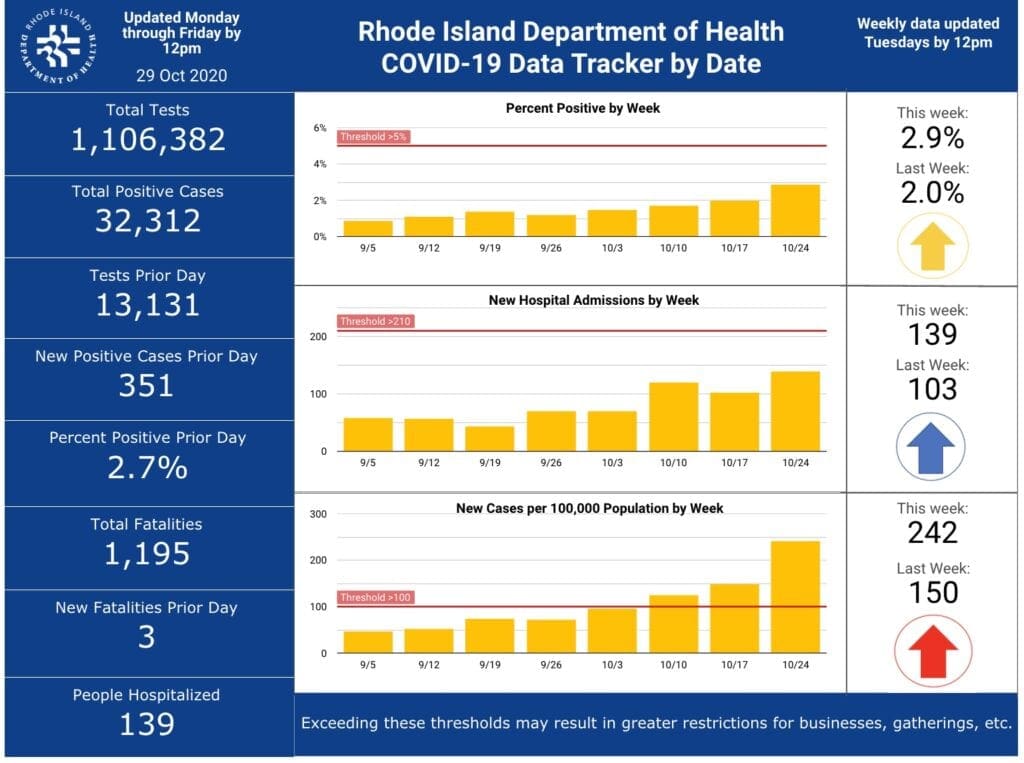 Rhode Island Commerce Corporation has announced the Rhode Island Hotel, Arts & Tourism (HArT) Grants. The State has allocated $20 million for the program, with eligible businesses and nonprofits able to receive grants of up to $1 million on a competitive basis. The purpose is to prevent closure of arts, culture, hospitality & tourism businesses and institutions while also building resilience to shifts caused by the COVID-19 pandemic, supporting their workforce, and engaging with their communities.
Informal polls in RI show 75% of people do not support "lockdowns" again.
From the Governor:
The 3I's – situations to avoid.
1) Informal: One interesting piece of data we've found in our case investigations is that across the board, events are safer when there's structure to them. For example, seated restaurants are less risky than standing bars, and a catered wedding is safer than a buffet. If you're going to be with other people, make sure the event is structured.
2) Indoors: The virus spreads more easily indoors, where it can easily travel through ?the air. ?Whenever you can, avoid indoor ?social gatherings. If you're in need of outdoor space, consider making a reservation at one of our state parks through ?our Take It Outside initiative.
3) Inconsistent: The reason we're asking you to limit the size of your social gatherings is so that if you ?do get sick, you don't become a super-spreader. That only works if you keep your groups consistent. If you get together with 14 other people, contract the virus, and then see a different 14 people the next day, you've now doubled the reach of the virus–even though you haven't ?attended a gathering of ?more than 15. To keep yourself and your loved ones safe, make a list of the people you need to see–your immediate family, maybe a few coworkers–and stick to that group as much as possible.
All of these precautions are crucial, and we ?all need to make sure that we are doing all three all the time to stop the spread of COVID-19, no exceptions. Like you, I'm anxious to get Rhode Island to a place where we can see our friends and families the way we used to. But we can't get there until we all start following the recommendations of our doctors and scientists. For more ?information, visit health.ri.gov/covid.
The Governor will have a special address TODAY at 1pm – we will post a link on our Facebook page at that time. More restrictions are expected.