Your Coronavirus Update – Today, Jan. 31, 2021
PHOTO: An impromptu roadside vaccination in rural southern Oregon during a snowstorm, when public health workers realized their remaining doses of vaccine would expire while they were stranded. Credit, CBC
RHODE ISLAND & VICINITY
Vaccination Plan for RI – January 30th – February 3rd: Limited COVID-19
Vaccination Pilot for ages 75+
Based on RIDOH's guidance, many municipalities are working through their existing special needs emergency registry to identify small groups for this initial push however some other municipalities chose to create local registries and open more widely to their 75+ population. You can visit your city or town's website for more information. When the state opens vaccination to the wider 75+ population, information on how to register for a public clinic will be posted on this page as well as shared in our press releases, through the media, pharmacies and multiple venues of direct communication. Please be aware that expressing an interest in vaccination on such lists does not guarantee a priority vaccination.
RI received an unexpected 5,000 vaccines and without formal systems put in place, there was a lot of disorganization – once regular doses are underway a more formal system should be in place.
Vaccines are going to those 75 years of age and older who live in the community. (there are some variances)
Each city and town is being allocated a number of vaccines that relate to the number of people of this age in that city or town.
Each city/town has its own registration system.
There are 5 regional clinics serving multiple cities – they are in Providence, East Greenwich, Bristol, Smithfield and Narragansett. Others will be set up in coming weeks.
Barrington: 80 doses will be administered Monday at Quinta-Gamelin Community Center in Bristol. Seniors were signed up at a housing center.
Bristol: Eligible residents can add their names to a waitlist at: www.bristolri.gov/vaccination or by calling Parks & Recreation at 253-1611, Monday – Friday 8:30 a.m. to 3:30 a.m. They will be contacted when an appointment time is available at the Bristol Community Center.
Central Falls: All residents 18+ are eligible due to the density of positive cases. Residents can sign up at: www.centralfallsri.us/coronavirus
Cranston: 390 doses will be administered Feb. 1–3 at Swift Community Center in East Greenwich. Residents should call or go to the Cranston Senior Services Center (Cranston St) at 780-6000 to pre-register. The city will call and prioritize by oldest first, as each group of vaccine becomes available.
Cumberland: Cumberland EMS will be vaccinating residents 75 and older at the six elderly apartment complexes in town. As more vaccine becomes available, the town will plan clinics in the community.
East Greenwich: Residents 65 and older should call or email 886-8626 ext. 1, cpoirier@eastgreenwichri.com , or the senior center office at (401) 886-8669, cmarkey@eastgreenwichri.com to pre-register.
East Providence: The city will call residents over 75 in the next few days to register them. More info, here: https://eastprovidenceri.gov/COVID-19
Exeter: Residents 75 and older should call town hall at 294-3891 and leave contact information to be called when a vaccine is available.
Glocester: Vaccine will become available to those 75+ after Feb. 14. Residents will receive notification of locations, how to register, etc. Residents can go to the town's website and social media page for updates.
Hopkinton: A meeting will be held this week to create a plan, and residents should wait for more information. They need to do nothing at this time.
Foster: Foster residents over 60 should email Carol Mauro at cmauro@townoffoster.com or call 392-9208. Three priority waitlists are being complied, 75 and older, ages 65-74, and 60-64. Residents will be contacted to register for a time, though there are no specific dates or locations right now.
Jamestown: Residents born in 1928 or earlier who have not been contacted, should call 423-1213 ext. 4328. They only have 30 doses at this time.
Little Compton: The town will contact residents soon. They will have 20 doses the week of Feb. 14th at this time, though that could change. They will use the registered voter list as their main resource. If you are not a registered voter, call 635-4400 to leave your name, address and phone number.
Middletown: 80 doses will be administered next week in Bristol. Residents 75 and older who are on the Rhode Island Special Needs Registry. If any doses remain after that, other seniors will be selected at random.
Narragansett: Narragansett will use the South Road Elementary School for residents 75+. Eligible individuals will be randomly selected from the town's database and contacted by town staff who will register them via phone, or you can call or email 782-0654 or proosa@narragansettri.gov .
Newport: 120 doses will be administered at the Bristol site Officials say they're reaching out to seniors and encouraging them to sign up for the existing emergency alert database so they can be contacted.
North Kingstown: 130 doses for seniors 75 and older on Jan. 31 and Feb. 3 will be given out at the South Road Elementary School in South Kingstown. Residents on the R.I. special needs registry database will be contacted via phone between Jan. 28 and Feb. 2 to schedule an appointment. The town will use multiple databases to contact seniors, or you can call 294-3331 ext. 405 or visit their website .
North Providence: Residents should sign up online and the city will be using the senior center's call list – vaccinations will be done at Neutaconkanut Recreation Center in Providence. More information here .
Pawtucket: Residents will go to the Neutaconkanut Recreation Center in Providence once they have been notified by the city – they can also call the BEAT COVID-19 Hotline at 855-843-7620. Learn more here .
Portsmouth: Multiple locations will be set up. Find updates on their website .
Providence: 850 doses will be given out at Neutaconkanut Recreation Center. Residents over 75 should call 311 to book an appointment. People under 75 can express interest in receiving the vaccine at providenceri.gov/vaccinate . Also in Providence: the Center for Primary Care is the only Lifespan facility that is currently offering the vaccine by appointment only. Staff at the center contacted all 460 of the patients on their rolls who qualified; with approx. 150 vaccinations scheduled for this weekend.
Richmond: Only 40 doses for the week are available now. Databases will be used to identify the oldest individuals in the town and they will be called. 75 doses should be done through the middle of February.
Scituate: Scituate Senior Center beginning the week of Feb. 14. All seniors will be notified for an appointment.
Smithfield: Residents will be contacted by the town.
South Kingstown: 150 doses will be administered at Regional South Road School. Senior residents who qualify will be contacted by phone 2 to schedule appointments. Learn more here .
Tiverton: Eligible residents will be contacted to book appointments using their special needs registry, along with voter rolls. Updates posted on their website .
Warren: 50 doses to begiven out at a regional clinic next week for seniors 75 and older were selected from their special needs registry. All doses have been allotted. There should be 70 doses a week. Call 247-1930 or bhoague@townofwarren-ri.gov and provide your name, date of birth and phone number.
Warwick: 390 doses will be given out this week at Swift Community Center in East Greenwich. All appointments are booked, and residents should keep checking the city's website.
Westerly: 110 vaccines will begiven out by lottery from the voter roll. Residents will be contacted. Check their website for updates .
West Greenwich: Contact cgrandall@wgtownri.org to get registered for a vaccine, a list will be kept of who to contact when a clinic becomes available.
West Warwick: West Warwick will provide vaccine distribution information the week of Feb. 1 on their website .
Newport and Middletown will join to create a Southern Aquidneck Island Vaccination Center at the Community College of Rhode Island campus.
Vaccine quantities for cities/towns are based on population of those 75 years of age and older.
In an informal poll by RINewsToday, 72% of people responding said they only have a cell phone and no landline.
Dr. Jha said in an interview with the Providence Journal that relaxing restaurant rules right now does not make sense with the surge in virus just hitting us.
More than 2,400 businesses and people in Maine have been approved for over $221 million in forgivable loans in the first two weeks of the reopening of the Paycheck Protection Program.
The RI Convention Center Authority has laid off 70% of their special event staff – their facilities have been repurposed from a press conference location to a field hospital, training facility, and COVID testing.
From the New York report on nursing home deaths and the Governor's involvement, this chart appears, referencing RI's high nursing home death rate: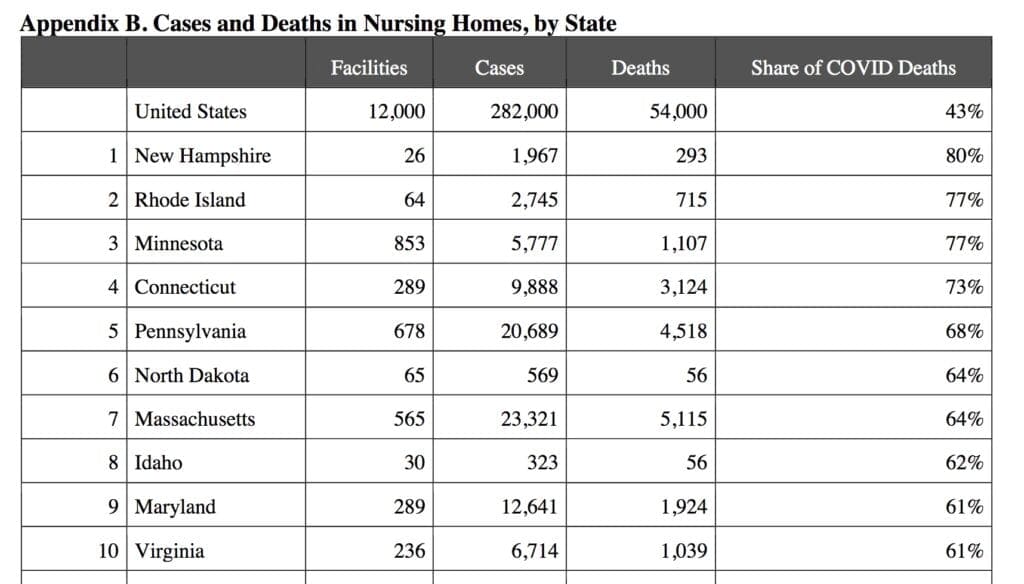 Rhode Island ranks 41 out of 50 states in percentage of residents who have received at least one dose of a coronavirus vaccine.
RI AG Peter Neronha responded to a question about the NY report on nursing homes saying that they would respond to odd trends in RI nursing home data, if necessary. He also said he did not get the vaccine, and won't until his parents in their 90s get theirs.
30% of Latina owned businesses in RI have closed.
The Boston Marathon has been re-scheduled for Oct. 11th.
COVID-19 Vaccine Update for RI Veterans:
Enrolled Veterans are now receiving COVID-19 vaccinations based on the VA distribution plan and vaccine availability, starting with those at highest risk of severe illness.
The VA Providence HCS is currently vaccinating Veterans 85 years and older, and those who are: on dialysis, transplant patients, institutional chemotherapy patients, or in group living situations, such as nursing homes and homeless shelters. The next group will be Veterans over 75.
There is no need to call for an appointment – they will contact our patients directly when we are scheduling Veterans in their risk category.
We strongly believe that reaching out to Veterans and scheduling them based on their risk is the safest and fairest way to proceed while we have a limited supply of the vaccine.
The goal is to offer free COVID-19 vaccinations to all enrolled Veterans as soon as sufficient supply is available.
CALL 273-7100, ext. 12496 if questions or need to be seen and haven't been at the VA in some time to make sure your contact info is in the system.
Data – Jan 29, 2021
Deaths: 10
Tests – 19,057 – Positives – 550 – Percent positive – 2.9%
Hospitalized – 324 – In ICU – 50 – Ventilated – 31
Deaths in hospital – 3 – New Admissions – 46 – New Discharges – 57
First vaccines: 66,778 – Total fully vaccinated – 2 shots: 22,983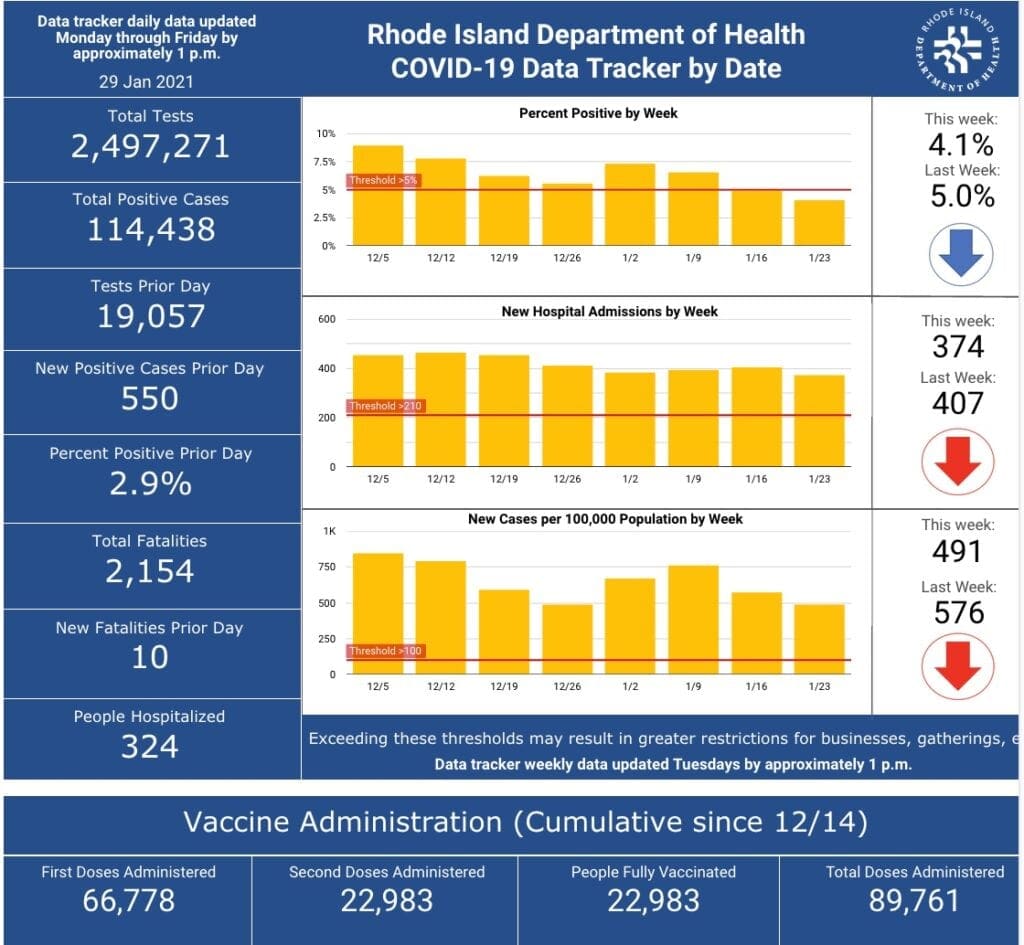 Vaccinations in Central Falls continue with over 1,000 over 18 now being vaccinated.
NATIONALLY & INTERNATIONALLY
The New York report on Gov. Cuomo and Nursing Home Deaths – Factors Associated with Nursing Home Infections and Fatalities in New York StateDuring the COVID-19 Global Health Crisis – is here: https://www.health.ny.gov/press/releases/2020/docs/nh_factors_report.pdf
Effective Monday, mask wearing is required on all planes, trains, buses, etc. – federally run or state run.
Frustration at getting vaccines happening nationwide, with one state having 100 phone numbers to call, 200 locations and 63 websites to check.
Mass vaccination sites are opening throughout the country.
Johnson & Johnson's vaccine was hailed as good news, even though the company reported that its one-shot vaccine had a lower efficacy rate than its two-shot rivals — Moderna and Pfizer-BioNTech — which are already being administered to people across the US.
NFL teams lost almost $4 billion in revenue due to coronavirus pandemic
40 Detainees at Guantanamo Bay, including Khalid Shaikh Mohammed were to begin receiving COVID-19 vaccinations according to the New York Times. Late on Saturday, The Pentagon announced that these plans were put on hold.
Chicago teachers are still refusing to return to school, even though they are beginning to be vaccinated.
Highly transmissible So. Africa strain is now found in Maryland and South Carolina. Vaccines don't work as well though they are highly effective. Two dozen states have the UK strain and it should be the top strain by mid-March. White House has put restrictions on travel to/from So.. Africa, and mask mandate on travel venues.
9 retired Nuns in Michigan died of COVID19
Tanzania president has ended lockdown and vaccine distribution, saying God will protect people.
The United States will likely start vaccinating children by late spring or early summer, top U.S. infectious disease expert Anthony Fauci said on Friday.
Italy to relax COVID restrictions in many regions, worrying some medical experts
Federal govt reported that there is twice as much vaccine distributed as has been administered to people.
Anti-vaxxers shut down one of the largest vaccination sites in the country, in LA, at Dodgers Stadium, temporarily.
China has built a massive quarantine camp with more than 4,000 rooms in what looks like trailers
Hospitals and vaccination clinics are advised to have a plan in place for extra doses of vaccine left over after a clinic
1,600 Seattle residents came out at 3am to get vaccinations when a health dept. storage facility failed and notification went out that they had vaccine that would go bad.
The American Journal of Medicine noted the use of various substances in a new study, resulting in an algorithm for treatment with the goal of treating COVID19 positive patients in the home setting. You can read the article, here: https://www.amjmed.com/article/S0002-9343(20)30673-2/fulltext – The American Journal of Medicine – "The Green Journal" – publishes original clinical research of interest to physicians in internal medicine, in both academia and community-based practice. AJM is the official journal of the Alliance for Academic Internal Medicine, a prestigious group comprising chairs of departments of internal medicine at more than 125 medical schools across the U.S.