Your Coronavirus Update – Today, Feb. 26, 2021
Photo: RIDOH Flyer/Poster send to "residents" in RI
RHODE ISLAND & VICINITY
Lt. Gov. McKee will hold a news conference at noon today to talk about small business grants and loans.
Newport Hospital now doing vaccinations for their community – https://www.lifespan.org/centers-services/coronavirus-covid-19/lifespan-covid-19-vaccination-program
Massachusetts is moving to open venues but must maintain 6 ft. distancing, but they can reopen. Some fans can return to Gillette, TD Gardens and Fenway.
Unemployment income is taxable and needs to be declared when filing taxes – this is coming as a surprise to many. The added stimulus amount done by the federal government is not taxable.
The MA registration site was inoperable for most of the day – with messages such as this on the portal: 'Your estimated wait time is 50,475 minutes'
Gaspee Day Parade organizers are planning for full-scale, but also are developing alternate plans for re-scheduling and for crowd reduction.
Large events such as Newport Jazz Festival and Folk Festival may be able to go on.
Schools to slowly open in Massachusetts – prioritizing elementary and kindergarten first, with 7 schools going 5 days a week first, and a goal of all back by April 1st.
Massachusetts announced summer camps can reopen this summer.
Massachusetts is asking company-based vaccination clinics to pause due to supply issues.
SkillsRI is offering fast-track training as a CNA, etc. Here for more info: https://academy.skillsforri.com/job-training-programs-in-rhode-island/cna-training-pathway-to-certification
Bradley Hospital is also looking for more staff – entry level, training provided – for those who are un-or under-employed, with a high school diploma and a desire to work in the field – childcare provided, textbooks, uniforms, etc. –
We need buy in for people to want to get their vaccinations – Goal is over 75% of population.
RI will receive $64.9 million in federal funds to aid COVID-19 vaccine distribution efforts. The money will go to RI's EMA office, and and can be used for supplies to store and administer a vaccine; transportation and security support for refrigerated doses; staffing for medical and support staff; public engagement and outreach support; and for training of personnel on vaccine distribution and administration.
Incoming Governor McKee will participate in a press conference hosted by Navigant Credit Union to highlight recent changes to the Paycheck Protection Program. Location: Navigant Credit Union, 1005 Douglas Pike, Smithfield, RI 02917
RI Press Conference:
Dr. Scott reviewed the data and the data is good, though 10 new deaths.
Through March 10th, more than 40K appointments for shots have been made – and 20K given out. Hundreds of thousands more to go and we are going to do it quickly.
At 2 mass vaccination sites, logistics are being handled perfectly – National Guard will assist you – take you from garage, direct you, etc. No need to arrive very early – 15 mins is early enough. Our through put at both sites is about 300 people per hour going through the system. Plans for 2 new sites – Middletown (where Benny's used to be) and Woonsocket (where Sears used to be). We are also working on homebound vaccination services. One year from this coming Monday is our first anniversary. Lost more than 2,400 Rhode Islanders; 9,000 admitted to hospital, every single person in the state effected with this pandemic. Thanking all Rhode Islanders for sacrifices they have made.
There is a natural lag in some of the fatality data that is in our charts. Expect our death data to decrease soon.
We can ease some restrictions on organized sports: Janet Coit reviewed –
1) Higher risk sports – football/lacrosse – with RIILL can play in Fall 2 season.
2) Moderate risk sports – we can now play outdoor out of state teams from states with positivity rates below 5%
3) Spectators – 1% per 125 square feet or 40% capacity – colleges/universities: just home spectators can proceed.
McKee said he will make a plan for vaccinating teachers and deal with schools, and this was well received by teacher unions.
From RIDOH today: Social gatherings are limited to 2 households indoors and 3 households outdoors. These combined households should agree to only socialize with each other and are your "stable group." Don't go shopping, have meals, get coffee, or take part in other social activities with people outside this group. Most importantly, you will still need to wear your mask and watch your distance even when you are with your stable group.
Q&A:
Q: Are you now on board with the state plan?
A: We've added capacity and it's a team approach. News of $64M from FEMA will help.
Q: Do you think it was wrong to not come to last week's press conference?
A: I spent time on budget crisis issues.
Q: Schools – Gov. Baker committed to April 1st for all schools to be back to school – what about RI?
A: I will have a plan once I'm Governor – with all school personnel – we are a little late in that game right now.
Q: NY Times said RI had a blueprint for how to do schools. Are you leaning toward statewide plan or regional?
A: I'm on record saying we need to provide resources and guidance and support local decisions.
Q: Spoke with CT Governor – Harvard gave them high marks – anything you learned?
A: We're heading in that direction – getting vaccines out of inventory, etc.
Q: Seniors, courses, art shows, concerts, etc. on hold – what do you say to these people?
A: Incremental flexibility will be key. Science is going to drive this. We need to reach our 911 moment – it's been a living hell – it has not been easy. At some point in time we will have more vaccine than people willing to take it – this will need to be a big focus.
Q: Why have you not announced your senior staff?
A: Doing it slowly and professionally. They will be announced before Gov. takes office.
Q: Johnson & Johnson one dose – can you explain?
A: Dr. Scott – FDA is approving; subcommittee is assessing; if approved we would get a first push of 9,000 doses. We could begin administering this in 2 weeks. Difference in shots is still being learned. Most important to just get vaccinated when you can.
Q: Field hospital data requested
A: 600 patients, total – more data coming.
Q: CDC has RI death rate the highest in the nation – why?
A: Fatality data lags by several weeks. We saw surge in cases. February fatalities have peaked and will start to drop now. Connect fatalities to case/rate data. We tended to have higher case rates with an older population.
Q: The Wall St. Journal has reported that no one who has received the vaccine has died of COVID – what is the hesitation?
A: It's an important message to get out. After 2 weeks after the 2nd shot, no one is getting COVID or dying. Nursing home data supports this. To those who wanted to wait – this is what they wanted to see.
Q: Why would 1st responder not get the shot?
A: We are absolutely focused on this.
Q: When will business restrictions, restaurants, etc. be loosened?
A: Flexibility is key. Event professionals can, with rules established, coordinate events in residential settings – with the same rules. For future – by April we expect we can expand events to 30 and 50 to 100 indoors, and 150 outdoors.
Business with compliance issues in RI:
Data – Feb. 25, 2021
Deaths: 10
Tests – 20,545 – Positives – 387 – Percent positive – 1.9%
Hospitalized – 163 – In ICU – 34 – Ventilated – 17
Deaths in hospital – 2 – New Admissions – 22 – New Discharges – 27
First vaccines: 160,900 Total fully vaccinated – 2 shots: 65,461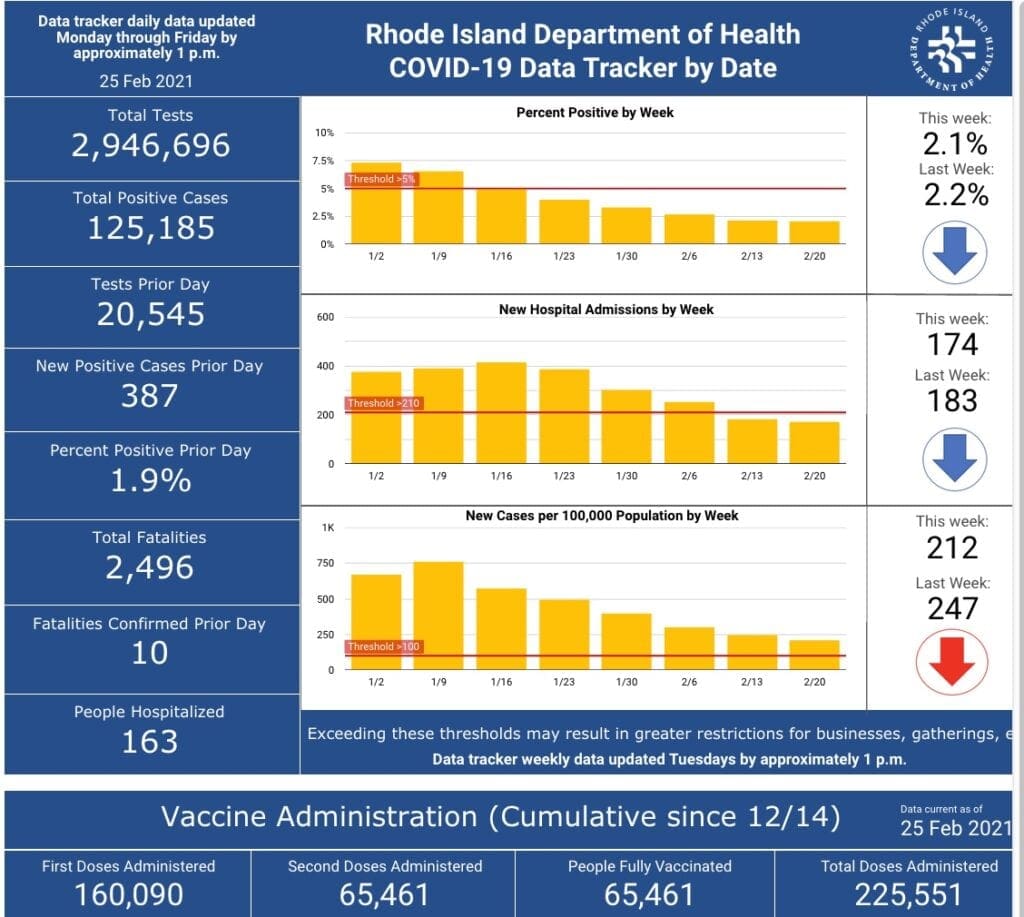 NATIONAL & INTERNATIONAL
Glasses wearers less likely to get COVID
Moderna has sent the NIH a first batch of doses of its newly designed shot that targets the coronavirus strain first identified in South Africa.
Latest news on stimulus checks that are tied up in the COVID-19 package at Congress is that the minimum wage issue that is included in it needs to be removed for the package to move forward. More delays.
St. Patrick's Day is already being identified as a possible super-spreader, especially with the new virus variant spreading quickly.
Pfizer is testing a one shot and two later boosters for efficacy.
Moderna, based in Cambridge, MA is looking at $18.4 Billion in sales for the year.
Moderna is ready to test a new version of its vaccine targeting new variants.
Mammography guidance from Wake Baptist Health: after a vaccine, like the COVID-19 vaccine, lymph nodes under the arm can become swollen, mirroring one of the early detection signs screeners look for in mammogram images. Advisors are encouraging women to keep coming in for the annual exam, but to ensure it is two to four weeks after receiving the second dose of the COVID-19 vaccine to ensure there isn't unnecessary confusion or worry for patients and their families.
A new study on spreading of the virus showed that people infected with SARS-CoV-2 or influenza can be highly contagious for less than one day, congruent with peak viral load. Super-spreader events occur when an infected person is shedding at a very high viral load and has a high number of exposed contacts. The higher predisposition of virus towards super-spreading events cannot be attributed to additional weeks of shedding relative to influenza. Rather, a person infected with SARS-CoV-2 exposes more people within equivalent physical contact networks, likely due to aerosolization.